Opinion: Our latest building encapsulates the rationale behind the 100 Buildings series; that mid-twentieth century buildings are the most vulnerable and in urgent need of recording before they face the wrecking ball.
In a time when Ireland's greenhouse gas emissions continue to increase, it is shocking that Stephen Court might soon be demolished, and its embodied carbon squandered, rather than retrofitted, meaning that many more emissions will result from mining, transporting, and transforming building materials. And what will replace it?
Another office block, it seems, made from unsustainable materials (rather than, say, timber: see Rebecca Mead's article in The New Yorker last April), an artefact of the massive expenditure of carbon. When we consider whether a building should be conserved, it is no longer simply a question of that building's architectural merit but of the real cost of materials, labour, transport, and so on for what would replace it. Both these questions pertain to Stephen Court.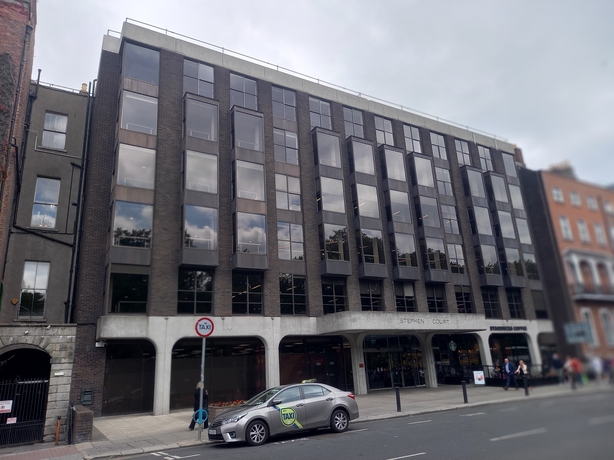 Hidden Depths
Stephen Court is a purpose-built speculative office complex replacing four Georgian buildings, numbers 18 to 21, on the northern side of St Stephen's Green. It is an infill that is bold while thoughtful and contextual in its design, of its time yet conversing with its Georgian neighbours. It brought the latest standards of ventilation, lighting, fire escapes and sanitary facilities to Ireland during a time of great population and economic expansion.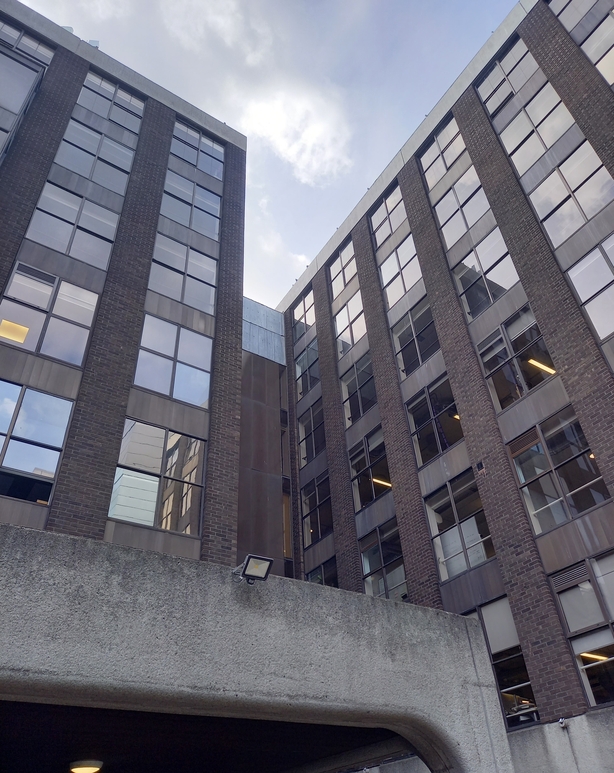 Although it reads like a single twelve bay building from the street, Stephen Court is actually a complex of three six-storey blocks centred around a courtyard and underground carpark. The site extends back eighty-five metres, with the front section (Block A) topped by a seventh storey setback penthouse level, another seven-storey block near the rear of the site (Block C), and an eight-storey block connecting the front and rear sections (Block B).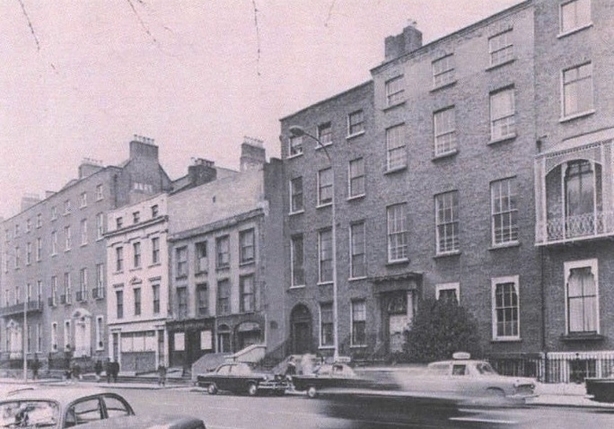 Daring Devane
The developers were the St Stephen's Green Property Investments, jointly owned by Stephen Court Limited, a subsidiary of the Irish life Assurance Company and Hume Property investments. Andy Devane (1917 – 2000) of Robinson Keefe & Devane (RKD) Architects was commissioned in 1964 and construction began in 1969. The contractors were John Sisk & Sons and the aluminium windows made by Smith & Pearson. Stephen Court was officially opened in September 1971.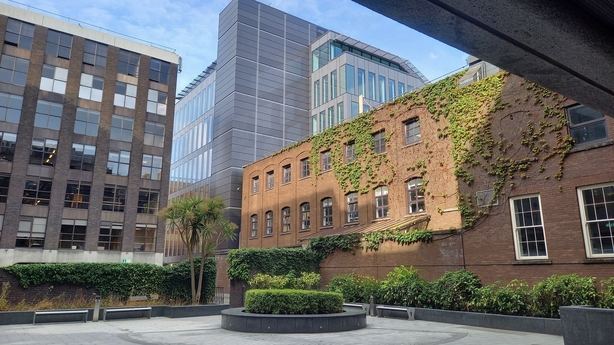 Chase and Bank of Ireland (International) Ltd were the original principal tenants of Stephen Court, renting part of the ground first floor and basement until 1983, when they ceded the banking hall and basement to Anglo Irish Bank. The retail unit on the ground floor has had several tenants over the years (originally Hodges Figgis, followed by rank Xerox) today Starbucks café.
Critical Reception
The building featured in an urban study by the Royal Institute of Architects of Ireland (RIAI) commenced in 1970, later published as Dublin: a City in Crisis (1975). Stephen Court was highly commended in the 'modern' category in the RIAI European Architectural Heritage Year 1975 for a new building or group 'the character of which is in harmony with the existing environment'.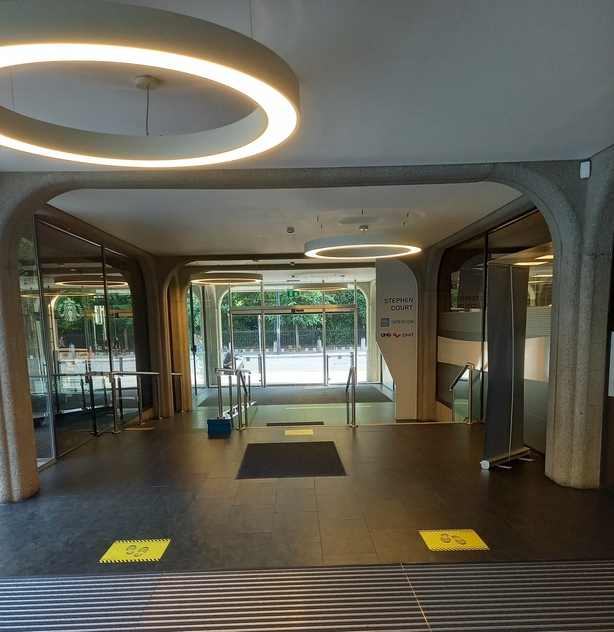 The building set the standard for high quality insertion into the Georgian streetscape with Scott Tallon Walker (STW Architects) continuing this contemporary conversation with the Georgian terrace with the Lisney Building 1973 and Scottish Provident House (1977, STW) continued the trend. Stephen Court is not only mentioned in one of the most important architectural publication series Dublin City Council has produced, More Than Concrete Blocks, Volume 2, 1940 – 1972, edited by Dr Ellen Rowley, but it was also singled out as a case study.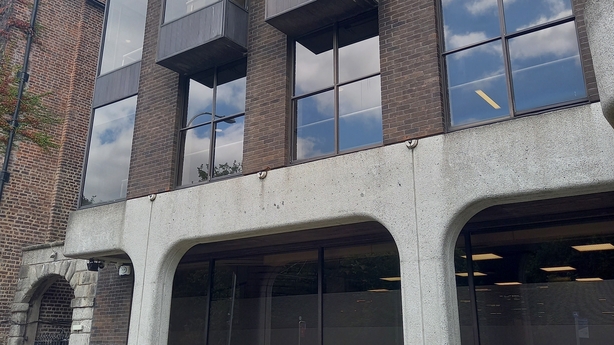 Bold Bronze
Stephen Court is constructed from a reinforced concrete frame faced with a façade is of brown brick, with bronze panels, bronze-framed windows with bronze-tinted glass. The rhythm of the paired triple-height box windows creates symmetry and three-dimensional interest echoing Georgian balconies. Devane commented it is 'a dark building, a negative building, one in sympathy with Georgian, but not an imitation of it'.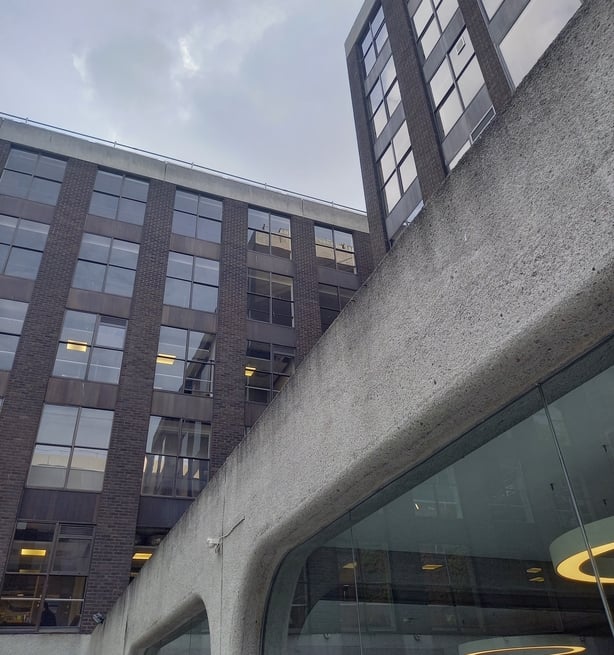 The building is concrete-framed, with the brick providing an economising option that allowed for the expense of the glass, according to Michael Viney's piece 'Lesson in Bronze' in the Irish Times (4 Feb 1971, p.12). The sombreness of the dark materials is complemented by the lightness of the bush-hammered concrete used for the projecting canopy providing interest at street level with its gorgeous, curved corners and arcade. This technique provides texture and salutes the granite of Georgian Dublin. The arcade continues from the pavement right through the courtyard, offering convenient shelter for our Irish climate.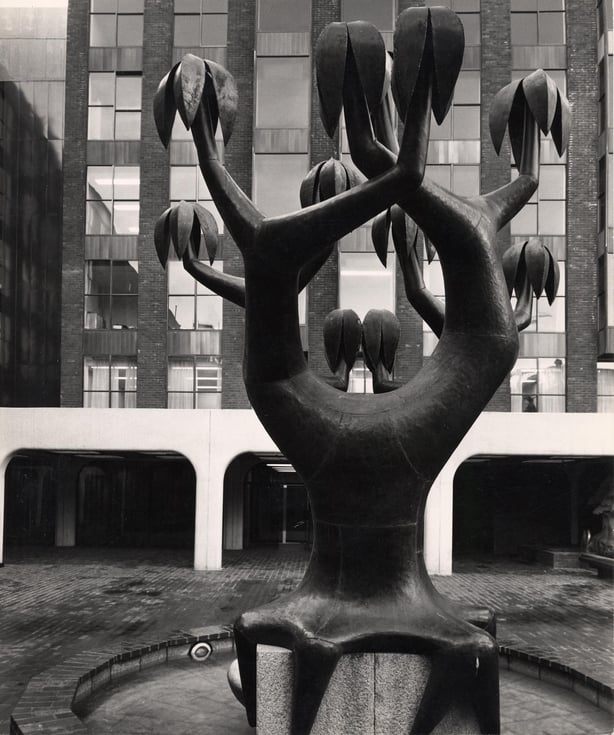 Openness and Tree of Life
As with his Irish Life Centre Building, consideration for pedestrians was central to Devane's design and originally the site was open, providing a public amenity as extension of the street with pedestrian paths. Since its construction, however, it became closed to the public. Another long gone element is the sculptures by Irish artist Ian Stuart commissioned by Irish Life entitled The Tree of Life and The Tree of Knowledge.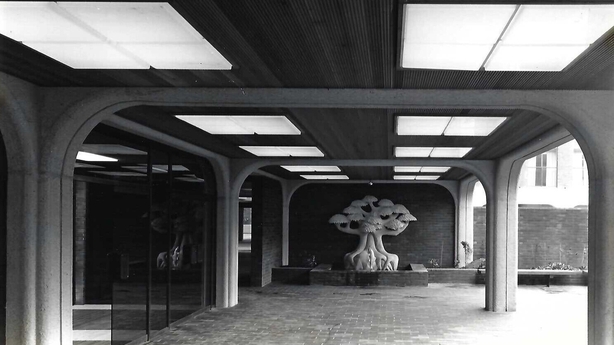 Tree of Knowledge, a cast concrete sculpture, which terminated the walkway leading from St Stephen's Green through Block A and the covered arcade to the main entrance in Block B. Tree of Life, made in copper, was originally positioned on the edge of the circular pool directly opposite the main entrance to the office blocks in Block B. Both sculpture pieces were removed by Irish Life, and their whereabouts are not known.
It was not his first commission for Irish life as he was commissioned to do a fountain for the former Irish Life HQ on Mespil Road (1963). Stuart was later hailed as the first modern Dublin sculptor by art historian Anne Crookshank.
What Next?
The building is in apparent good repair despite some tinted glass replaced with a plain version along with most of the complex still occupied as office space. This demonstrates the building is still fit for purpose. Planning permission was lodged in May for the complete demolition and rebuild of Stephen Court, however Dublin City Council Planning Department have quite rightly requested additional information from the developer to justify this needless act.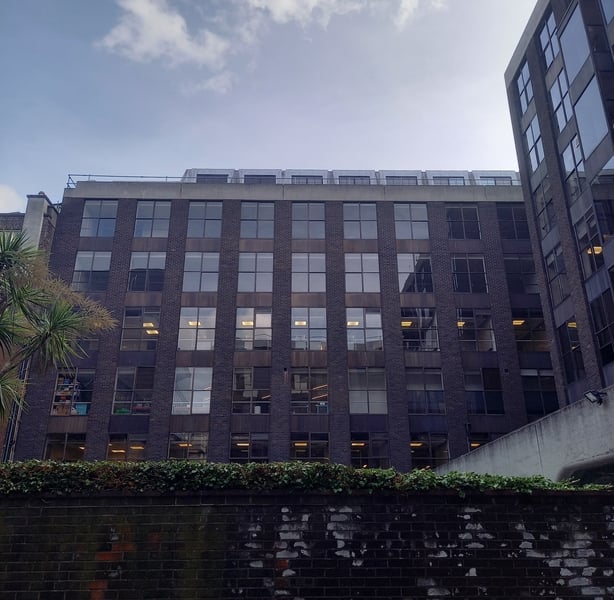 To reiterate, this act would be needless for reasons of architectural merit and environmental cost. The coming weeks will tell if this article reads as an architectural obituary.
Thank you to architectural historian and conservation architect Carole Pollard for her help with this article.
---
The views expressed here are those of the author and do not represent or reflect the views of RTÉ