We're delighted to present an extract from Hearts and Bones, the debut short story collection by NIamh Mulvey.
First-time lovers make mistakes, brothers and sisters try to forgive one another, and parents struggle and fail and struggle again. Teenage souls are swayed by euphoric faith in a higher power and then by devotion to desire, trapped between different notions of what might be true. Quiet revolutions happen in living rooms, on river banks, in packed pubs and empty churches, and years later we wonder why we ever did the things we did.
Hearts and Bones is a book about relationships. It explores what love does to us, and how we survive it.
---
From Mother's Day
I was due to meet my mother at a gallery in the centre of town. I hadn't seen her in five years and I hoped she would think that I looked better than she had expected. As I got ready, I noticed the ways my body was getting all worn – the skin on the insides of my elbow joints and around my eyes was starting to become thin and papery, like the wings of a moth or some other flimsy flying thing. But I didn't really mind because it reminded me of her – of the age she had been when I had first known her. Although I flatter myself, of course; I was born to a twenty-four-year-old, and I am now in my early forties.
A fresh wind blew in and shook the early blossoms off the trees in the garden and everything in my house was beautiful and well made, and I saw it all with her eyes before I left to meet her. The children were at school, my husband was at work, it was a Tuesday, it was quiet on the street as I walked to the Tube, it was mid-morning. I had a wonderful life that I had not earned, and everything we owned pointed to that fact so I could not invite her to sit here among my things and drink coffee from the little cups we had bought in Istanbul two summers ago.
It was her fault that I had so much. She taught me to think of myself as special, and so I found myself working on a fine-arts magazine – passionate, broke and ridiculously, embarrassingly pretty. I didn't know anything then about how money wraps itself around art, I didn't know that when a nice young man whose father was on the board fell for me, people would smile and nod in a way that showed that this was no surprise, that this was the way things were. I didn't know anything, and she didn't teach me. So it was her fault, and it was my fault, and that was why things went the way they went, and that's why I hadn't seen her in five years.
I found out I was pregnant again on the day I got the message from my mother asking me to meet her – and for a while I thought of it all as a gorgeous coincidence that lit the way towards a possible reconciliation. But when I saw her sitting in the cafe near the wing of the gallery that I remembered all too belatedly had been built by pharmaceutical blood money, I realized that this meeting was not about me or my body and its new life at all – it was about her, and her body and its old, tired, ebbing life. And I felt irritated by the way she had shown me up already, and again, for being thoughtless, self-absorbed and silly.
She was sitting quietly in front of a scone and a cup of tea. Her hair seemed to be gone, she wore a scarf over her head. I sat down in front of her. She reached out her hands, I put mine over them. Her face showed the impact of illness and I was momentarily unable to speak.
'I need some of his money,' she said and I nodded.
'I'm pregnant,' I said, and she laughed. I smiled back and she looked at me as if she were proud for one tiny second.
Spring is the best time of year to live in this city and it always makes me think of our old flat south of the river, the place of my very earliest memories. I have this sense of a pram under a tree and the breeze moving through the leaves making shadowy flickers over a blanket and I think maybe I am lying under that blanket. I can close my eyes and be in this moment but I am afraid to do it. I have a sense of the young woman that was her moving around near me, under the tree, getting something for me. There is music somewhere, the neighbourhood we lived in was noisy and full of people from everywhere, people who had nothing much except those lovely streets of crumbling Victorian terraces near a park. I never went to that part of the city any more, I didn't need to, I'd risen above it and so in my mind it was wrapped up in the past, with being just the two of us, as it was throughout those days.
We need your consent to load this rte-player contentWe use rte-player to manage extra content that can set cookies on your device and collect data about your activity. Please review their details and accept them to load the content.Manage Preferences
Listen: Hearts and Bones - Niamh Mulvey talks to RTÉ Arena
My mother told me then that she could no longer afford the mortgage payments on her small house in the commuter town she lived in; her illness meant she could no longer work.
'Come and stay with us,' I said. 'We have so much space. You could be with the kids.' I had imagined this happening. I had imagined her coming to me, needing something. Many times, I had imagined this. My mother withdrew her hands and looked away.
I got up to get myself something to eat. It was very early on in the pregnancy and I was full of appetite for food and sleep. While queueing, I noticed how well lived all the other patrons of this cafe looked. They were all mostly close to my mother's age. They wore thick gold rings, wide trousers, bifocals with pink frames. They peered at the cakes and the stacks of pastries, their faces prosperous, eager, frank.
My mother was wearing supermarket trainers, faded jeans and a cotton sweater under a cardigan. But to my eyes, she still looked stylish. She worked as a cashier in a supermarket. She had arranged a small, organized life for herself, neat as a well-made bed. I was proud of her for that, proud of how self-sufficient she was. I didn't even know how much money my husband earned. It was too embarrassing to know. I read stories in the press about how hard it was to manage nowadays and I found it difficult to really believe this, though I had once been in that position myself. But my current life was so real, so enveloping that seeing beyond it was almost impossible.
As I was waiting to pay, I noticed that the sixtysomething woman ahead of me was holding hands with a small boy the same age as my daughter. He looked all around the busy cafe, his cheeks flushed and adorable. His grandmother kept her eyes fixed on him the entire time, even while paying the assistant. He put his small hand absent-mindedly on her leg and I saw her thin face register his touch.
Back at the table, I said to my mother, why don't you come over for a bit at least, the kids would love to see you. This was not really true: the kids already had a devoted set of grandparents who lived locally and who showered them with attention and love. Another grandma would have been nice, but in the way another book on their well-stocked bookshelves would have been nice.
'The kids ask about you all the time,' I said. 'They wonder why I don't have a mummy. Why I don't have a family.' I laughed. 'It's a good question, isn't it?'
'Another baby,' my mother said. 'I suppose it's only the rich who can afford to have big families nowadays.'
'Three is hardly big,' I said, but she was right. No one I knew from my days at the magazine had more than one or two kids, unless they had married rich like me. And no one had married quite as rich as me.
'True,' my mother said. 'You'd need a few more to fill that house.'
'Oh, we moved. Didn't I tell you?' I said. 'Just down the street. The stamp duty made it a bit naughty but you should see the garden.' I heard myself saying these things, but I couldn't stop. 'It's like an orchard. It's so nice for the children to be close to nature.' I spoke those last words slowly, feeling them puncture any chance of anything.
My mother's lips were tight and pale.
'Anyway,' I said. 'Let me know how much. We can make it a monthly payment, if that's easiest.'
She said nothing. Her hands were trembling a little, and I thought about feeling guilty but then she was old and ill, why shouldn't she tremble.
'Let's go and see this exhibition,' I said, recklessly. I knew she expected me to leave, but I wanted to wring every last bit of misery from the afternoon, so I remembered it, so I remembered not to hope again. I had to learn, again and again, that I could not expect her to love me for who I was now.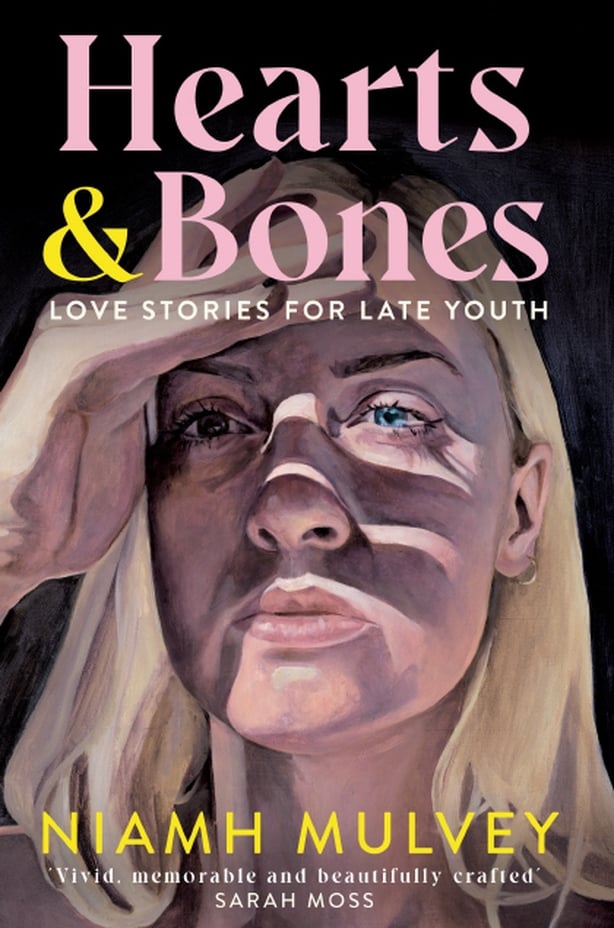 Hearts and Bones is published by Picador