Ahead of the new music, art and food festival Beyond the Pale, which lands at Glendalough House from 10-12 June, festival curators Declan Forde (Music), Dave Parle (Music), Jennifer Jennings (Arts), Ali Dunworth (Food) and Dave Smith (Wellness) get together to talk about all things festival programming...
Going to Beyond The Pale this weekend? Find out everything you need to know here, and find out what's on where here.
---
What do you think makes a good outdoor music festival?
DP: A great setting is essential, to state the obvious! A full program but not so full that you have to miss half of the bands you've come to see. Lots of good food, drinks and places to relax when you need a moment. AD: Logistics – might seem obvious but the better the logistics work the more you enjoy the music and the festival. Having a bar close by, no queues, nice loos – they all add to the whole thing. No one wants to spend half a gig in a queue.
DS: So many key elements like setting, line-up, weather, the peeps but primarily it's the vibe of the thing and I think the ethos of Beyond the Pale has that in so many ways.
JJ: Oooooh! Well for city festivals I love seeing well-known civic spaces being brought to life beautifully; for large-scale festivals I'm looking for adventure (it took me seven years to get my head around Glastonbury); for boutique festivals I'm looking for attention to detail.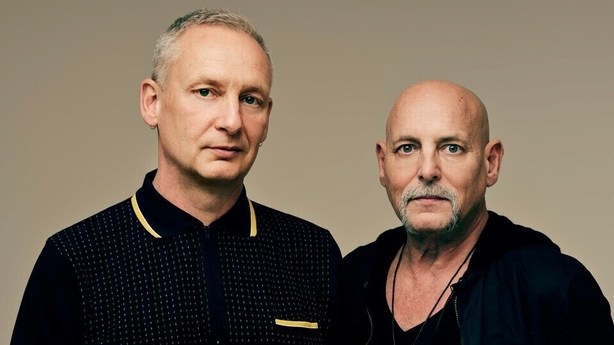 DF: It's all about the atmosphere; which comes about as a combination of the setting, the music line-up, the other entertainment, the food and drink and the people attending. A camping full weekend festival has a special atmosphere that non-camping festivals can never quite achieve.... That feeling of excitement of everyone arriving together on the Friday and digging in for three long days and nights together. It's been three long years since we had those moments. I think that will make this summer's atmosphere particularly special.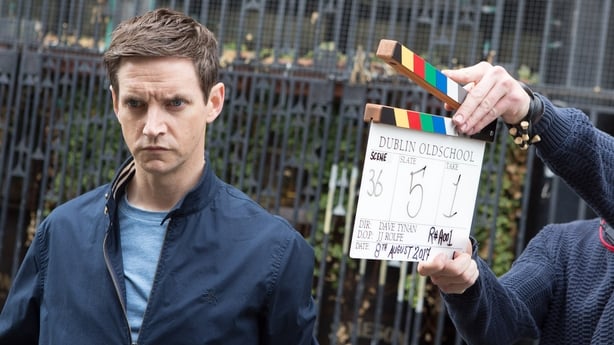 What was your approach to curating the event?
DF (Music): We like to think we book from the heart (rather than the head) more than most festivals. Our record collection is our inspiration! Beyond the Pale is a small and niche enough event so we hoped we could get away with such an approach, and the line-up and concept seem to have excited those people who we aimed to excite. Now to execute it even better, and surpass their high expectations!
We feel there is a cohesion that stretches through our entire line-up despite the very broad range of musical styles it covers. We also have aimed to book acts according to the setting and time of day that best suits their sound. Hopefully it all gels well and people will appreciate the attention to details the curators have put into it.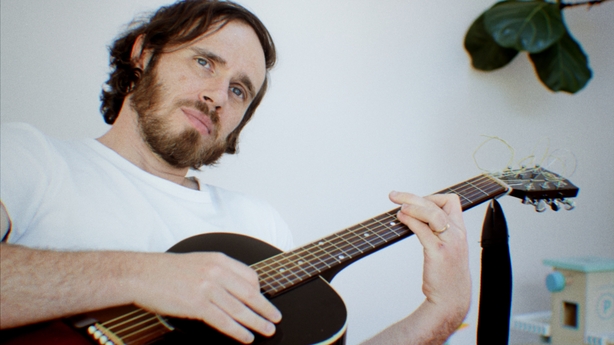 DP (Music): We are very fortunate to have a team who are all so passionate about their fields. The music programme is a collaborative process and luckily myself and Dec have similar tastes so it's never too hard to agree! We strive to have a scenario where people stumble upon acts they've never heard of and get blown away - as well as seeing their favourites, of course!
AD (Food): I wanted the food line-up to be as good as the music line-up! Just lots of stuff you know you'll want to eat over the weekend. Festival food has really come on the last few years, you need to have some stuff people are excited about – festival-goers expect to be well fed over the weekend. Luckily, there are plenty of great food truck options in Ireland at the moment.
For the food tent, Beyond The Plate, I'll always have a list of people I've come across or read about or wanted to interview, it's the perfect opportunity to call someone and say, hey do you want to come to this festival? So I start there. Then I also researched local Wicklow food producers and foragers who will be there across the weekend and thought about chefs, food producers, and cooks that would be into the overall vibe of Beyond The Pale.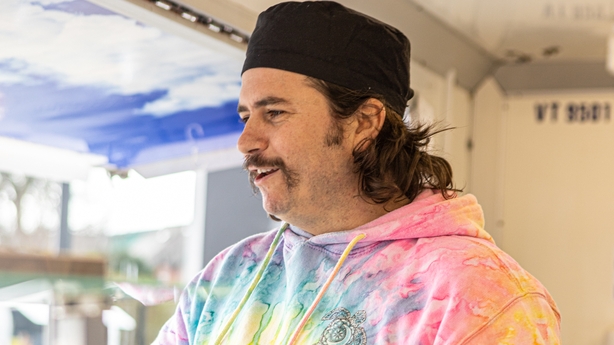 DS (Wellness): We want it to feel like a place of respite – wholesome, inviting and warm but also with a subtle edge, a sprinkle of the ethereal to take people out of the city, out of their churning minds and into the festival and The Space Beyond.
JJ (Arts): An outdoor music festival is such a thrilling context for performance and art. For me, it's all about the moment to moment experience for the audience – audiences who may not be regular theatre-goers or avid exhibition visitors but, in this context, absolutely lap it all up! It's inextricably tied into what kind of engagement you might fancy at various times of the day and on into the nutty night. So it moves from things like ideas-based offerings (like Utopia Ireland) to comedy and circus and theatre (Dublin Oldschool) to foot stomping trad & brass, to "What the hell was that I just saw at 3 am". And that's just the performance side...
How would you describe your programme?
JJ: Joyful. Thought-provoking. Playful. Gas. DF: We've tried to book the very best performers we know across nearly every genre - from Ireland and all over the world. The programme features acts from five different continents, so we like to think of it as carefully selected or handpicked.
AD: The plan with the Beyond the Plate programme is to celebrate all that is great when music, food and drink come together, keeping in mind the gorgeous location of the Glendalough Estate. I like to think of a food stage or tent at a festival as the equivalent of the kitchen at a house party. So we'll be talking about food of course but having fun, and tastes, while we're at it.
DP: Eclectic. A festival should always broaden horizons and people stepping in to Beyond The Pale should be able to experience and enjoy a world of music!
DS: Exciting! We've pulled together the best bits of The Space Between, from yoga and meditation, explorative talks into the more experiential and collaborative events such as a guided breathwork to a live ambient score and a projection mapped guide to the galaxy to name a few. We've created a beautiful arc to each day starting slow and transitioning through the day into the early eves. It's gonna' be quite the trip.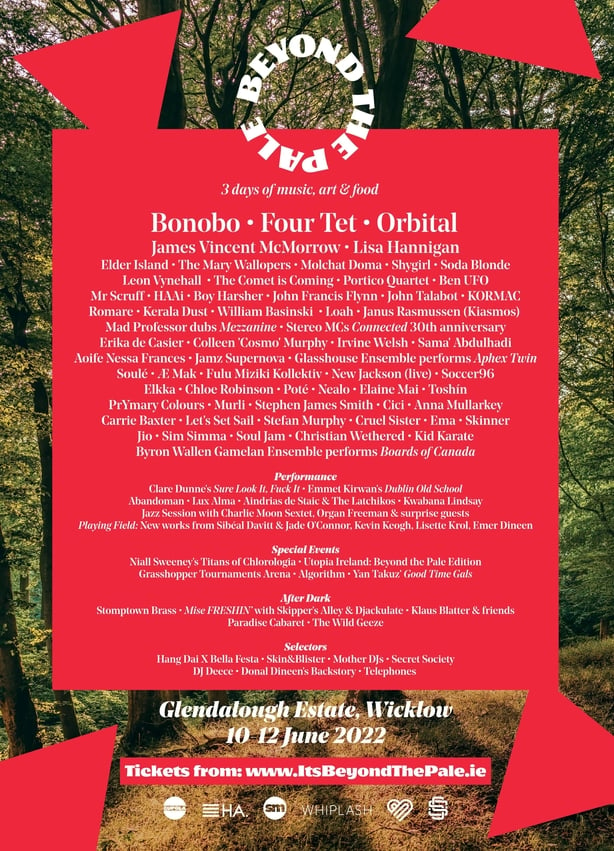 What makes Beyond the Pale different?
DS: I think when you look at the sum of its parts it has a wonderfully symbiotic mix of entities all sharing one common denominator – having really tight expression in the world right now in terms of what they respectively do. This compelling mix spanning music, food, arts, hospitality and contemporary culture is for me what makes this a potent and unique offering.
AD: I feel like the curation has come from a very organic place. I think from the music, the arts, to the food and wellness – there has been a lot of thought put into everything.
JJ: The location! I'm a big hill walker so I know the Wicklow mountains very well, and this particular part of the world is just magic. The estate itself and the wider Glendalough valley are so full of myth and mystery and spectacular beauty. It's really such a treat to get to respond to this stunning land. Keep an eye out for kestrels, cuckoos, deer, hares and all sorts of butterflies. It's also 45 minutes from my D12 front door, so major score.
DF: There are a lot of very high-quality festivals in Ireland so we have stiff competition but I'll make a bold prediction - if all goes according to how the BTP team has been obsessively planning and working on for months; there will be no better atmosphere anywhere in Ireland this summer than Glendalough Estate our weekend.
We need your consent to load this YouTube contentWe use YouTube to manage extra content that can set cookies on your device and collect data about your activity. Please review their details and accept them to load the content.Manage Preferences
What moment are you most looking forward to at Beyond the Pale?
DS: 5pm on Friday when it's showtime.
DF: The list of acts whose I'm personally extremely excited about is endless, but my top 5 would probably be Bonobo, Boy Harsher, Orbital, Byron Wallen's Boards of Canada show and Clare Dunne's Sure Look It Fu*ck it. But i think the real moment will be the Friday night and Four Tet's in-the-round show. It's a bespoke intimate set-up amongst the trees that was conceived over weeks by BTP's and Four Tet's production teams, and will have the audience surrounding him from all sides. Given the psychological traumas of the last 2.5 years, I think this will be a total moment of everyone coming together and should be totally joyous.
We need your consent to load this YouTube contentWe use YouTube to manage extra content that can set cookies on your device and collect data about your activity. Please review their details and accept them to load the content.Manage Preferences
DP: Just reconnecting with so many people for three days. A camping festival is an experience like no other. It's truly the best way to remove yourself completely out of the stresses of everyday life and immerse yourself in nature, music and good people!
AD: Being in a field with lots of people I've not seen in ages! I've really missed the buzz of working on festivals. And hopefully getting to enjoy some of the music too.
We need your consent to load this YouTube contentWe use YouTube to manage extra content that can set cookies on your device and collect data about your activity. Please review their details and accept them to load the content.Manage Preferences
JJ: I honestly don't know how I'm going to tear myself away from the arts programme, never mind the rest. Actually, I'm looking forward to seeing how people respond to the invitation to play that is the Tournaments Arena, run by Grasshopper. Vintage games, hosted tournaments, 5-a-side football and retro tunes for a few hours each day. Fun, no? Oh….and when Orbital drop a bit of Belinda into Halcyon and On…as the near-full Strawberry Moon rises over the mountain forest. Obvs.
Beyond The Pale is at Glendalough House, Wicklow from 10th -12th June - find out more here.