In the Lyric Feature on Sunday 29th May, at 6 pm on RTÉ lyric fm, poet Eleanor Hooker presents Reflections on Lough Derg, exploring her relationship with the lake in poetry and in conversation with friends and neighbours - listen to it above.
Below, Eleanor describes how her interest in sailing, and her relationship with Lough Derg, began.
---
I was twenty-two when I sailed my first race on Lough Derg. It was an afternoon race at the annual regatta at Lough Derg Yacht Club. We were racing in the Shannon One Design, a classic wooden dinghy. We sail these boats three up, that is with a crew of three, helm, sheethand, and third.
My suspicions should have been aroused when, having counted fifty boats competing in the morning event, only three hoisted their sails for the afternoon race. It was a terrifying marathon; the lake was heaving and the wind was at every point on the compass in giddy abandon. I loved every minute. Peter (then my boyfriend, now my husband) and I and our friend Peter came third! My only sailing experience up until then was on the fabulous Glenan Sailing Courses off Bere Island in County Cork. I am originally from south Tipperary, the most land-locked county in Ireland, yet wherever I've lived it's always been by water. In 2002, after fifteen years living in the UK, Peter and I and our boys, George and William, returned to Ireland to live in his old family home in Dromineer.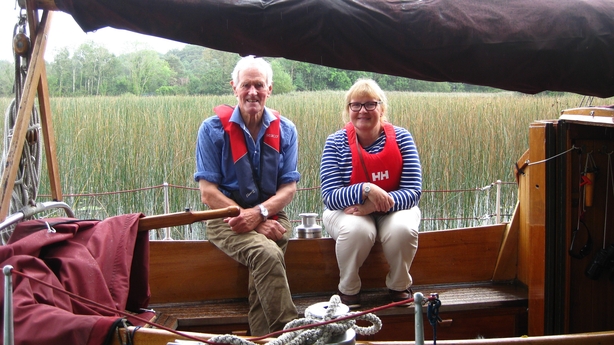 Even when we were living away Peter and I continued to sail together on the lake. It never bothered us (much) that we stayed at the back of the fleet. In truth, that was where most of the fun was to be had. When our boys were small they would sit in the bow of our Shannon One Design and when they were aged eight and nine they began their sailing courses in their own dinghies. The friends they made sailing remain their best friends today. One of our favourite things to do in those early days living by the lake was to take our lakeboat up the Nenagh River, tie up to an overhanging branch, picnic, and watch the kingfishers dart up and down the river.
In 2002/3 the RNLI began a recruitment drive for crew for the new lifeboat to be stationed on the lake and based in Dromineer. I volunteered as crew and Press Officer. Peter volunteered as the Lifeboat Medical Advisor (LMA) and our relationship with the lake changed; it was always one of respect but it deepened as we began to fully appreciate its vagaries. Today I am a senior helm and Press Officer and Peter is the Station's LMA.
In 2004 (the same year the lifeboat went live for service), following an incentive from Melanie Scott, Arts Officer for Tipperary County Council, a group of friends and I founded the Dromineer Literary Festival. We made an event on the lake a feature of the festival.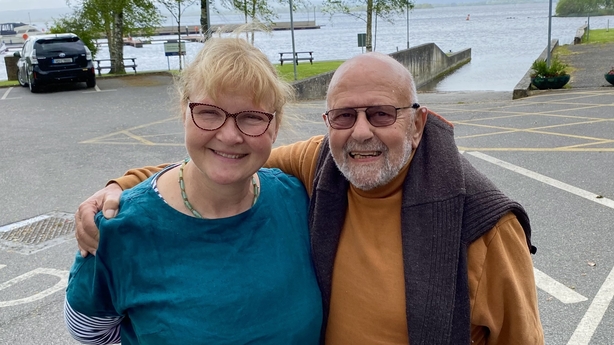 Our lawn runs down to the lake. Its sounds and moods inflect our everyday, and even when I'm not writing about Lough Derg, its watermark is a palimpsest on my poetry and prose.
It was a delight to have the opportunity to work with Claire Cunningham, a radio documentary-maker and producer, to make Reflections on Lough Derg for RTÉ lyric fm. Dromineer is located midway down the eastern shore of Lough Derg, and from here Claire and I travelled to the most northerly and most southerly points on the lake to chat with friends about their relationship with Lough Derg. County Tipperary may be land-locked but our secret is that in Lough Derg, we have our own inland sea.
Reflections on Lough Derg, presented by Eleanor Hooker, is the Lyric Feature on Sunday 29th May at 6 pm on RTÉ lyric fm, and will be available after broadcast as a Lyric Feature podcast. Listen to more from The Lyric Feature here.