Westport Clock Tower is a landmark meeting spot in town. As an Art Deco tower, it represents an important addition to the mid-twentieth century built heritage of Mayo. Like a grandfather clock for the entire town, it harks back to an era before timepieces were commonly domestic or portable.
It is, in fact, the only Art Deco municipal clock in Ireland but is known locally, rather, as the 'Four-Faced Liar', because it frequently tells the wrong time. This timekeeper is a freestanding, three-stage clock tower erected in 1947. Made of concrete, it was economical to construct at the time. The clock stands at the end of High Street and corner of Bridge and Shop Streets and replaced an old fountain on the site. It originally stood in the middle of the road, but now a concrete traffic island surrounds it.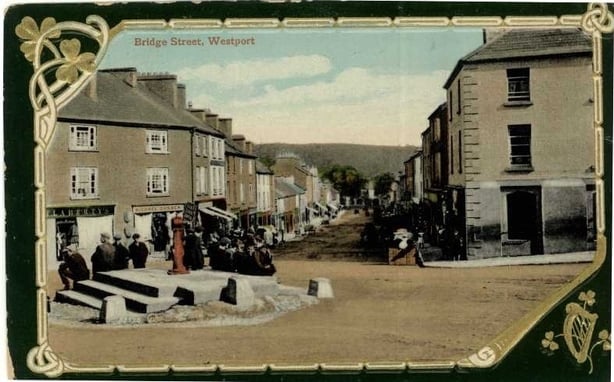 Westport Clock Tower is a turret clock on a square plan with four faces to the upper exterior walls. Starting from the ground up the tower is set on a plinth on a concrete brick cobble footpath. The tower shaft, containing the weights and pendulum, is elegantly tapered, and finished in roughcast concrete and framed by concrete in a smooth finish. A small timber door is set on one side to gain access for winding and maintenance.
The uppermost stage of the clock tower sits on a stepped waist moulding. Each of the clock faces has roman numerals and spade hands with tails, set within gold upper and chapter rings, and is illuminated at night. Atop the clock faces is a louvred component which is functional while also emphasising the vertical composition of the tower along with various string courses to add height and decoration. The whole edifice is surmounted with an attractive ogee cupola and a weathervane finished with gold letters for each direction of the wind.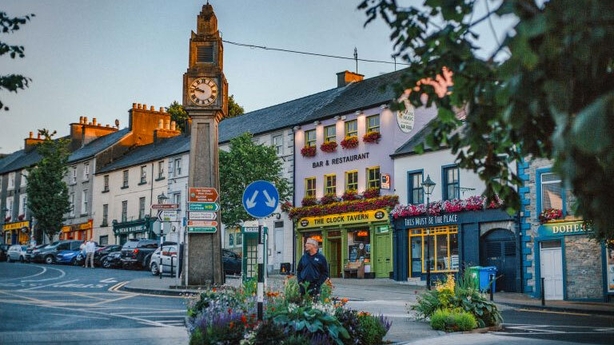 The Westport Clock Tower is on Mayo's Record of Protected Structures. Although the need for turret clocks and other civic timepieces has virtually vanished, they are widely regarded with affection, as is the case with Westport's Four-Faced Liar.