On this week's edition of the Poetry Programme on RTÉ Radio 1, presenter Olivia O'Leary meets three poets in Belfast to discuss the strength of queer poetry in Northern Ireland today - listen above.
The queer voice in poetry is dynamic there, as a recent anthology, Queering the Green, has shown. The anthology, edited by poet Paul Maddern, concentrates on the poetry of this millennium and includes 31 Irish poets who identify as queer. Three of them join Olivia in studio this week.
Gail McConnell, from Belfast, is the author of two poetry pamphlets, Fothermather and Fourteen, and a book of poetry called The Sun is Open, which deals with the killing of her father, deputy governor of the Maze Prison, in 1984. She is also a senior lecturer in English at Queen's University. The Sun Is Open has recently won the 2022 John Pollard Foundation International Poetry Prize.
We need your consent to load this YouTube contentWe use YouTube to manage extra content that can set cookies on your device and collect data about your activity. Please review their details and accept them to load the content.Manage Preferences
Padraig Regan's first collection, Some Integrity, has won the 2021 Clarissa Luard Prize, and they have also written two poetry pamphlets, Delicious and Who Seemed Alive and Altogether Real. From Belfast, they were a Ciaran Carson Writing in the City Fellow last year.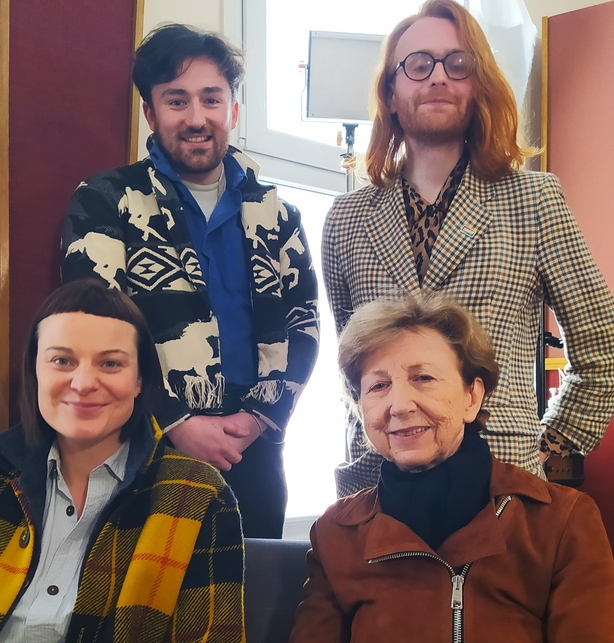 Mícheál McCann, originally from Derry, has written a pamphlet of poems, Safe Home, and his poems have appeared in a number of journals. He is a co-editor of Hold Open the Door, an anthology exploring Irish poetry and mentorship.
The poets discuss the idea of queering the language and what it means to invent new language around contemporary queer reality such as parenting. They talk about the traditional range of poetry, from the lyric to the villanelle, and where they see their own voices and bodies accessing these. How does the queer voice and vision work with rural themes? And, in a programme recorded before recent deaths of Aidan Moffitt and Michael Snee in Sligo, the poets discuss the constant thin line between tolerance and violence.
The programme ends with a reading by Olesya Zdorovetska of one of Ukraine's best known poems, Contra Spem Spero!, by Lesya Ukrainka.
The Poetry Programme, Sundays at 7 pm on RTÉ Radio 1 - listen to last week's edition below:
We need your consent to load this rte-player contentWe use rte-player to manage extra content that can set cookies on your device and collect data about your activity. Please review their details and accept them to load the content.Manage Preferences