2022 has already been such an exciting year for gaming, with brand new adventures releasing every week. But 3 legendary franchises return to the fray, reminding the world what exactly we loved about them, and also promising something brand new for modern gamers.
LEGO Star Wars: The Skywalker Saga
LEGO games are a staple to a major franchise's footprint in gaming. Whether Batman, Harry Potter, or Lord of the Rings, LEGO has tackled some of cinema's greatest stories to amazing effect.
We need your consent to load this YouTube contentWe use YouTube to manage extra content that can set cookies on your device and collect data about your activity. Please review their details and accept them to load the content.Manage Preferences
LEGO Star Wars: The Skywalker Saga is an ambitious, faithful, and ultimately hilarious recount of all nine films in one of the world's most notable brands. With spoofs, gags and lightsabers aplenty, it offers the perfect trip down memory lane, and will have you engrossed and cackling in equal measure.
High-octane action across nine films
Covering nine films is no easy feat, but somehow LEGO Star Wars has managed a generous helping across every storyline, and then some.
After finishing Episode 1's storyline, for example, the game tells me I've only completed 52% of the content. Suffice to say there's a tremendous array of side quests, missions and collectables for you to uncover off the beaten track.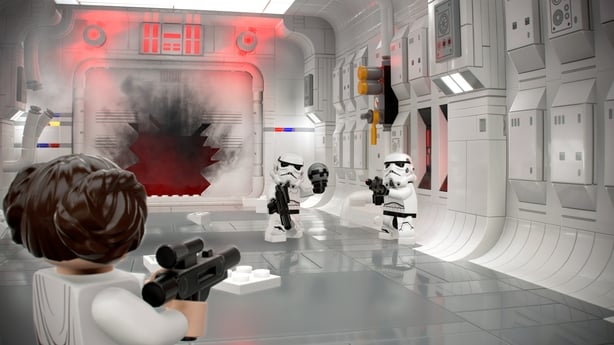 Hundreds of playable characters ensure that combat is both rich and varied. Each character has a host of different abilities, giving rise to some creativity. Jedi for example can brandish lightsabers, throw objects with the Force, perform mind-tricks on unsuspecting enemies and much more. Some characters like Leia have an array of weaponry to use, and aiming with them transforms the game into a completely different feel. Others like Han Solo specialize in puzzle solving, and the game will often draw on a variety of different skills to full complete puzzles.
Replaying levels and utilizing different combinations of characters is the bread and butter of collecting everything possible, and ensures there's huge replay potential with every episode. A skill tree offers some very light RPG elements, and there are some different combos you can perform in fights to keep every battle flashier than the one before.
Nestled through each episode are cut scenes that offer surprising polish to the storyline, owing to the capabilities of modern gaming consoles. These scenes keep things in a constant state of flow. Level designs are at times spellbinding, and thanks to the intricate details, you'll relish exploring (and dismantling) every nook and cranny. Virtually everything you see is breakable and will most likely lead to some collectable or secret challenge.
And just when you think everything's gone quiet, a random ship battle will commence where you're shooting aimlessly throughout space at the Empire's vast fleet of ships. You can control over 100 vehicles in the game, from the Millennium Falcon to pod-racers and more. These action sequences are chaotic, fast-paced, and incredibly entertaining.
Han Solo? Or Co-OP?
LEGO games are both the perfect solo adventure and multiplayer game, where you can complete the game comfortably on your own, but friends can jump in at any time to get into the thick of it.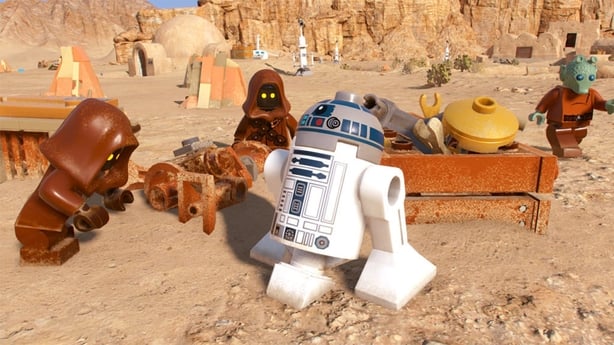 The Skywalker Saga is no exception to this. The game will suit a variety of ages and abilities, and blends combat, exploration and puzzle-solving very effectively.
Clever markers will always present a clear path to objectives, so the game is not too taxing to progress through on your own. A clever minimap also does the grunt work in showing where collectables are hidden away. And when you've run out of health, you'll simply reanimate on the spot to fight again (and again).
A triumph for fans and newcomers alike
Entertaining, quick-witted and nostalgic, LEGO Star Wars: The Skywalker Saga is an immersive, family-friendly adventure from beginning to end. The classic LEGO spin means you're laughing all the while, and a rich cast of characters and vehicles pays tremendous fan service to one of the most recognizable franchises in the galaxy.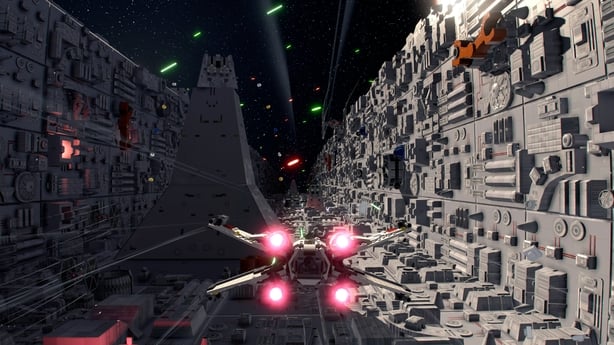 Whether it's through intricate lightsaber fights, pod racing, shooting down fleets of the Empire, to the game's iconic soundtrack, this game has cherry-picked so many great moments across all nine films for us to rediscover, all over again.
Altogether, LEGO Star Wars: The Skywalker Saga is a mammoth collection that uses our favourite building blocks to recapture the magic and timelessness of Star Wars.
LEGO Star Wars: The Skywalker Saga is available to play on PlayStation 4 & 5, Xbox Series X/S, Xbox One, PC & Nintendo Switch.
Pokémon Legends: Arceus
Speaking of legendary franchises, Pikachu and friends have entertained millions around the world for the past 26 years, following the staple 'gotta catch 'em all' tagline. But in an ambitious move, Legends: Arceus changed everything we've come to expect from the world of Pokémon.
We need your consent to load this YouTube contentWe use YouTube to manage extra content that can set cookies on your device and collect data about your activity. Please review their details and accept them to load the content.Manage Preferences
In Arceus, we're rewinding the clock to the Hisui region, where Pokémon and humans are only just beginning to cohabit. You're charged with completing the region's first Pokédex, a task that will see you catch, research and battle a variety of familiar faces.
From the offset, the changes to Pokémon's winning formula are evident. As an open world, you are constantly in the thick of the action. Whether it's approaching a Starly or Eevee in stealth to capture them, or dodging for dear life from a rampaging Gyrados, you'll always keep your wits about you and a Pokéball handy.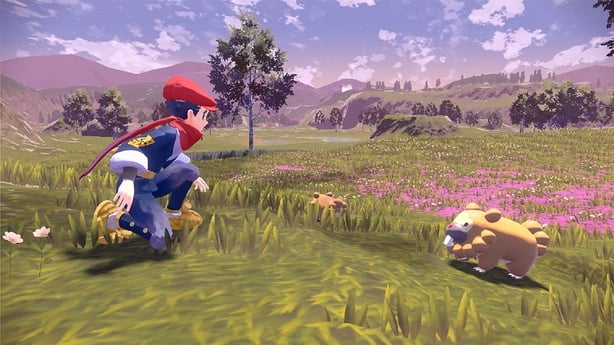 It is like no other Pokémon game. Wandering off the beaten track is always encouraged and rewarded, and you'll relish exploring what new species awaits you. You'll almost feel like rediscovering the entire franchise all over again.
Whilst your overarching task remains to catch everything that moves, you're also slowly building up research. This can include everything from catching a specific kind of Pokémon, witnessing them use specific moves, and more. Each one has unique requirements, some more challenging and demanding than others.
Cleaning up old frustrations
Small changes to the battle format inject variety and strategy. Swapping between Pokémon before battles is quick and easy. New move styles, including both strong and agile attacks, offer more clarity over move orders. EXP share is a permanent feature, which slowly levels up your entire team after each battle.
You'll complete an enormous amount of said research simply by engaging with the many townspeople of Jubilee Village. All of these people share a curiosity (and fear) about the growing number of species appearing.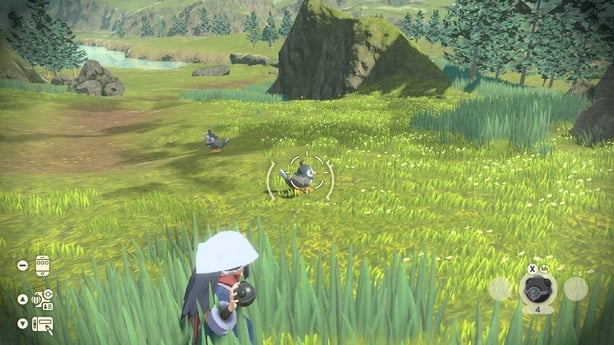 New Pokéball types allow for more ingenious ways of capturing the local wildlife. Arceus also cleans up some of the more tedious features of Pokémon, including healing and swapping your team at base camps instead of returning to Pokémon centres, opting into evolutions as opposed to cancelling them, and much more.
And whilst there's no Elite Four to contend with, the game does have several challenges including fighting off (or avoiding) Alpha leaders, exploring 'time-rifts' to catch rarer Pokémon, and intricate boss battles with 'Noble' Pokémon.
The storyline is straightforward to follow, and although the Hisui region can appear at times to be quite monotone, a variety of outrageous characters from both Diamond and Pearl clans more than brings this world to life.
A bright future for an iconic brand
Pokémon Legends: Arceus has rekindled a legacy franchise with a fresh approach to its basic mechanics. It is a compulsory buy for any Switch owner with even the slightest interest in Pokémon.
Perhaps the most exciting thing about Legends is not necessarily the game itself, but what it means for the future of the series.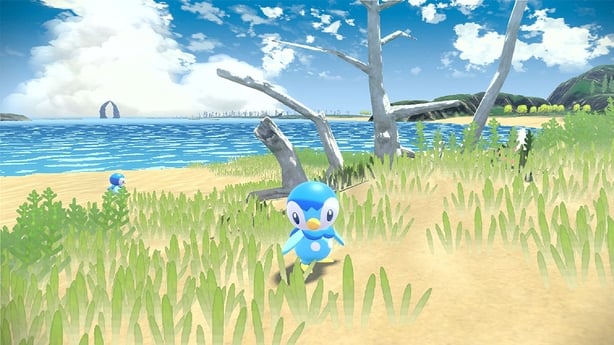 Both Pokémon Scarlet and Pokémon Violet are scheduled to release later this year. If they build on the Arceus playbook, then it's clear Pikachu and friends have plenty more to offer us. Here's to another 26 years of trying to catch 'em all.
Pokémon Legends: Arceus is available on Nintendo Switch now.
Gran Turismo 7
There were countless times when playing Gran Turismo 7 that I simply forgot I was playing a video game. The graphics are incredibly realistic, to say the least.
We need your consent to load this YouTube contentWe use YouTube to manage extra content that can set cookies on your device and collect data about your activity. Please review their details and accept them to load the content.Manage Preferences
But perhaps that's what we've come to expect from modern games, and indeed from one of the leading racing sim titles. But something in me thinks no - Gran Turismo 7 pushes the boundaries even further than I could have expected.
Undeniable beauty aside, this is a sleek, polished and smooth return to one of the most beloved racing series in gaming. Moments in and you'll be in the driving seat, darting across a track to the beat of 80s music.
As someone who hadn't played a GT game in quite some time, I was expecting to get swallowed up in all things car customisation and lengthy controls. But the game has an effective way of showing you the ropes quickly and introducing core mechanics in a fun, easy way.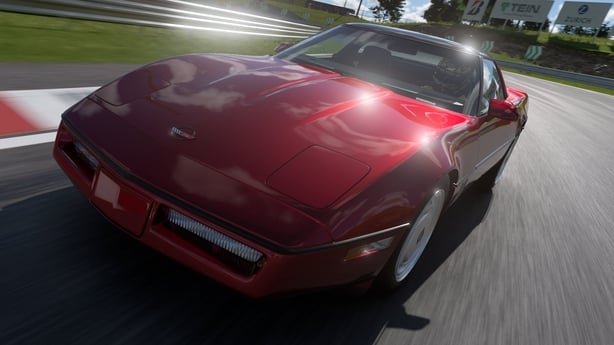 The tutorial largely centres around the local café, where owner Luca will arm you with all the information (and more importantly cars) you'll ever need to succeed. Complete challenges on Luca's 'menus' to earn cars, and he's considerably generous– you'll have a variety of motors quite early on.
For car buffs, there's plenty to chew on – and then some. Endless customization options are on hand for you to toy with, alongside a treasure trove of car history. No doubt when you secure your favourite ride, you'll push the game's photo mode to pap that perfect action shot.
GT7 also makes full use of the PS5's signature DualSense controller, and then some. Every brake or bump in the track will resonate, blurring the lines even more so between gameplay and real-life and giving an incredibly tactile, rewarding experience (even when you lose!)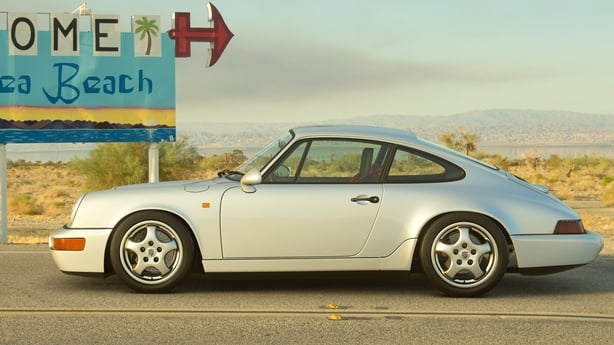 Different race categories will, however, force you out of your comfort zone to explore new cars. License Tests return and act both as minigames and 'Boss Fights', honing your skills across a plethora of sizeable challenges.
Thankfully there are plenty of opportunities to apply those skills to the race track. A wide variety of tracks from across the globe ensures you'll always remain spellbound by the picturesque scenery, and react to every turn pre-emptively. Multiple variants of tracks, all set to a dynamic weather system, ensure no two races will quite feel the same.
And whilst solo-player content is abundant, nothing beats jumping online and racing other players online. In a welcomed sign of nostalgia, the game also brings back the iconic split-screen mode which so many modern games have forgotten, meaning you and a friend can both enjoy a competitive race on the couch together.
Ultimately, Gran Turismo 7 is a picturesque racing simulator with its foot firmly set on the pedal. Car enthusiasts will relish the sheer amount of customisation and car history that's on offer. Newcomers are taken well care of too, and an effective tutorial will give you everything you need to pass your driving test first try.
Other-worldly graphics paired with the same signature gameplay gives this franchise a fresh head-start into this new generation of racing games.
Gran Turismo 7 is available on PlayStation 4 & 5 now.