Dublin Dance Festival 2022: Directed by Laura Murphy in collaboration with choreographer Siobhán Ní Dhuinnín and visual artist Rhona Byrne, The Shake is an outdoor participatory performance event - Laura's words, 'The only way to see it is to be a part of it'. She introduces The Shake below...
---
In March 2019 responding to the shock of the first lockdown, Siobhán and I began to meet online at 7:40am every morning to do a shaking practice – a physical-meditative practice often used as a warmup in dance. Each of us stood in the middle of their own room, feet positioned at hip width, and began to gently shake, pulsing from our ankles through our knees and hips, letting the movement travel through our spines and shoulders, up our necks and down again, perpetuating itself, our bodies awakening and welcoming us in.
Much like other performers, we were troubled about the potential impacts of lockdown, physically, emotionally and professionally - and as time progressed it was perhaps inevitable that this practice of ours grew into something much bigger. Moving out of the constraints of our rooms, we began to shake with other colleagues, friends and family members. We noticed the particular rhythms of the practice, the time it took to complete and the energy shaking produced were always the same, always subtly different. We discussed the particular character of our morning's shake, how it was different from the day before's and why. The physical benefits of our daily shake were apparent, as well as its experiential layers and how it bonded us together. Out of these insights were born the impulse to share our practice with others, and to develop it into a performance.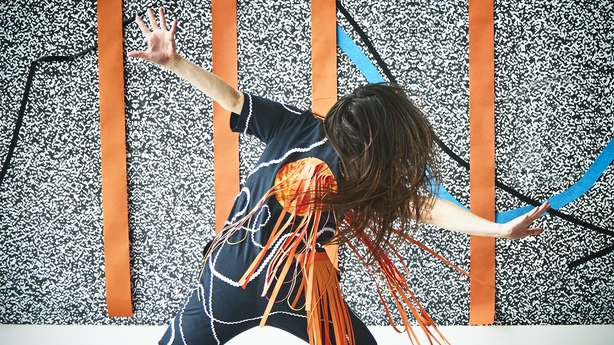 Together with collaborators, dance artist and co-choreographer Siobhán Ní Dhuinnín, and visual artist Rhona Byrne, we discussed how to create a space where people could feel inspired to dance, to feel dance from inside their own bodies and to not care what it looked like. We wanted everyone to feel part of the show, to make it a shared experience that didn't exist without you. For this reason, it is participatory with no spectators allowed. The only way to see it is to be a part of it.
Rhona designed a set that included a personal shake mat - really a personal dance floor - for each participant. The mats are spaced out, so everyone feels kinetically connected to one another and yet has space to move individually, and freely. Four professional performers wearing shake suits, also designed by Rhona, guide the participants: Marion Cronin, Kristyn Fontanella, Aoife McAtamney and Siobhán Ni Dhuinnín. Each of the performers moves at a different pace to guide participants of different experience and energy levels, though freestyling is encouraged.
The music we use sets the tone for The Shake, inviting moments of contemplation and celebration. Alma Kelleher has composed an original music score, with singer and performer Jade O'Connor providing live vocals.
Depending on the number of participants, the energy they bring and a whole lot of random factors, The Shake can feel like a hooley, a concert or even a dance class. It's all of these combined, and none. It's an intergenerational piece that brings together family and friends, strangers and colleagues. Perhaps first and foremost, it offers a space for all those who love to dance to come together and celebrate moving their bodies.
The Shake is an outdoor participatory performance event at Wood Quay Amphitheatre on the 28th and 29th May as part of Dublin Dance Festival 2022 - find out more here.