We're delighted to present an excerpt from Masculinities and Manhood in Contemporary Irish Drama: Acting the Man by Cormac O'Brien, published by Palgrave Macmillan.
The book charts the journey, in terms of both stasis and change, that masculinities and manhood have made in Irish drama, and by extension in the broader culture and society, from the 1960s to the present.
---
Tom Murphy's breakthrough play, A Whistle in the Dark (1961), is a dark exploration of the dangerous, sometimes fatal effects of unreconstructed Irish masculinity. Drawing influence from modern tragedians such as Henrik Ibsen and Arthur Miller by mobilizing a working-class anti-hero as the central protagonist, this classically structured, three-act tragedy charts twenty-four pivotal hours in the life of the Carney brothers, five economic migrants from Mayo living in Coventry in 1960. The action takes place in the home of the eldest, Michael, recently married to Betty, an Englishwoman. Michael's attempts to assimilate into a quiet, working-class life as a law-abiding family man are brutally disrupted because his brothers are living in his house. Harry, Michael's immediately younger sibling, is a poisonous, resentful man who makes his living from petty crime and pimping. He has recently moved himself and brothers Iggy and Hugo into the house, thus reducing Betty's carefully kept home to little more than a dosshouse. Not only does he pressurize Michael to convert the house into a brothel, but further oscillates between viciously insulting Betty and drunkenly trying to bed her. For Harry, it is vital that he and his brothers live up to their self-appointed title of 'Iron Men'. Hugo and Iggy emulate Harry, working as henchmen for his protection rackets.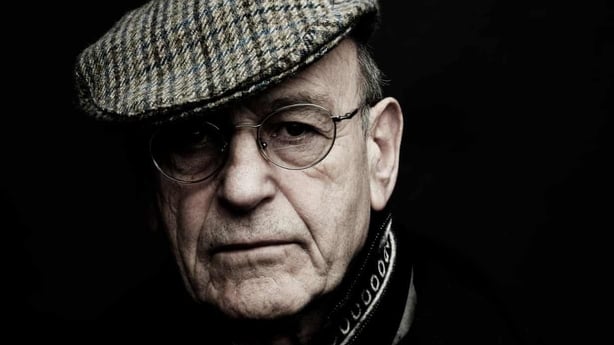 But it is Harry's preoccupation with crushing another Irish family, the Mulryans, that forms the lynchpin of the tragic narrative. The Mulryans and the Carneys have a bitter history of feuding, and in his latest effort at defeating these enemies, Harry has shipped their youngest brother, Des, accompanied by their father, Dada, over from Mayo. The play opens on the household's preparations for their arrival. Once they have arrived and been briefed by Harry on the situation with the Mulryans, what follows erupts in a theatrical maelstrom of misogyny, bullying, and violence. In the final scene, high from their victory over the Mulryans, and eager to humiliate Michael as an emasculated traitor to the 'Iron Man' cause, Dada goads his sons into recreating an old family game, 'World Champion Carneys', in which the brothers fight each other with bare knuckles. Provoked beyond reason and subconsciously lured by the atavistic wrench of his father's and brothers' 'fighting Irish' rhetoric, Michael joins in the brawling. Murphy's tragic denouement is unexpected, swift, and brutal when the brawling becomes weaponized, and thus Michael kills Des with a broken bottle to the head. The final curtain descends on this frightening moment, the brothers shocked into the startling reality of the situation, while Dada denies any responsibility for the deadly fight.
We need your consent to load this YouTube contentWe use YouTube to manage extra content that can set cookies on your device and collect data about your activity. Please review their details and accept them to load the content.Manage Preferences
Watch: Masculinities and Manhood in Contemporary Irish Drama: Acting the Man - in conversation
Harry Carney lives by a value system that glorifies brutality and violence. He observes, assimilates, and enacts socially the tropes of public masculinity that he both sees around him and perpetuates. Simultaneously and necessarily, he also rejects any moral examination of this public world of men, adamantly refusing all self-reflection and any suggestion of inner remorse for his actions. Harry's devotion to violence, his newly won status as Champion Carney, his adherence to the Law of the Father and worship of the family name, the emotional and physical misogyny that he casually visits upon Betty and his 'working girls', indeed his very perception of how he and his brothers should operate as men, all draw from and rely upon his external environment. There is, then, little or no consideration given to his inner psyche or emotional well-being. Although he pays lip service to notions of a self-constructed psychic self, that of the 'Iron Man', on closer inspection being an Iron Man is solely about an exterior and primarily corporeal performance, the only emotion feeding that performance being paranoid anger thinly veiled as bravado.
Harry's form of hegemonic masculinity exerts a strong allure, interpellating younger brothers Hugo, Iggy, and Des, and their sidekick Mush O'Reilly. From his father, Harry appropriates whichever aspects of Dada's patriarchy suit his own aims, such as family loyalty, misogyny, bullying, and male-peer surveillance, while abandoning other less useful traits such as inaction, empty rhetoric, and cowardice. His shrewd intelligence enables him to manipulate those around him, as exemplified in the final confrontation between Des and Michael for, on close analysis, it is Harry not Dada who engineers this fatal fight. Moreover, that Michael finally abandons his performance as a reasonable family man to become one of Harry's Iron Men is a true measure of Harry's ensnaring strength.
We need your consent to load this YouTube contentWe use YouTube to manage extra content that can set cookies on your device and collect data about your activity. Please review their details and accept them to load the content.Manage Preferences
Watch: 2013 - Druid Theatre to take Tom Murphy plays around Ireland, via RTÉ News
For the spectator, granted an outsider viewpoint, the paradigms of masculinity that the Carney brothers choose to construct for themselves are horrific and primitive. At the June 2012 DruidMurphy production of Whistle at the Town Hall Theatre in Galway, the level of shock experienced by spectators was expressed frequently by spontaneous groans and shouts at the stage. When Michael kills Des, this audience let loose a collective shriek and immediately fell into stunned silence, heightening a tense, palpable atmosphere of sickened disbelief.
Yet, within the play world, Harry understands his actions as appropriate to men of his class, status, and geopolitical positioning. Within any given socio-economic demographic, as Michael Kauffman argues, 'Each [male] sub-group, based on race, class, sexual orientation, or whatever, defines manhood in the ways that conform to the economic and social possibilities of that group'. Harry therefore firmly believes that this is how a family of rural Irish emigrants in Coventry should behave; the objective being that the Carneys ascend to the top of the local hierarchy of Irish emigrant families by conquering their rivals through whichever violent means necessary. His world being, as Christopher Murray puts it, 'composed of materials derived from the abuse of patriarchy' , Harry chooses a model of masculinity constructed from his public environment of fighting, strong bodies, hard drinking, misogyny, pimping, extortion, and protection rackets. Vital to Harry is how those around him understand this model. That he and his brothers should be perceived and feared in the Iron Men image he has created is more important than the performance itself.
Cormac O'Brien is a Lecturer in Irish Drama at University College Dublin. Masculinities and Manhood in Contemporary Irish Drama: Acting the Man is published by Palgrave Macmillan.