We're delighted to present an extract from Poguemahone, the new novel by Patrick McCabe, the acclaimed author of The Butcher Boy, Breakfast On Pluto and Heartland.
Dan Fogarty, an Irishman living in England, is looking after his sister Una, now seventy and suffering from dementia in a care home in Margate. From Dan's anarchic account, we gradually piece together the story of the Fogarty family.
Poguemahone is a wild, free-verse monologue, steeped in music and folklore, crammed with characters, both real and imagined, on a scale Patrick McCabe has never attempted before.
---
Ah, now, but they were grand times surely
in good old London and Killiburn
long ago,
may God forgive me should I play you false.
---
It was 'as good as a play'
you would often
hear them comment
in Nano's Famous Club
& which I must concede
it most definitely was that
the night Joe Meek from Holloway
came wandering in
the dark and troubled
but extremely gifted record producer
with the long jaw and gleaming, lathered quiff
in his single-breasted charcoal suit and black tie
& who eventually, later on,
succeeded in shooting
first his landlady
& then himself
& who, on this particular night
had been discoursing at length
on the subject of the 'little people',
or 'the grogueys' as he called them
confiding to anyone
he could find who was
prepared to listen that
he knew, and always had
that, just by looking at Nano,
gazing into those eyes of emerald-green
that she was
'one of them'
yes, their own flesh and blood,
that groguey breed and kin.
We need your consent to load this rte-player contentWe use rte-player to manage extra content that can set cookies on your device and collect data about your activity. Please review their details and accept them to load the content.Manage Preferences
Listen: Poguemahone - Pat McCabe talks to Brendan O'Connor
---
You can believe Joe Meek,
he repeated, emphatically
before starting off again into lost
airmen and their ghosts
and the howls you could sometimes hear
after midnight in the cemetery
in the graveyard opposite his flat
on the Holloway Road
where he recorded the nocturnal
pleas of the souls of
seriously unquiet vampires
along with the plaintive appeals of
many lonely 'grogueys' adrift in the dawn
what, it hardly needs stating,
with chat the like of that
it came as absolutely no surprise at all
to any of the customers
when they opened the paper
and saw his chalk-pale face looking back at them
Joe Meek, as it turns out, not so meek
& who had turned the pistol on himself
as his landlady lay there dying at his feet.
---
But, like all the eccentrics,
for whom our Nano's had
provided a kind of home from home
everyone agreed he'd be sorely missed
'God bless you, Joe, me auld
segocia – may you rest in everlasting
peace!'
someone shouted as they
raised a glass
'It'll be all quiet in North London
now!'
'To Seosamh O'Ceansa!' everyone cheered,
'God speed to you, Joe, for there's not a one
in Nano's as'd ever utter a cruel word against ya!'
---
With one man making the sign of the cross
as a signal mark of respect for 'Mr Meek'
& his unique
understanding of all
those other strange &
unearthly other worlds
far beyond this one that we know,
or think we do.
---
As peace once again
being seen to reign
in Nano's,
or so it seemed –
because you were never
quite sure
no, never what you might call
one hundred per cent certain
with that unpredictable
giddygoat atmosphere
where you knew that anything
practically anything at all
it could happen at any moment
with the atmosphere
enhanced
by the dim electric's shine
on the potted plants
and Nano's own specially appointed
colour scheme of lurid 'Irish' green and gold.
Which had the effect of making you feel
right from the minute you sat down
that you were not unlike the unfortunate
fish that Behan had pissed on
swimming aimlessly
among the artificial reeds,
mindless in warm water.
---
There were also supposed to be spies
in & out
from time to time
although I couldn't
vouch for that claim's
authenticity either.
Kim Philby, they said
was one of them
one night along with
Noel Coward.
---
Yes, suave as you like, apparently,
in the warm red glow of the
alcove, chatting away to Nano herself
& smoking through an elegant holder.
Ian Fleming will be dropping by
later on,
I remember her whispering behind her hand
that night.
Although, in fact, he didn't –
at any rate, not while I was there.
---
But then, like all of us Fogarty
Auntie Nano
didn't she have a reputation
for being something of an exaggerator,
you might say.
Yes, a dewy-eyed gilder of the lily,
perhaps.
A bit like myself, as my sister Una is
always saying whenever she wants to get
a dig in.
Yes, more self-indulgent raiméis
coming out of my brother's mouth
a lot of old balderdash
courtesy of our man Dan.
---
Not that I care what she says
for, as I'm sure you'll agree,
there's no one more contrary
when it comes to it than our Una,
God love her.
---
So, whenever I see she intends
to be like that
I just walk away & go on with
my story
whether it happens to be
about life that we lived
on the building sites
long ago or the fun and games
we had in Nano's.
Like the night, for example,
she introduced me to 'the delightful
Peter Sarstedt'.
---
Where
Do
you
go
to
my
lovely
was the song that he'd had some
success with at the time
I think it may actually
have reached number one.
O Peter!, Nano moaned,
with those emerald-green
peepers twinkling
Peter my sweetheart,
my
very
own
lovely
boy
Peter
my asthoreen
grá
my own dashing
fear
óg
lán
de
draíocht
– why, goodness,
that dear boy,
he is absolutely dripping
with charm!
---
Peter Sarstedt was born in Delhi, India, in the year 1941,
where his parents were civil servants – part of the old
established Raj, the British administration.
Both parents were classical musicians.
He went to the boarding school in Kurseong in the Darjeeling
district of West Bengal.
I think it was his bushy black staple-shaped moustache that
Nano felt most attracted to – I mean, I have to admit, it was
really impressive.
Is maith an wonderboy, soitheach an-álainn e!
Yes, he really is quite a dish, she used to always say,
in his stylish black knitted polo.
Little did she ever dream that he'd end up featuring in
mine & Una's story,
with those same plaintive triplets of a French
waltz rendered on an accordion,
swelling at the feet of a bleeding, crucified
Christ
beneath a copper sunset on a hill above Jerusalem.
As a leopard with the spread wings of an eagle came
gliding in to land
on the surface of a river
already on fire
but never mind about any of that for the moment
because we can talk all we like about that later on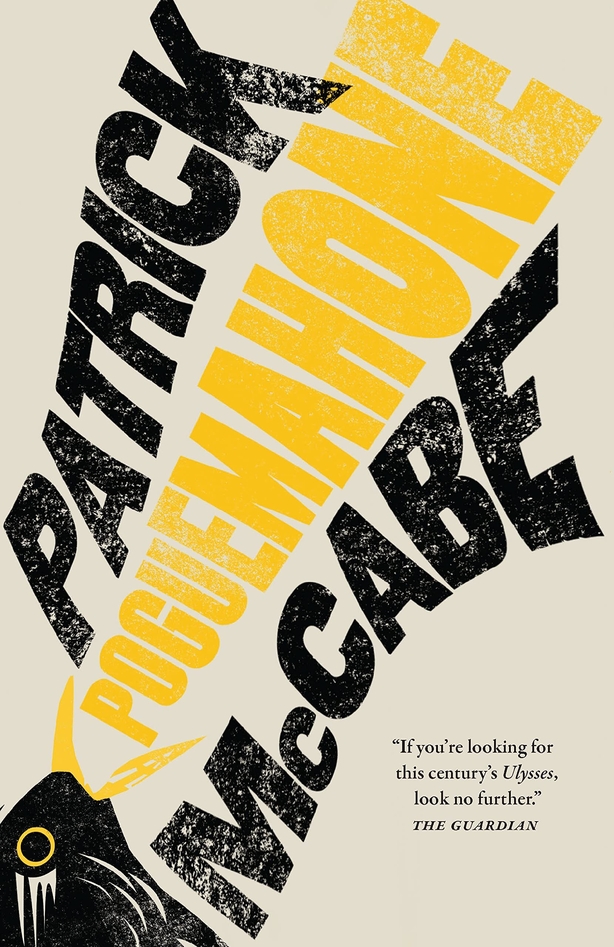 Poguemahone by Pat McCabe is published by Unbound.