On the first weekend of each month, Project Arts Centre will publish a new work in partnership with RTÉ Culture.
Project have invited a number of artists and social activists, with a lived experience of intersectional discrimination and disadvantage, to produce a series of ambitious and provocative new works, encouraging crucial dialogue around the impact of social and economic inequality.
US by dance artist Tobi Omoteso and social activist Catherine Joyce is the second work in this series - watch it above.
The film explores the experiences shared by artists from the Black-Irish community and Travellers, and examines the barriers for these communities in accessing opportunities to make and present work. It also speaks to issues such as representation, resource allocation, appropriation and programming, and highlights the need for a more equitable and diverse range of artistic supports.
In coming together through their consultation work at Project Arts Centre, the two found common ground in their experience and invited a number of artists to join them in conversation around their vision for the future.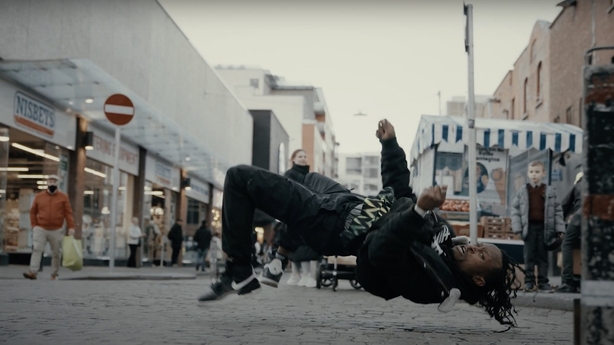 Tobi Omotesso: Tobi Omoteso is an internationally acclaimed Bboy (breakdancer), best known as the Curator and Director of Top 8 Street Dance Battle. The event began as part of Dublin Dance Festival in 2016 and is now a stand alone festival that continues to grow in size and popularity, drawing huge numbers of young dance audiences and practitioners.
As a choreographer and performer, Tobi's work has been presented across Ireland, through festival platforms including Dublin Dance Festival, Cork Midsummer Festival, Sproi Festival (Waterford), Irish Arts Center (New York) and RTÉ's I Am Ireland, among many others. On screen he has performed on Sky One's Got to Dance, hit US TV show Penny Dreadful and in numerous music videos and commercials.
Catherine Joyce: For over 35 years Catherine Joyce has been a member of the Irish Travellers human rights movement, winning Person of the Year award in 1991 for her contribution to progressing Traveller human, social and cultural rights. She is currently the co-manager of Blanchardstown Traveller Development Group.
Catherine has represented the Irish Traveller Movement at a national level, as part of the Irish Government delegation to the World Conference on Racism and Interculturalism in South Africa and at the International Conference on Social Development in Copenhagen. In 2010 Catherine collaborated with Theatre Artist Dylan Tighe, in the development of the script for The Trailer of Bridget Dinnigan and is currently working with Vanessa Fielding on The Girl with the Rose Tattoo by Tennessee Williams.
Watch the first work in the series, We Will Examine by Veronica Dyas & Louis Haugh, here.