The hospital-building programme of the 1930s showed the constructive energy of the new Irish Free State and its openness to adapt advanced European ideas in architecture to Irish conditions and made a determined break from the workhouse and asylum system inherited from the previous century. Cashel Hospital, begun in 1933, exemplifies Ireland's hospital design programme, and was inspired by its designer's architectural Grand Tour and funded by horse betting, no less.
Theories of the day demanded that the modern hospital had to be a high performance, functional institution to treat the human body, of course, but also an environment conducive to rest and holistic treatment. The International Style of architecture, which famously proposed houses as 'machines for living' (Le Corbusier, Vers une architecture, 1925), translated into hospitals with constant circulation of air, bountiful light, and white, smoothly rendered walls.
From the late nineteenth century until 1947, the cost of the public health services was borne almost entirely by local authorities who derived their funding from local ratepayers. Through the 1930s, the Irish Government was not prepared to come to the aid of the hospitals by increasing the level of parliamentary grants last fixed in the 1850s. Instead, hospital building in the Free State was funded by the Hospital Trust Sweepstakes from 1930, originally intended to raise funds for some voluntary hospitals in Dublin, but soon expanding to become the prime source of finance for a nation-wide programme.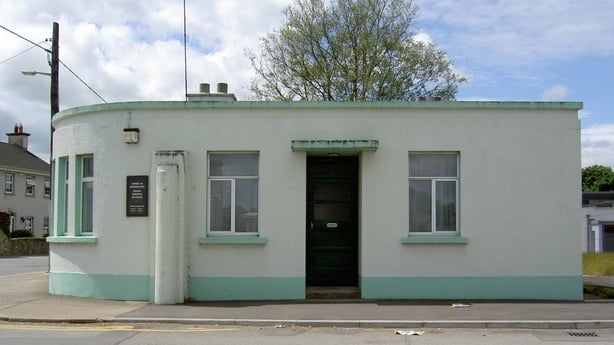 Vincent J. Kelly (1895 – 1975) was the first student to graduate in 1917 from the newly-established School of Architecture at University College Dublin. Kelly was also an architect for the ESB, designing substations around the country such as the one on Fleet Street and Bedford Row in Dublin (1928).
In 1930, he was appointed an architectural adviser on the Hospitals' Commission and the following year began an extensive European tour to make a detailed study of modern developments in the design, equipment, and administration of hospitals such as France, Switzerland, Germany, Czechoslovakia, Austria, Belgium, and Holland. He inspected sixty-five hospitals during a period of only three months.
On his return, Kelly contributed his findings to official published reports, gave lectures (such as the AAI lecture 'A Tour of Continental Hospitals' on 20 February 1934), published articles, then took on responsibility for several hospital commissions himself. These included Nenagh General Hospital, Co. Tipperary (1933-36), Naas Fever Hospital, Co. Kildare (1933-39), the County Hospital at Cashel, Co. Tipperary (1933-40), the pavilion blocks at Portrane asylum Co Dublin (1953 – 56) and the Nurses' Home at Grangegorman (1947). Two of his projects which did not proceed were the regional hospital at Wilton, Cork, and a new county hospital for Leitrim, commissioned in 1933.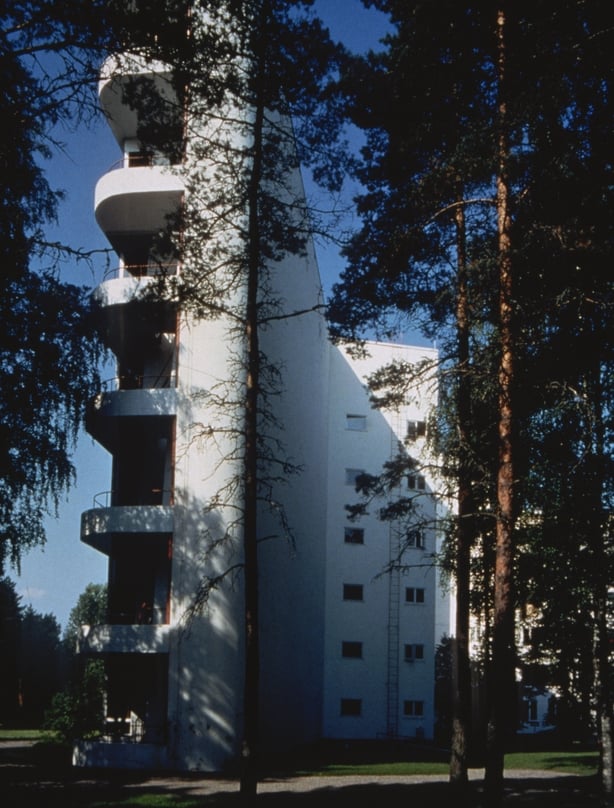 Announcing the commencement of this campaign, the then Minister for Local Government and Public Health, Seán T. O'Kelly praised Paimio Sanatorium, Finland (built 1929-33) designed by Alvar Aalto (1898-1976), stating that he hoped similar talent would emerge in Ireland to 'help us build in a manner that will reflect credit on our country and generation' (1). Even the Hospital Sweepstakes Building itself, in Ballsbridge, Dublin, (Robinson Keefe, 1937) stands as an exemplar of this modernisation drive, but here with a long low front elevation and a glazed tower at one end.
Following Kelly's design, the tenders for the new County Hospital for Tipperary in Cashel were awarded in 1934, with Messrs Farmer Bros. as the main contractor. However, two problems affected all hospital building before and during the 1939-45 Emergency, namely, a shortage of building materials and the cancellation of racing in England, which greatly curtailed the receipts of the Hospital Trust Sweepstakes. Further delays at Cashel were caused by issues with the electrical work and heating. Nevertheless, on 22 July 1940 the Right Rev. Mgr. Innocent Ryan, V.G Dean of Cashel assisted by the Right Rev. Mgr. W. Byrne, V.G Dean of Clonmel, blessed the institution and celebrated Mass in the hospital chapel with Vincent Kelly, and P.J. Ruttledge, Minister for Local Government and Public Health in attendance. That same year Tom P. Kennedy (1906 – 1991) replaced Kelly as the Commission's Architect (2). The final cost of the build was £90,000, with £63,000 coming directly from the Hospitals' Sweepstakes Fund.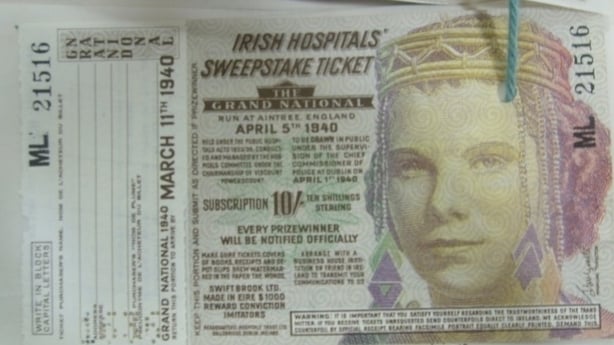 The hospital stands on the sites of the former County Infirmary and the Cashel Fever Hospital on a 6.5-acre campus. It boasted an up-to-date operating theatre with the latest sterilising equipment and bed lifts, food lifts, line lifts operated by electrical motors. Adjoining the hospital was the Nurses' Home (demolished in 2002) to accommodate the Matron (Sr M Columba) and three other Nursing Sisters as well as eight lay nurses and the maids.
Cashel hospital, which would have been completely painted in white, is three storeys tall, built on the 'vertical system', with a thirteen-bay top floor, eleven-bay first floor and fifteen-bay ground floor and having five-bay end elevations. It privileges south-facing wards, fed by central corridors. The entrance is created by recessed central bays with a bowed concrete canopy at the ground floor with cast-iron railings forming a parapet. The hallmarks of the International Style can be seen in the horizontality of the flat roof, square projecting concrete balconies, square-headed doors, and double and triple window openings. These were original timber sliding sash windows but have been replaced by PVC in recent years. Inside, there is coloured polished concrete flooring and a staircase with brass handrails, along with the washable (therefore hygienic) whitewashed walls.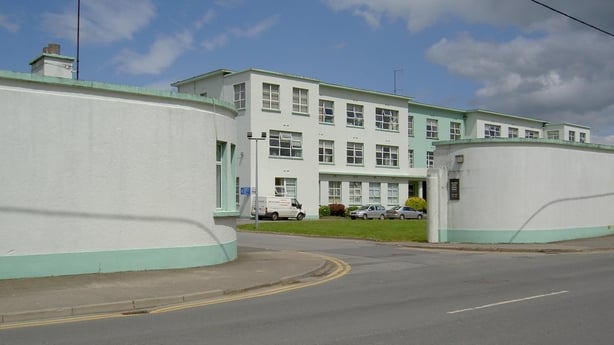 The painted concrete boundary walls incorporate a vehicular gateway with concrete piers and a three-bay, single-storey gate lodge. Like any good gate lodge, it hints at the main building, and therefore is treated, too, in the International Style, with a bowed corner, flat concrete roof, rendered chimneystack and cornice, painted concrete walls with square-headed windows, and a recessed replacement timber door with concrete canopy above.
The hospital has been extended and refurbished in recent years by Avanti Architects with designs sensitive to the main building and the gate lodge, both of which are protected structures. Both show the confidence and ingenuity of Free State architects in bringing modernism to a new Ireland.
---
(1) Frederick O'Dwyer, 'Irish Hospital Architecture: A Pictorial History', Dublin: Department of Health and Children, 1997.
(2) Ellen Rowley, 'Health: Sanatoria and the Search for an Irish Paimio', in Gary Boyd and John McLaughlin (eds) Infra Éireann; Infrastructure and the Architectures of Modernity in Ireland 1916 – 2016, pp. 45 – 64.