Lucy Caldwell's latest novel tackles the under-explored history of the Belfast Blitz, a harrowing series of German airstrikes that cleaved the city into pieces between April and May 1941.
These Days is Caldwell's first foray into historical fiction, but she brings the same depth of feeling and microscopic awareness of detail that marked her previous books – short story collections Multitudes and Intimacies, and novels The Meeting Point and All the Beggars Riding – as standout works.
Told over the course of four nights across the two months of air raids, the novel charts the assault on the city, its inhabitants' swift and optimistic efforts to have a kind of normal (you have to have some kind of life in it, right?) and the gradual erosion of that "normal" as the characters knew it.
We need your consent to load this rte-player contentWe use rte-player to manage extra content that can set cookies on your device and collect data about your activity. Please review their details and accept them to load the content.Manage Preferences
Listen: Lucy Caldwell talks These Days on RTÉ Arena
These Days posits to follow two sisters, Audrey and Emma Bell, but there's a cast of characters swirling at the core of the novel, including the entire Bell family, their housekeepers and another family torn in two by war. Most of these characters are not only transformed by the events, but in some ways actualised by it, whittled away and shaped into truer versions of themselves.
There's Audrey, the highly strung and considerate eldest Bell child, engaged to be married to Richard – a doctor, like her father – and struggling to connect with the future ahead of her. During a relatively idyllic Easter lunch, she feels "like an actor going through the motions of her own life". When Doreen, a coworker and friend, asks if she's "desperate for lack" of Richard, her response is a baffled, "Well, I hardly lack him, do I?"
Emma, in contrast, plunges into a passionate relationship with Sylvia, a fellow volunteer on the St. John Ambulance Brigade First Aid patrol. Her heady, "ardent" desire for the older woman is what propels her through the raids, as the pair dream about how they'll spend the days after the blitz together.
The characters' response to life-changing trauma will feel familiar to many readers, the wait for life to return to normal while knowing it is unlikely. It's a feeling that we've all experienced to varying degrees since the outbreak of Covid-19, or that is taking hold again as the Ukraine War accelerates horrifically.
Rather than returning to normal, the blitz seems to erode the falsehoods each character had built around themself. Audrey, labouring over whether marriage is for her, reaches clarity as the raids continue. Emma further inhabits and accepts her sexuality."We all have public selves … and private selves", say Doreen, Audrey's coworker, though she herself ends up sharing of herself more in the bald honesty of post-raid Belfast.
The younger brother Paul dreams of enlisting in the army, while even their mother Florence is revealed to be harbouring a secret life, a longing for an old flame that she still regrets losing. Her poignant reflections on potential, missed opportunities, family duties and love are only given reign to bloom while she's at Mass.
Here, the novel's title – a reference to the poem Selva Oscura by Belfast-born poet Louis MacNeice – becomes telling: "A life can be haunted by what it never was/ If that were merely glimpsed…These days, though lost, will be all your days."
Caldwell's blitzed Belfast is terrifyingly vivid, its potency no doubt stemming from the interviews the author conducted with survivors of the blitz. Caldwell's descriptions are gripping, capturing the awe-inspiring horror of the airstrikes.
Houses are described as being simply "punched out" of terraces. Magnesium flares – dropped in blankets before the missiles to guide the enemy pilots – hang "like chandeliers" over the city, turning even leaves into ghostly wisps of silver. When Audrey watches as her city braces again for destruction, calling it "so terribly beautiful", it is heartrending.
The strength of Caldwell's images sadly highlights how comparatively faint her characters are. Despite enduring harrowing conditions, they don't grip the reader as much as you would expect, and especially given Caldwell's extensive research.
What does ring out is the characters' resilience, which is a testament to the Belfast spirit as we still think of it today. Mrs Price, the housekeeper, refuses to let the "first big holiday of the year" be ruined, while within days the locals refer to the bombings as "our wee raid".
"Belfast is finished, people say. There is no way we can come back from this." And yet it did, and did, and did – and that's just in the pages of These Days.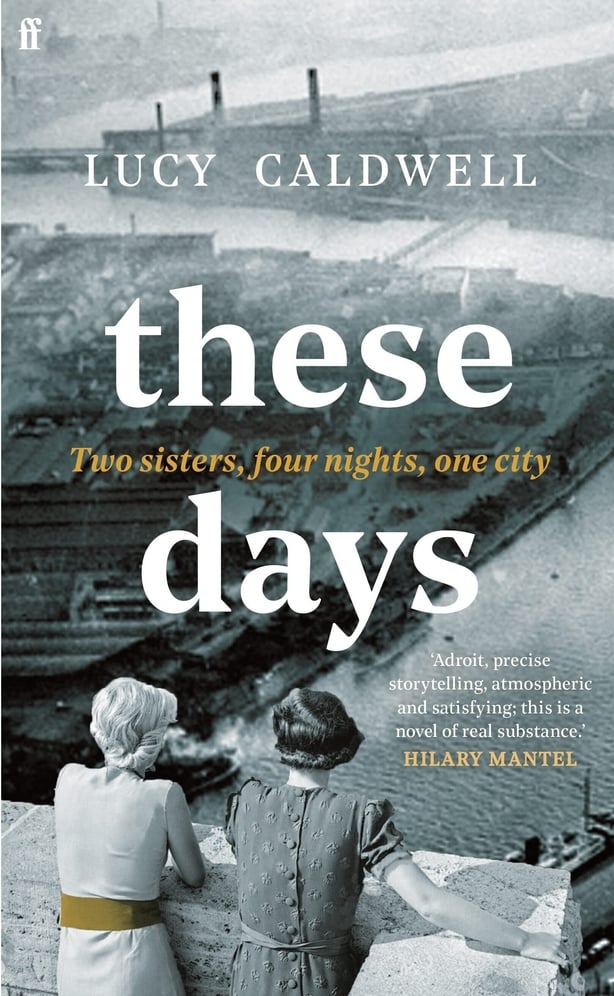 These Days by Lucy Caldwell (published by Faber) is out now.