Art is very different out in the open... Director of the Royal Hibernian Academy, Patrick Murphy introduces Living Canvas, Europe's largest screen for digital art, located alongside Dublin's Grand Canal.
---
The long months of Covid brought us into the cultural core of the digital world. We visited art exhibitions online, streamed live theatre, could see concerts from cathedrals around the world. One click would bring you to New York's Met Museum, another to Dublin's National Gallery. But, while it may have expanded horizons, it was simultaneously limiting. In my own experience, nothing beats being in the presence of the real thing.
At the RHA, we installed exhibitions, and nervously waited to see if they could open, and how long they could run without closure. Art outdoors became the obvious step. So even though, hopefully, the worst of Covid is behind us, I have come through the past two years with a renewed focus on finding space for art in outdoor settings.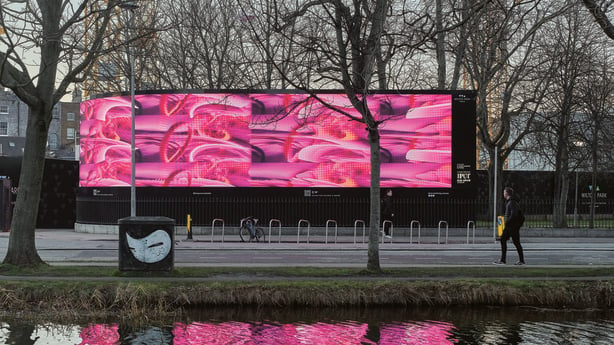 From artists studios to augmented reality
Living Canvas is Europe's largest screen for digital art, and only the second of its kind in the world. I'm proud of that, although it is thanks to Dublin City Council who were very forward thinking in providing the license, and IPUT who dreamed up and supported the project. IPUT are the property investment company who are currently redeveloping Wilton Park, and we have been working with them for a couple of years now. They sponsor artists' studios at Lad Lane, and were behind the AR project we did with Eilís O'Connell at Wilton Park. Go to the park, and you can see on your phone six artworks by one of Ireland's top sculptors through the technology of Augmented Reality.
Wilton Park, for those who don't know it yet, is the triangular park sited on the north side of Dublin's Grand Canal between Baggot Street and Leeson Street Bridges. It is a special spot with a rich history of art and literature, but it had become somewhat overlooked. We had been discussing animating the area, making it into a more civic space, and the idea of the screen emerged.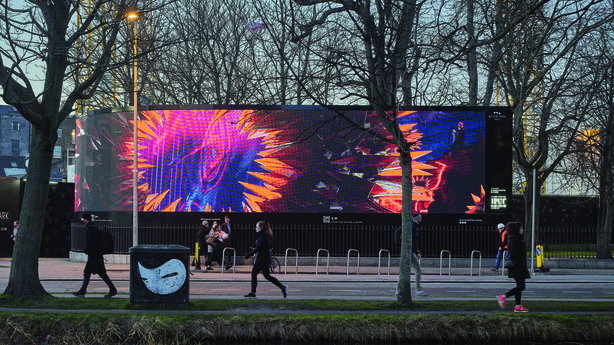 Scaling up the vision
Now, what has been built on the banks of the canal is unique and amazing. It takes digital art away from something to see on your phone. You have to get down there and stand in front of the big screen to really appreciate it. With the largest gallery in Dublin at the RHA, we're used to having scale, but that's within the confines of a building. Art is very different out in the open.
Because it is in a public space, we have had to think hard about programming. I chair the committee for IPUT that decides the screen's content - I am joined by my colleagues Sheena Barrett from Dublin City Council Arts Office, and Simon O'Connor from MoLI, while Algorithm provide the technical side of things.
We need your consent to load this comcast-player contentWe use comcast-player to manage extra content that can set cookies on your device and collect data about your activity. Please review their details and accept them to load the content.Manage Preferences
Watch: Living Canvas launches in Dublin
A great thing about Living Canvas is that with so many hours in the day, there's space and scope for different communities to be represented, and we are evolving the programming as we go. We started quietly at the end of last year, adding new artworks each week. Now, with our newly scheduled programme, you can pick what kind of art and artist you want to see and discover exciting artists you don't know.
There are loose themes each day so, from the meditative work of Clare Langan to the deep digital dive of Aoife Dunne, it's a huge opportunity to engage and discover, and its free.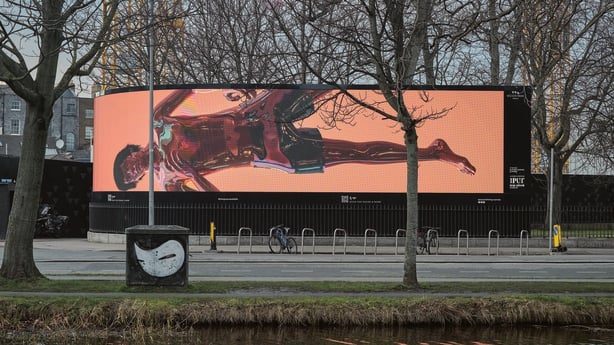 Something to be proud of in the city
As programmer of The LAB space, Sheena brings her knowledge of emerging artists, while Simon's reach into the world of literature and books can yield something as enchanting as an animation for little ones from children's book author Chris Haughton. We are also working with Brian Eno on a series of weekend evening presentations for the summer months..
Art can become iconic to a city. Like Anish Kapoor's Cloudgate in Chicago, or Louise Bourgeois' Spider in Bilbao, Living Canvas is something to be hugely proud of having in Dublin. I hope the people behind promoting the city realise what a great, and free experience and amenity it is for the city. I can already see it bringing a fresh focus to this part of Dublin and the amenity of the canal. Come and find out for yourself…
Living Canvas screens daily from 8am to 10pm. The Spring programme alternates on a weekly basis between Aoife Dunne's BRAIN CHAMBER, a Living Canvas commission, which evolves during the course of seven days, works by Clare Langan, Barbara Knežević, John Beattie, Alan Butler, Ailbhe Ní Bhriain, Bassam Al-Sabah, Aideen Barry, and Something in the Water, a programme of short pieces inspired by the writers who lived and worked in and around Wilton Park, curated by Louisa Carroll and Algorithm. Find out more here.