Long Island. 1965. Author and gambler, Mario Puzo was twenty grand in debt. He owed this princely sum to his brother, various other relatives, book makers and loan sharks. His first book, The Dark Arena, published in 1955, netted him $3,500. Ten years later, his second, The Fortunate Pilgrim, netted him $3,000. By the time he sat down at his typewriter to hammer out his third, he was 45 years old, and by his own admission, 'sick of being an artist.' His third novel took him three years - in between freelance magazine stories and knocking out a kid's book(?) to buy food for his family.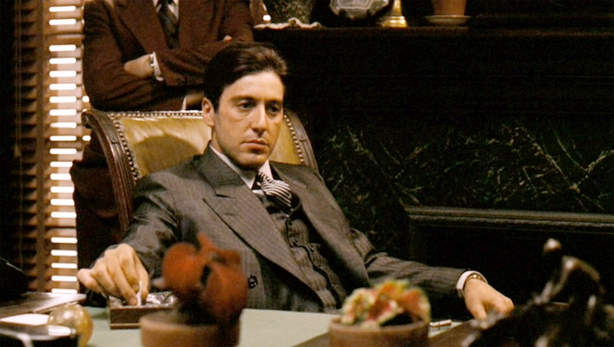 Handing in his manuscript, Mario took his family to Italy (his wife hadn't seen her parents in twenty years) and, inevitably, gambled away the last part of his five grand advance at various casinos across Europe. Back in New York, now worse off than when he left, with an overdue mortgage and gigantic credit card debt, Mario's future writing prospects looked shaky. No worries, he thought. He could always sell his house to avoid jail.
Finally contacting his agent for the first time since returning to America, he asked if she could get him a quick magazine assignment as he was in need of some ready cash. There was a pause on the line as she took a breath then informed him his publisher had just turned down $375,000 for the paperback rights to his manuscript.
They were holding out for more to break the world record.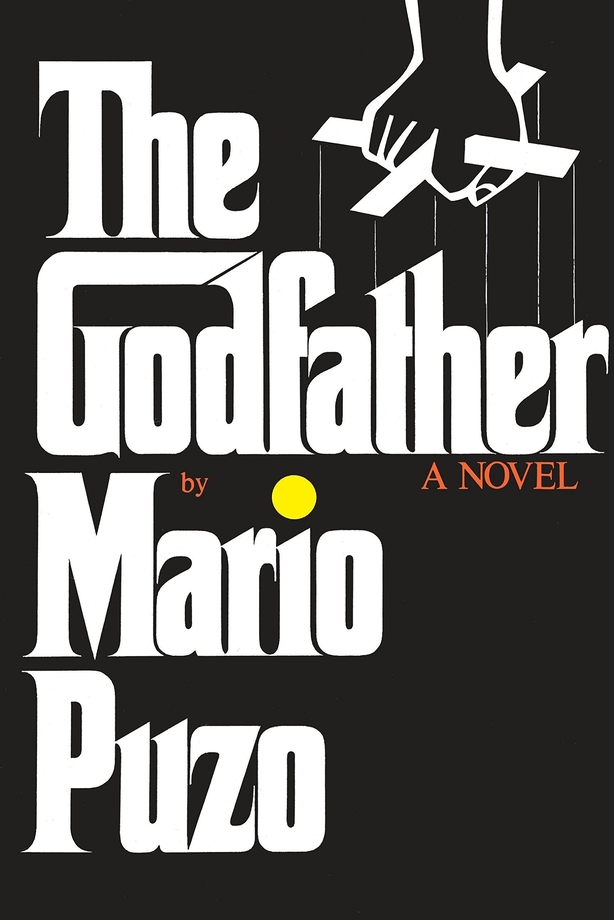 Mario Puzo's The Godfather went on to spend sixty seven weeks on the New York Times bestseller list. No.1 in England, France, Germany… translated into twenty languages. And of course, that was just the book. The Godfather the movie is returning to cinemas for its now - shocking as it seems - 50th anniversary. As the saying goes, success has many fathers. And the family Corleone's ascent to our collective memory owes as much to Francis as to Mario.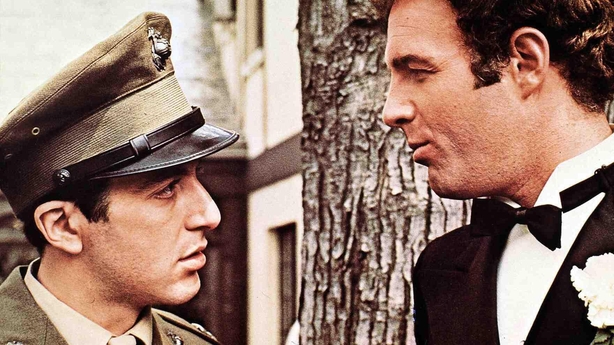 San Francisco, 1970. Francis Ford Coppola, despite already being an Oscar winner for writing the war movie, Patton, starring George C. Scott as the titular general - his reputation in Hollywood wasn't that of an all-round film maker. Not that he hadn't directed any movies. In fact he's made at least four, including Finian's Rainbow starring none other than Fred Astaire, and one shot in Ireland, Dementia 13 (on which he met his wife, the documentary filmmaker Eleanor Neil).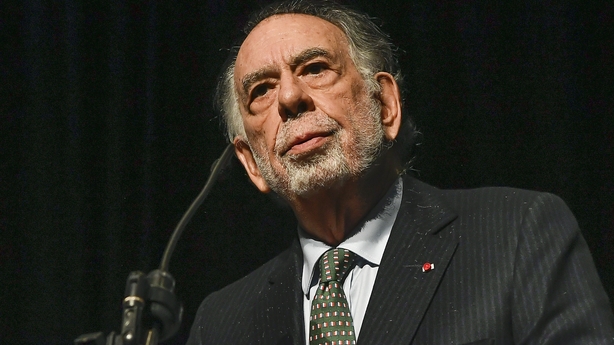 By the time Paramount pictures producer Al Ruddy tracked down Coppola at George Lucas' house, many big time directors had already turned down the chance to direct the movie of what was still the number one best selling book in America and most of the world: Arthur 'Bonnie and Clyde' Penn, Peter 'Bullit' Yates, Richard 'In Cold Blood' Brooks. Even Franklin J. 'Patton' Schaffner said no, as he felt it went too easy on the mafia. (The one who did say yes despite never being officially offered the job was Sam 'The Wild Bunch' Peckinpah. Alas the envisioned body count was too much for the studio to stomach.) Reluctant to take on the job at first, it was the wisdom of family that finally convinced him. Bumping into his dad, composer Carmine Coppola, at Burbank airport, the father embraced the son and said, 'Sure it's a trashy book, but make this picture and then you can make all the art films you want.'
We need your consent to load this YouTube contentWe use YouTube to manage extra content that can set cookies on your device and collect data about your activity. Please review their details and accept them to load the content.Manage Preferences
Legendary Paramount Pictures production head, Robert Evans, was convinced he knew why every movie made about the mafia had flopped: "because they had been made by Jews and not Italians". With this one, he wanted to "smell the spaghetti on the screen". Coppola was hired.
The director's number one choice to play The Godfather was not.
Los Angeles, 1971. It wasn't that Marlon Brando didn't want to play Don Corleone. Having read both the book and the screenplay, he was all set to step into the Don's shoes. But, by the end of the 60s, the actor was resigned to his fate as a Hollywood pariah. A reputation mostly of his own making, thanks to a series of huge flops and the lingering tales of his behaviour on the mega expensive shoot that was Mutiny On The Bounty. (When it comes to money, Hollywood has a long memory). But Francis would not let go. So Paramount laid down three conditions: 1. Brando would have to post a bond - out of his own pocket - to be set against any production delays caused by his behaviour. 2. He would be paid scale: $50,000, plus expenses and a percentage of the profits (usually zero, thanks to Hollywood accounting). And 3. The condition the studio was convinced would kill the deal - Brando would have to do a screen test.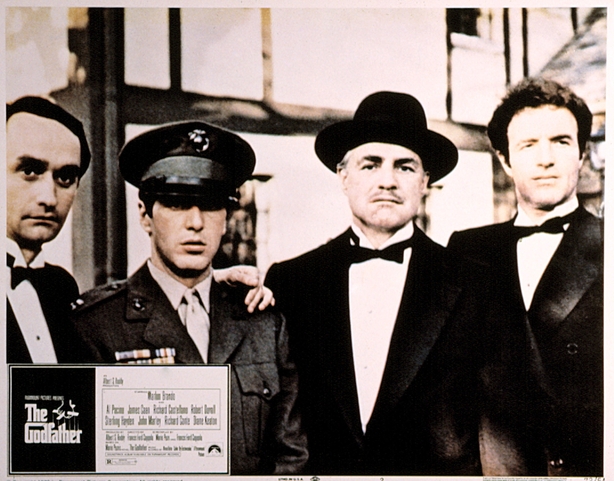 Francis arrived at Marlon's Malibu home with prosciutto, cheese, Italian cigars and Japanese documentary photographer, Hiro Narito. Under a single light and through the lens of their 16mm camera, Francis and Hiro watched quietly for twenty minutes as forty-seven year-old Marlon Brando slowly transformed into the seventy-year old Don Corleone. All it took was an elastic hair band, a tin of boot polish, some Kleenex and the preternatural skills of one of the greatest screen actors who ever lived. The result was so stunning Paramount caved on first viewing of the footage. Mario, Francis and Marlon were all set. Now to find the rest of the family and actually make the bloody film. Al Pacino? Robert Duvall? James Caan? John Cazale? The battle had only just begun. From a struggle to pay the bills and disillusionment with being an artist, such was great art born.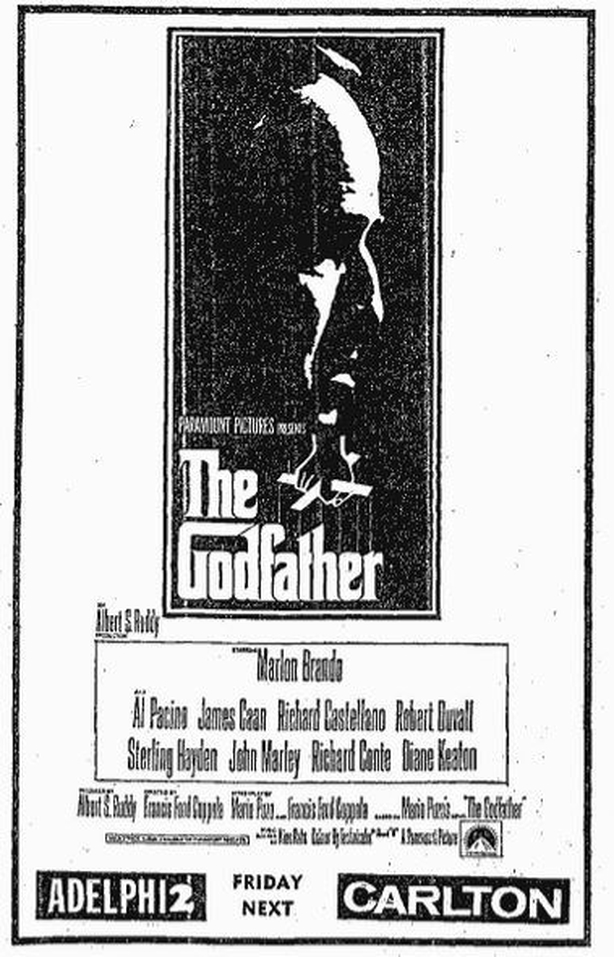 Dublin, August, 1972. The Godfather opens at both the Carlton and Adelphi cinemas (seats 50p or 75p for the late show) the book's reputation and the film's already gigantic American box office success preceding it. My own first encounter with the Corleone family was recording the movie off the TV for my dad in the early eighties while he was at work at the fire station in Finglas. I didn't experience its full cinematic power until catching a revival screening at the Savoy cinema many years later. I remember the print being projected had been used so much, the reel ends were missing bits of scenes. Such technical issues are history now.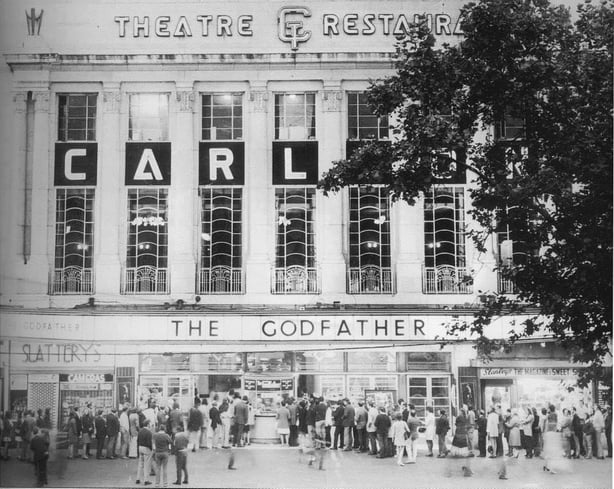 You can experience the first chapter in the life of the Corleones across cinemas this month in all its restored 4K glory. And watch out for, The Offer, a TV mini-series about the the making of The Godfather coming to streaming services later in the spring.
The Godfather returns to selected Irish cinemas nationwide from February 25th, 2022