We're delighted to present an extract from Gloria and Max, which features in Wendy Erskine's short story collection Dance Move, published by The Stinging Fly Press.
In the new collection of stories from Wendy Erskine, we meet characters who are looking to wrest control of their lives, only to find themselves defined by the moment in their past that marked them...
---
Gloria and Max
Max Haynes had been in Northern Ireland for just under two months: long enough to know its limitations. Those presented themselves within two days, such as the cultural quarter of Belfast that consisted of a single street. He was there as visiting professor of film. And now he was in his car, driving to a place in the middle of nowhere.
There was to be a film festival in some godforsaken spot and he had been roped in to attending a planning meeting. Yeah, for sure, he could appreciate the importance of an outreach dimension to the work of the faculty. He had in fact already programmed a short Unknown Pleasures series for the university cinema based on Slavic mythology. And as far as he was concerned, it had been quite a success. Yet the prospect of this small local festival filled him with little enthusiasm. Indeed, it presented significant ideological and aesthetic issues because—as a festival of so-called Christian cinema—it was mono-cultural and reductive. But nonetheless Max had agreed to go. And he had also said that he would give a lift to another attendee, a woman called Gloria, who would be waiting outside the Spar in one of the unfortunate little places he had to pass through.
It was, however, very pleasant going along in the car, through red and yellow trees. In London or the other cities where he'd lived, Max had rarely driven at all. But on arrival for the new, temporary job, they'd offered car leasing. He'd laughed at first and gone to the showroom reluctantly, but when he went for the test-drive in the sleek and stately machine, that was it. He joked about it to Janika when he sent her a photo of it. So not me! he said. But, still, he had gone for the impressive car.
We need your consent to load this rte-player contentWe use rte-player to manage extra content that can set cookies on your device and collect data about your activity. Please review their details and accept them to load the content.Manage Preferences
Listen: Wendy Erskine talks to RTÉ Arena
Max arrived at the designated place at the agreed time. It was not a particularly attractive spot. Although it felt rural, the huge chimney of a nearby power station loomed through the trees. In this main street he wondered if people were waiting for some kind of drugs drop, such were the numbers loitering. Three teenage guys were taking turns to jump on the silver inflatable from the inside of a wine box. Behind them was a sign advertising hot food. A burrito wore a sombrero and had a moustache. That was fairly typical of the place. He would hesitate to brand everyone in the country rednecks because many weren't. Max had met several people at the university that he would certainly keep in touch with after he left at the end of the year. And there was the guy and his partner who did film scores. But undoubtedly there were also a lot of rednecks.
At the bus stop in front of the shop a crowd of girls waited. Two women stood talking together as a dog on a lead gyred round. One of the boys kicked the burrito sign. On the other side of the street there was a funeral director's with an outsize drum clock above the window, its slow hand performing its sweep. Max cringed at its clumsiness. And then, turning back, he saw a heavy-set, middle-aged woman in jeans, white trainers and a pale pink anorak. She had patchy short blonde hair and looked entirely unperturbed as she stood against the front of the shop.
Max wondered how this woman might feel about being in a car, an enclosed space, with a man she didn't know. It might make her feel less uneasy if he banged on a bit about Janika. That would establish that he wasn't a threat, and that Janika was a person who, if not there in physical manifestation, was constantly there in thought.
Max rolled down the window.
Gloria! he said, not loud enough. Gloria! he shouted. It sounded ridiculous, like some kind of dreadful Van Morrison tribute act. Gloria!
The woman looked over, unconcerned, and then walked towards the car.
Hi, he said, once she had got in beside him, I'm Max, and even though I have no idea how to get to this place I've got the satnav to help us.
It's a straight road, Gloria said. To get there.
That's good to know, Max said. But he kept the satnav on.
So, Max said, here we are on our way to this planning meeting. You're very interested in film?
Gloria considered this, and then said, Well, I watch a few things on the telly. Now and again.
Well, film's actually what I'm involved in, Max said. You make films? Gloria asked. No, I teach film at the university. Oh, she said.
I'm a film academic. Oh. Film academic. Teaching the people about films.
Yes. How to make films? No. How to watch them. Lesson one. How to turn on the TV, she said, looking out the window of the car.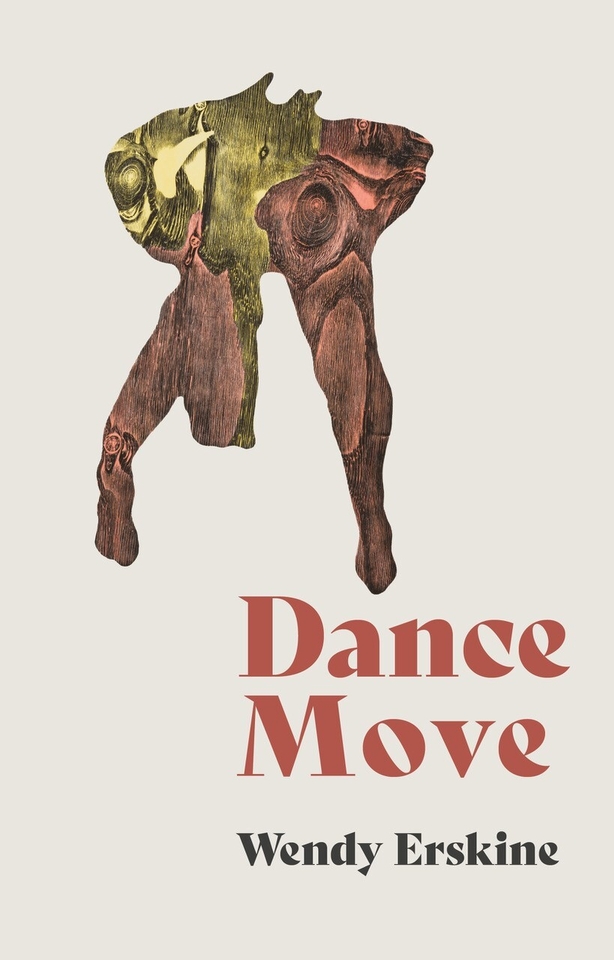 Dance Move by Wendy Erskine, published by The Stinging Fly Press, is out now.