In 1909, James Joyce spent "five rainy, dreary hours" in Cork city, looking for a suitable premises to open a cinema. He obviously didn't find one because he went on to open The Volta Electric Cinema on Mary Street in Dublin that December. It was Ireland's first dedicated commercial cinema, but by April 1910, it was closed. Joyce had gone into partnership with financial backing from a group of businessmen from Trieste, in Italy where Joyce was living. The plan had been to open Volta Cinemas in Dublin, Belfast, and Cork. Dublin's Volta, with an audience capacity of 420, was sold at a loss in June 1910.
We need your consent to load this rte-player contentWe use rte-player to manage extra content that can set cookies on your device and collect data about your activity. Please review their details and accept them to load the content.Manage Preferences
Listen: Cristin Leach discusses Odysseys on RTÉ Arena
That sidebar trip to Cork, which could almost have gone unnoticed in the lifetime timeline of Ireland's most famous writer, is one of the many curious anecdotes that litter the wall labels of The Crawford Art Gallery's Odysseys exhibition, mounted to mark the centenary of Joyce's Ulysses. Published in Paris on 2 February 1922, the book is a retelling of Homer's ancient epic Odyssey. The exhibition tackles two themes in response to the anniversary: James Joyce's Cork connections and the topic of journeys in art. Odysseys contains work by 35 artists ranging from James Barry in 1776, right up to recent works by contemporary artists Rita Duffy, Brian Maguire, Isabel Nolan and Aoife Desmond.
Curated by Flicka Small and Michael Waldron, its centrepiece is a six-minute documentary short directed by Marcella O'Connor. James Joyce: Framed in Cork follows Flicka Small, a lecturer in the Department of English at UCC, as she tracks down Joyce's family connections with Cork city.
The 1909 trip was not Joyce's first. His father John Stanislaus Joyce was born into a wealthy family of salt and lime merchants from Fermoy in County Cork. The family owned property in Cork city adjoining Georges Quay between Douglas Street, Dunbar Street, White Street and South Terrace. Joyce's father inherited these properties but returned to sell them in 1894 in order to clear debts. Joyce was 12 when he made that trip with his father. The train journey to Cork undertaken by his character Stephen Dedalus at the start of Joyce's 1916 novel, A Portrait of the Artist as a Young Man, is based on this formative experience.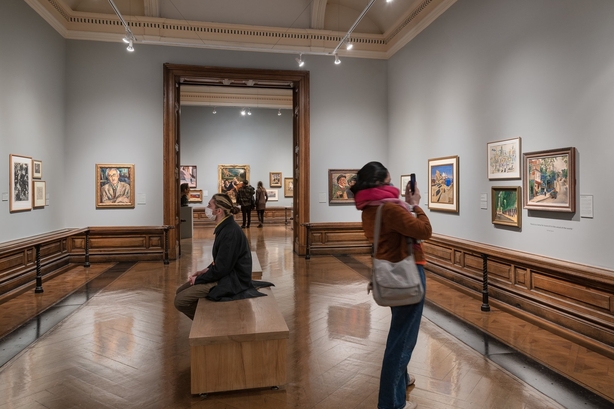 Flicka Small traces John Joyce's christening records to St Finbarre's South Paris Church on Dunbar Street. Joyce's father grew up on Anglesea Street nearby, where there is a plaque on the pavement to mark the connection. As the show explains, this is why Joyce had a Cork lilt to his accent. It's an exhibition full stories, connections, and snippets of information.
Next to a portrait of the writer Frank O'Connor painted by Norah McGuinness in 1949, a tale also gathered by Small in her documentary is recorded. O'Connor, the short story writer who was born on Douglas Street in 1903, once visited James Joyce in Paris. Admiring a painting Joyce had hanging on his wall, O'Connor asked, "What is that?". "Cork," replied Joyce. "No, I mean the frame," said O'Connor. "Oh, that's cork too," said Joyce. It was a deliberate Joycean pun, both visual and word-based, which Joyce (who was born in Dublin) seems to have enjoyed a lot more than the Corkman did.
The show asks us to consider what role politics, circumstance, luck, ambition, and tradition can play in journey-making, as well as how travelling can influence our sense of identity.
The exhibition features artworks with visual references to locations related to the 1894 trip and Joyce's subsequent writing: the anatomy building at UCC, the Mallow Railway Viaduct, the Coal Quay, the Mardyke, Market Lane from the Oyster Tavern, and the Royal Victoria Hotel, recorded in A Portrait of the Artist as a Young Man thus: "I am Stephen Dedalus. I am walking beside my father whose name is Simon Dedalus. We are in Cork, in Ireland. Cork is a city. Our room is in the Victoria Hotel. Victoria, and Stephen and Simon. Simon and Stephen and Victoria. Names."
Joyce's father attended Queen's College Cork (now UCC) in 1867. Rather than attending to his studies in medicine, apparently he excelled at the shotput and cross-country running and received reviews in The Cork Examiner for the many comedies and drama shows in which he performed. In a nod to the Anatomy Department also visited by Dedalus with his father, artist Peter Nash's 2018 etching Embryonic Argument is here, along with an undated anatomical drawing by Walter A Mulligan.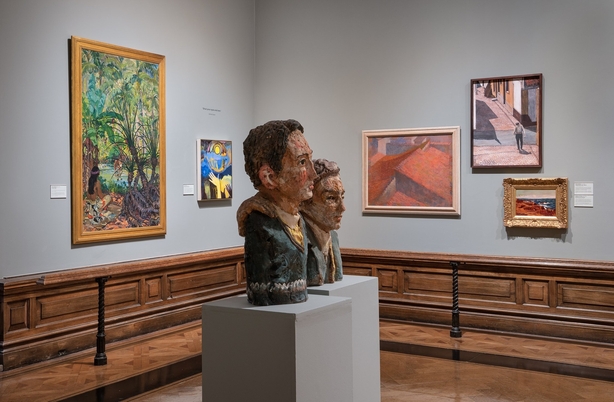 The first artwork sold by artist Alice Maher while she was still a student is part of this show. Maher studied at Cork's Crawford College and produced a woodcut of the fountain at The English Market in 1986. Louis le Brocquy's 1994 portrait head painting of Joyce is here too, along with a stunning small painting of the Avenue de l'Observatoire in Paris by William John Leech, painted in 1901.
Joyce was continually broke in Paris, where he first went in 1903 to study medicine. He returned in 1920 with Nora Barnacle and their teenage children and stayed 20 years. According to this show, they moved seventeen times in those two decades. The idea of a nomadic existence, a moving concept of home, the precarity and possibility of travel, and what all of these experiences might do to a person's understanding of self and sense of place are all profound themes explored in this show.
Patrick Collins's 1968 abstract painting Travelling Tinkers is here and there is a watercolour painting of barrel topped wagons outside Cork from 1964 by the American artist Mahrea Cramer Lehman, shown alongside a 1935 oil by the English artist Henry Bishop depicting a landscape with Bedouin people in Morocco.
The curation is excellent. The wall label next to Collins's painting notes, "this painting embodies a sense of the itinerant history of Mincéirí in Ireland. Traditionally travelling from place to place, individuals and families were often self-employed, working metal (including tin) into practical and decorative objects, which in turn gave rise to the derogatory term of 'tinker'." Every piece included is from the Crawford Collection. There are no loans.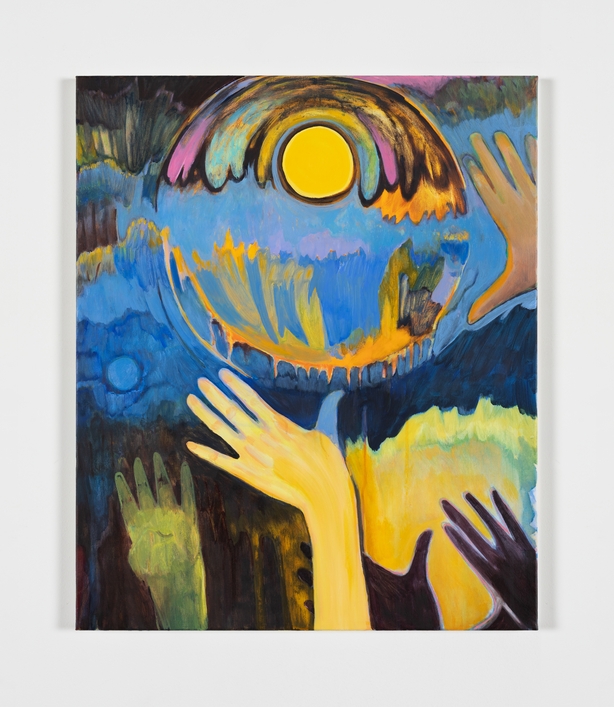 Something really provocative happens with the juxtaposition of a small 2020 painting by Isabel Nolan called Electrons Don't Have Scars hung next to a large canvas by Mary Swanzy from 1924. Nolan's is about psychological journeying. Swanzy's depicts Samoa, a place the Dublin-born artist travelled 2,600 miles by sea to reach, from Hawaii. Swanzy's extended family owned and ran sugar plantations there.
The curators have hung Brian Maguire's 2020 Arizona desert painting, Arizona 3, which is part of a devastating series of works about current migrant deaths on the US-Mexico border, next to Sean Keating's Economic Pressure / A Bold Peasant Being Destroyed, from 1949. Keating's is a painting about emigration from the West coast of Ireland. There are pertinent questions being asked here about travel and migration, privilege and destitution. The show asks us to consider what role politics, circumstance, luck, ambition, and tradition can play in journey-making, as well as how travelling can influence our sense of identity.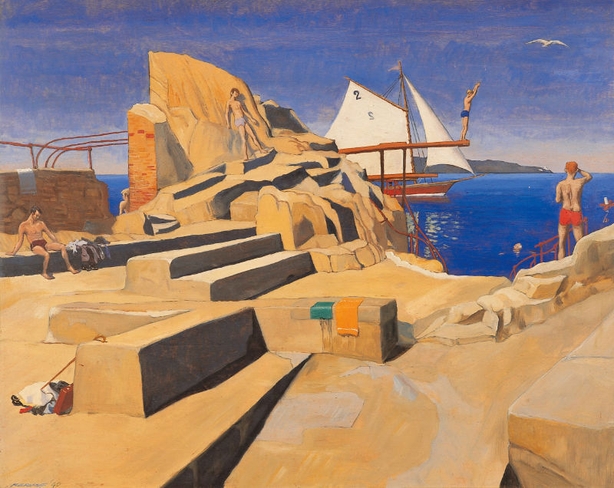 It comes back in the end to Ulysses with Harry Kernoff's The Forty Foot, Sandycove painting from 1940, a reference to the opening chapter of Joyce's hundred year old book. Mulligan goes for a swim in the oft quoted "snotgreen sea, the scrotumtightening sea", although the sea in Kernoff's image is deep blue. There's a sense of adventure and possibility contained in all of this, alongside the more serious questions asked by the show. It's captured in a quote from Ulysses next to this painting: "He capered before them down towards the forty-foot hole, fluttering his winglike hands, leaping nimbly."
Elsewhere, on the wall above Nolan's painting, we are given another Ulysses quote in the words, "Shut your eyes and see." As good advice as any when considering James Joyce in Cork.
Odysseys runs from 22 January to 3 April 2022 at The Crawford Art Gallery - find out more here.