We're delighted to present an extract from Star Jelly, from the new short story collection How to Gut a Fish by Sheila Armstrong, published by Bloomsbury.
On a boat offshore, a fisherman guts a mackerel as he anxiously awaits a midnight rendezvous... Villagers, one by one, disappear into a sinkhole beneath a yew tree... A nameless girl is taped, bound and put on display in a countryside market... A man returning home following the death of his mother finds something disturbing among her personal effects... A dazzling and disquieting collection of stories, How to Gut a Fish places the bizarre beside the everyday and then elegantly and blurs the lines.
---
On the distant hilltops, the history of logging is printed like braille. The stumps rise in graduated waves: moss grows wild on the oldest trunks and white, shrivelled logs record sharp dips below freezing point. But the day is mild and early damselflies flit around pockets of bog water; the unseasonably warm weather has caused the eggs to hatch too soon.
The forest path lifts, flattens, and rises again, between trees that are dark-needled and foreign; here and there, deep gashes are cut across the earth, bare-skinned stretches stubbled with char. Lauren makes detours, finding dappled patches of virgin soil to trace patterns with her boots. Yellow pine needles soon coat her legs up as far as her knees. Ultan tells her she looks like a wood-elf and she laughs, delighted, and pretends to aim an arrow at his heart.
Out of the shelter of the trees, the wind comes across the bare bogland horizontally, sheets of white that whip across the rain-slicked path; tight air that coils the lungs into knots and falls out again in steam.
At the final approach to the stone-pillared trig point, a blue sky unfolds itself and Pavel is the first to see the rocky cairn, precarious and ancient, but diminishing. Generations of hikers have secreted fossil souvenirs into their pockets to put on mantelpieces or discard on the car floor. The new custom – as detailed on a few hopeful signs erected by the tourist board – is to take a stone from the bottom of the hill and carry it to the top. The four hikers haven't brought stones, but they have sandwiches from a roadside deli, filled with hard orange cheese and two-day-old lettuce, and they share lukewarm tea from Pavel's flask.
Lauren wanders off to match the grey slabs of the dolmen against a hazy memory of an image in her sixth-year art history workbook. Usually, on these day trips, she stores up artefacts and anecdotes to bring back for the hostel guests; every newcomer asks her advice on places to see. But her eyes are gritty from exhaustion and something drains out of her on the high and whistling summit, and she knows she will remember this morning only as a faint and distant dream.
Elena photographs the cairn's open mouth as her hill-sweat begins to cool against her skin. The clouds roll back in.
We need your consent to load this rte-player contentWe use rte-player to manage extra content that can set cookies on your device and collect data about your activity. Please review their details and accept them to load the content.Manage Preferences
Listen: How to Gut a Fish - Sheila Armstrong talks to RTÉ Arena
Halfway down the trail, Elena slips into the woods behind a fallen larch tree; wet clusters of tissue mark it as a common detour. Steaming urine splashes against the back of her calves and pools in the moss under her runners before sinking away, and she straightens to pull her leggings up over her hot, stinging thighs. And stops.
She calls to the others, and they do not hear her at first, arguing over whether to follow the red or yellow trail-blaze back down. Lauren is sure they took a left fork at this point, Ultan says the turn was to the right, even though he knows she is correct; her mock-annoyance as she slaps his shoulder leaves his entire skin tingling. Elena's call comes again, low and urgent, so they clamber over the waterlogged ditch and into the trees.
There is a clear jelly on the ground, a whitish mucous that has sprouted in an uneven pattern on a blanket of moss. It is thick and gloopy, wet between Ultan's outstretched fingers as Elena cautiously circles the clearing.
Frogspawn, Lauren offers, but it's not the right season for it, he says, and anyway, this is all in one piece instead of small cells with single, inky dots.
Maybe some giants had an orgy, suggests Pavel, dipping the toe of his steel-capped boot into one of the mounds and levering it into the air to splat against a tree trunk.
They are silent as they consider the possibilities. Perhaps the forest has recently sneezed, spewing wet lumps of snot out of its nostrils. Or it is some kind of mould, multiplying after a brief shower of warm rain; a life lived in fast-forward, ballooning outwards to die off again tomorrow. Or a frog, snapped up yesterday by a heron, and the black-tongued bird threw its head back in flight to retch up the swollen gonads, letting them fall down, down through the criss-crossing trees. Or the mess was deposited during the passing of a meteor, a shower of light and broken pieces of rock weeping across the sky, tearing itself to pieces under the weight of the atmosphere.
The clouds clear suddenly, and stage lights dapple the clearing. Ultan kneels down on the carpet of moss to carefully photograph the jelly on his phone; tapping the screen once, twice, three times; rotates the screen, zooms, and taps it again. He sniffs at the strange, radiant substance, almost-tastes it, looks through it. It skewers the others into kaleidoscope pieces; five-sided shapes centred on a torso, a leg, an eye.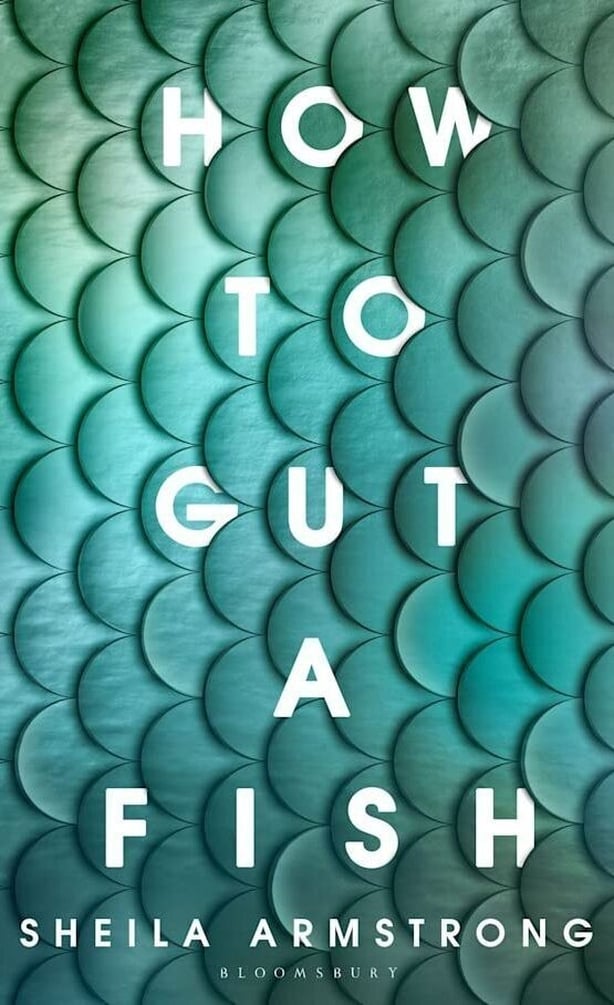 How to Gut a Fish by Sheila Armstrong (Bloomsbury) is out now.