2 February 2022 marks the 100th anniversary of the publication of Ulysses by James Joyce. To celebrate the occasion, Contemporary Music Centre, Ireland (CMC) and Centre Culturel Irlandais (CCI) are presenting an international celebration of Ulysses across Ireland and Europe from February to June 2022.
For Ulysses Journey 2022, CMC and CCI are inviting audiences to experience new music and film from across the island of Ireland, taking inspiration from Joyce's seminal work, via a programme of six specially commissioned works to be screened in Dublin, Paris, Belfast and Budapest.
In addition to the film programme, an international concert series featuring a selection of new and existing works by Irish and Hungarian composers will be performed by Hungarian guitarist Katalin Koltai and Irish soprano Elizabeth Hilliard.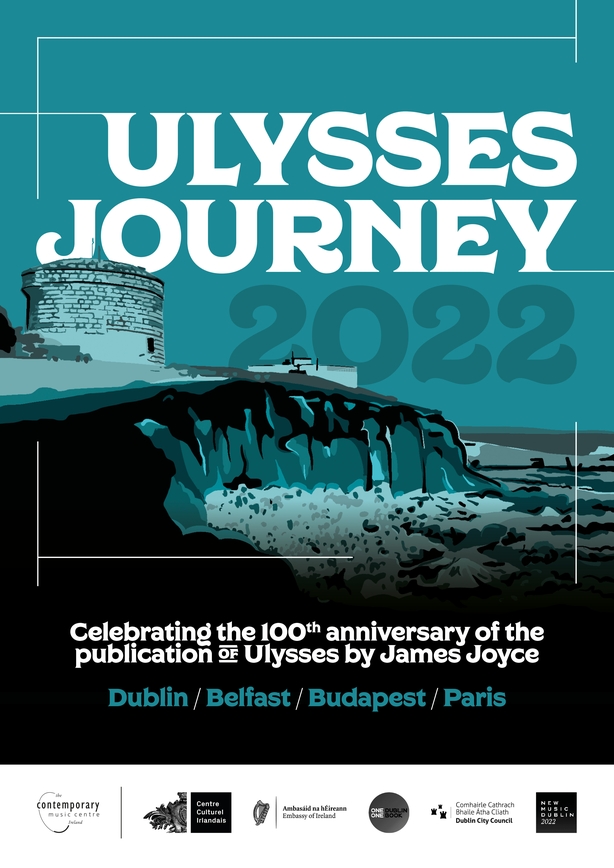 "So many works by composers from Ireland are inspired by Ireland's world-famous writers like Joyce", says CMC's Programmes & Events Manager Linda O'Shea Farren. "From our base in Dublin, CMC wanted to mark this major milestone in a way that celebrates, at home and abroad, our dynamic composers alongside Ireland's prowess in filmmaking. Given Leopold Bloom's Hungarian origins, we have also collaborated with Hungarian artists and organisations in this celebration."
Participating artists in the film and music programme include an array of talent, both in front of and behind the camera: Ed Bennett, Thomas Bennett, Jonathan Creasy, Dermot Dunne, Jonathan C. Creasy, Stephanie Dufresne, Benjamin Dwyer, the late Jim Henry (via an archival recording of spoken word), Darragh Kelly, Garth Knox, Anselm McDonnell, Barry McGovern, Hannah Mamalis, Rioghnach Ní Ghrioghair, Ailís Ní Ríain, Ultan O'Brien, Eoghan Ó Ceannabháin, Paul Roe, Nicole Rourke, Laura Sheeran, Euan Tait, Ross Wilson BEM and Art Ward.
Composers featured in the international concert series include Máté Balogh, Daragh Black Hynes, Greg Caffrey, Seán Clancy, Benjamin Dwyer, Alessio Elia, Samu Gryllus, Áine Mallon, Gráinne Mulvey, Petra Szászi, Márton Szőcs, Péter Tornyai and Ian Wilson.
As the Ulysses Journey 2022 project travels through Dublin, Paris, Belfast and Budapest, full programme details and ticket information will be made available via the CMC website on an ongoing basis from February to June - find out more about the project here.