Frank Callanan was a distinguished senior counsel, historian and Joyce scholar.
His first published book, The Parnell Split, 1890-91, transformed understanding of Parnell's strategy during 'the split', while his biography of TM Healy profiled the leader's nemesis. His study of Joyce's politics is due to be published posthumously later this year, and he wrote and devised the documentary 100 Years of Ulysses, to be screened on RTÉ on February 3rd, 2022.
Below, via the Dublin Review of Books, we publish the text of the eulogy delivered at Frank's funeral by his friend Margaret O'Callaghan.
---
Frank Callanan was a remarkable entity. I have never met anyone even remotely like him. Everything he said and did was interesting, perceptive, wise, frequently witty, usually measured. Energy, passion, fun and commitment came with him. He was beautiful and glittering. He was also gentle and shy, kind and generous, sensitive and proud. He was a man of passion and grace, a driven and joyful scholar, a divine writer. He was a cartoonist, an astonishing collector, a creator of places and houses and worlds. He loved travel and old places, good restaurants and Greek islands. He changed things that he touched and made them magical.
He thought through the generations and was proud of his antecedents ‑ of Joseph McGuinness, elected from prison three times for Longford, in 1917, 1918 and 1921; of the Magans, the Stantons, the Geartys and the Callanans, of all who went before him. His remarkable parents, Margaret and Fionnbar, and the choices of his extraordinary siblings were so important to him. It mattered where his nieces and nephews went to college, where they lived, their futures. And he would always be vocal on this.
He found his greatest happiness in life with his magnificent wife and true love, Bridget Hourican, and it is a nightmare that he has been taken from her. From all of us, but most truly from her – from their daily love and happiness.
Frank had an unerring instinct for the Irish past, particularly that of the Land League generation of the 1880s and 1890s. He understood the mentality of Parnell's nemesis, Tim Healy, formed out of an ancestral sense of dispossession, displacement and near ruin. And I quote from Frank: "The remembrance of the famine lay heavily on Healy's childhood. The famine smote Bantry and its hinterland with terrible severity." Healy's father and grandfather had been administrators of the poor law and, in Frank's words, "witnessed the devastation that it wrought … The remembrance of Ardnavaher remained with Healy", prompting "his denunciation of what he called this hateful and rotten system" – the land system.
For years Frank spent his evenings in the National Library of Ireland going through the Freeman's Journal, and countless papers and archives there and elsewhere ‑ in Colindale, in the British museum. He loved it all. From that rich treasure trove of vast research he has given us the greatest insight we have into the politics and the key political figures of that generation and the next. The reflection upon and transformation of their battles and struggles in the writings of William Butler Yeats and James Joyce were always in Frank's mind and talk at that time. That passion for the shade of Parnell, the shaping of that generation by the Parnell split of 1890-91 and the years after that are reflected in the works and life and politics of James Joyce; it is the elucidation of Joyce and his generation which has been Frank's most recent task.
Frank was a clever, oblique, subtle and devious researcher. He found things, he spotted things others passed by; it was always surprising what he uncovered, found, and put together. It was all fascinating to him. And he could communicate it so well.
Frank enlarged and brightened and sharpened everything.
Passages describing Parnell with his nails biting into his flesh and drawing blood as he stood with his hands behind his back at a meeting brought Frank there, to that moment. He would repeat it ‑ read it out ‑ until you got it too. Tim Healy roaring about Katharine O'Shea as the mistress of the party; quicklime fired in Parnell's eye at the Kilkenny bye-election after the Parnell split, the hysteria of Committee Room 15 in the House of Commons, where the parliamentary party turned on Parnell.
He researched and he retrieved the words, long forgotten, that were the actuality of these times. He did not repeat what others had used ‑ he found new material always and fundamentally changed how we understand that whole time. His astonishing books, The Parnell Split and T.M. Healy are brilliantly written and perceptive ‑ psychologically, socially, politically.
Frank's masterly Dictionary of Irish Biography entries on the Irish parliamentary party are vivid portraits. All of his dense intriguing history-writing brings you in to the times; you are there with the characters, as only the most brilliant of fiction can usually do. Here one remembers Conor Cruise O'Brien, a mentor to Frank from UCD days, who wrote in his foreword to The Parnell Split: "Frank Callanan possesses a quality which most historians lack and many disdain, what Giambattista Vico called fantasia, meaning imaginative insight."
Frank loved to quote Denis Ireland, on the man Frank loved and admired, Charles Stewart Parnell:
As if we had ever forgotten. As if he was not always there, haunting the pages of A Portrait, in the hearts of the Irish people, in odd ballads still sung at country fairs, in the imagination of young dramatists seated at battered typewriters in shabby attic rooms ‑ a haughty aristocratic presence, at the mere breath of whose name it was still, fifty years on as if somebody had exploded a battery of depth-charges deep down among the black sea caves and sunken wreckage of the Irish mind.
Frank Callanan loved words and he loved language ‑ and in every area, from talk to music (as long as it was not bad singing, to which he had an aversion) to composition; the right words were so important to him. He loved language because he respected its power to make the world, and furnish the worlds we live in. He came to UCD on a scholarship for the classics. Greek and Latin informed the grammar of his world from when he was in Gonzaga, and stayed with him, as did his Jesuit training, to some degree. He was a beautiful public speaker and his brilliant paper on John Francis Taylor and the Aeolus episode of Ulysses is there on YouTube and can be seen below ‑ though it may break your heart. He was also, in another phase, a Literary and Historical Society debater, a Literary and Historical Society auditor, and the editor of the history of that vital University College Dublin society.
We need your consent to load this YouTube contentWe use YouTube to manage extra content that can set cookies on your device and collect data about your activity. Please review their details and accept them to load the content.Manage Preferences
Watch: Frank Callanan SC delivers a lecture on "The tables of the law, graven in the language of the outlaw; John Francis Taylor's speech at the King's Inns in 1901, and Ulysses.
In more recent essays and reviews on James Joyce, he opened up whole new areas of scholarship. To change the debate on Joyce, to bring forward his enormous research that argues Joyce's politics were formed in the crucible of late nineteenth century Dublin – in "the shade of Parnell", in the university, in the places of the city, he had to get to grips with the politics of the Joyce industry: the scholarly phalanxes, the prevailing discourses. Here he was willing to learn, to read voraciously, to consult, with Luca Crispi as a guide. His first significant work on Joyce, entitled "James Joyce and the United Irishman, Paris 1903", is an astonishing piece that opens up Frank's way of seeing Joyce's politics in the context of Joyce's own contemporaries. His research is formidable. He reconstructs, from the so-called Paris-Pola commonplace notebooks, now in the National Library, a list of "best Irish books" and traces the list to the March 7th and April 4th, 1903 editions of the United Irishman, Arthur Griffith's weekly journal. The article notes that Stanislaus, Joyce's brother, wrote that for James this advanced nationalist publication of Griffith's was "the only paper in Dublin worth reading and in fact he used to read it every week".
This profoundly important article, through complex and layered revelations, shows how embedded Joyce was in the public debates of the Ireland of his time and how they shaped his fictions. Frank's work on Joyce's politics changes debate in the international scholarship on Joyce. It was this grasp of the national and the international that led Princeton University Press to contract his work on Joyce's politics. The work published so far goes on to show the subtleties of Joyce's position on a range of issues ‑ from William Rooney's bad poetry and worse politics to Arthur Griffith's blindness as to his beloved friend Rooney's weaknesses. Frank's Joyce is an Irish nationalist, albeit of a highly singular, Parnellite variety: "If the Irish programme did not insist on the Irish language I suppose I could call myself a nationalist." It is interesting that Bridget, herself a distinguished scholar and published author, works on James Clarence Mangan, whom Joyce saw as the Irish national poet.
In Frank's essay on Two Gallants, that story from Joyce's Dubliners, he traces forensically through the pages of then contemporary newspaper and other texts Joyce's sources for the depiction of the harp. He shows how Joyce, by having a harper playing Moore's melody on Kildare Street outside the National Library, as the story minutely reveals the low greed and cunning of the nasty duo who sexually and financially prey on a young servant girl they see as a mere "slavey", links the personal and the political in the Dublin of that time.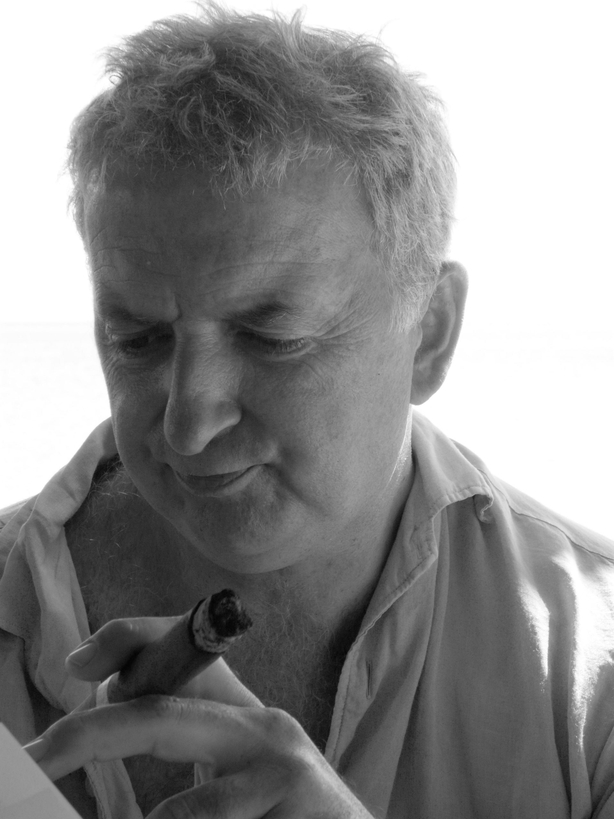 Frank enlarged and brightened and sharpened everything. As so many of us know, to be his friend and to be in his company through life was to live in happy times. He was our lodestar and our safe and vibrant fellow-traveller. May his astonishing spirit stay with us. Above all with his passionately loved and adored wife Bridget Hourican with whom he found true happiness, and his beloved siblings Claire, Jean, Paul, Richard and Sara.
I will finish on a passage that Frank loved. The image is of Parnell as a hunted stag, with Tim Healy as the vicious if brilliant wordsmith pursuing him to the grave. They are both there in some degree in these words from Joyce's Finnegans Wake:
… but hunt me the journeyon, iteritinerant, the kal his course, amid the semitary of Somnionia. Even unto Heliotropolis, the castellated, the enchanting.
---
Margaret O'Callaghan MA (NUI) PhD (Cambridge) is an historian and political analyst at Queen's University, Belfast. A close friend and intellectual collaborator of Frank's since their undergraduate days in UCD, she wrote this piece at the request of Frank's wife, Bridget Hourican. It was read at Frank's funeral mass in St Andrew's, Westland Row, Dublin on December 17th, 2021.
This piece was originally published in the Dublin Review of Books - the DRB would like to thank Dr O'Callaghan, Bridget Hourican and Rory Montgomery for helping to arrange for this eulogy to be published.