Irish comedians Jason Byrne, Andrew Maxwell, Enya Martin, Danny O'Brien, Sinead Quinlan and Karl Spain will stand up for Ukraine in Leisureland in Galway on Thursday, April 28th.
The comedic stars have agreed to waive their fees, Galway City Council have offered use of the hall free of charge, Murt Whelan's PA company will supply all the production and crew at no cost, and all C2 Security and Róisín Dubh box office and production staff have agreed donate their time too. Additionally, the Galmont Hotel are supplying accommodation for the comedians.
"I'm really excited for this gig," says comic Danny O'Brien, "it's an incredibly important cause that has affected everyone in Ireland. I'm delighted to be able to raise money alongside some of the best comics in the land in one of the best cities for live comedy. We're really excited and hope that people in the West get behind this gig and raise money for the Red Cross."
Dublin comedian Andrew Maxwell added: "I'm delighted to be backing my brothers and sisters in the East (of Europe), doing my bit at the gig in the capital of the West... Galway! Come and show the love on Thursday, 28th of April."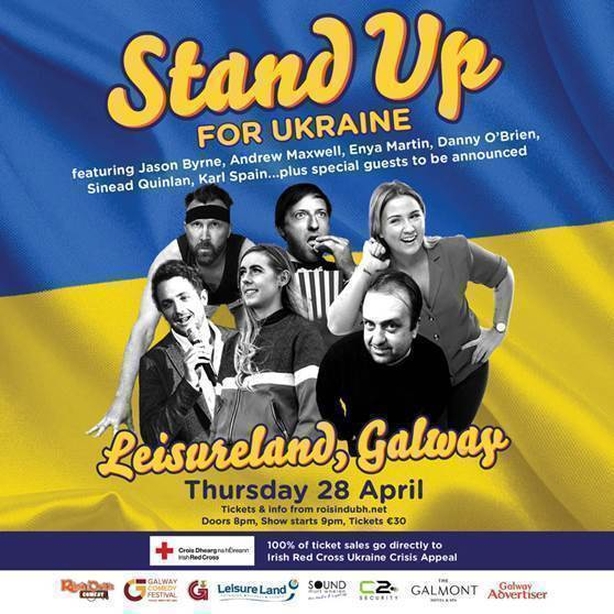 Absolutely everything involved in this event has been supplied free of charge meaning that every cent of ticket sales will go directly to the Irish Red Cross Ukraine Crisis Appeal.
Red Cross teams are on the ground in Ukraine right now as violence, displacement, and trauma continues to unfold. As this crisis evolves, they will use donations to repair vital infrastructure, support health facilities, and help families with life-saving food and hygiene items.
Tickets cost €30 and are on sale now from roisindubh.net. You can also pay €50 for VIP tickets and reserve a seat in the first four rows.
You can learn more about Irish Red Cross' Ukraine Crisis Appeal on www.redcross.ie.