It might have taken a global pandemic to make us reassess the importance of community and our immediate environment. With this in mind we look at a suburban Cork estate, built over fifty years ago, as a model for housing that seems especially pertinent today.
A New Model
Dundanion Court, in Blackrock, Cork, was completed in 1968 on an elevated site east of the old railway line near Dundanion House, built for Sir Thomas Deane to his own design in 1832. This modernist scheme consists of two courtyards of thirty-six, two-storey, flat-roofed homes, grouped in stepped rows of six and four and set in a cul-de-sac. At the time, this compact plan had twice the density of its contemporaries, with approximately twenty units per acre. The houses are brick, infilled with glass and black-painted cedar sheeting. Plumbing, rainwater drainpipes, and wiring are located within the fabric of the houses to keep the facades free of clutter. Each house has dual access, either from 'front' doors in the courtyards or via rear walled-in gardens.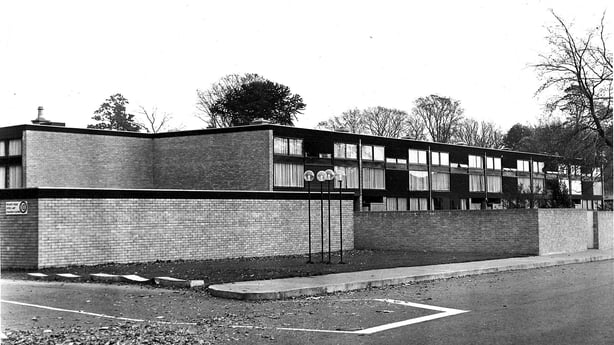 Modernist Tour
The estate was devised by architect Neil Hegarty, a mere two years after completing his architectural degree in 1962, having been begun in 1956 as a student of the first class of the School of Architecture in the Crawford School of Art. After graduation, Hegarty spent six weeks travelling around the United States on a whistle-stop tour of Modernist architectural sites. Hegarty learned from several housing schemes he experienced first-hand, such as Lafayette Park (1959) in Detroit by German American architect Mies van der Rohe with Ludwig Hilberseimer as landscaper, or Chicago's Hyde Park A&B (1962) by I.M. Pei with Harry Weese & Associates. Also influential were the designs of Eric Lyons of SPAN Developments Ltd in the UK. Hegarty and his young family lived in No.1 Dundanion Court for the first ten years of the scheme's existence, enjoying the architect's perk of the largest rear garden.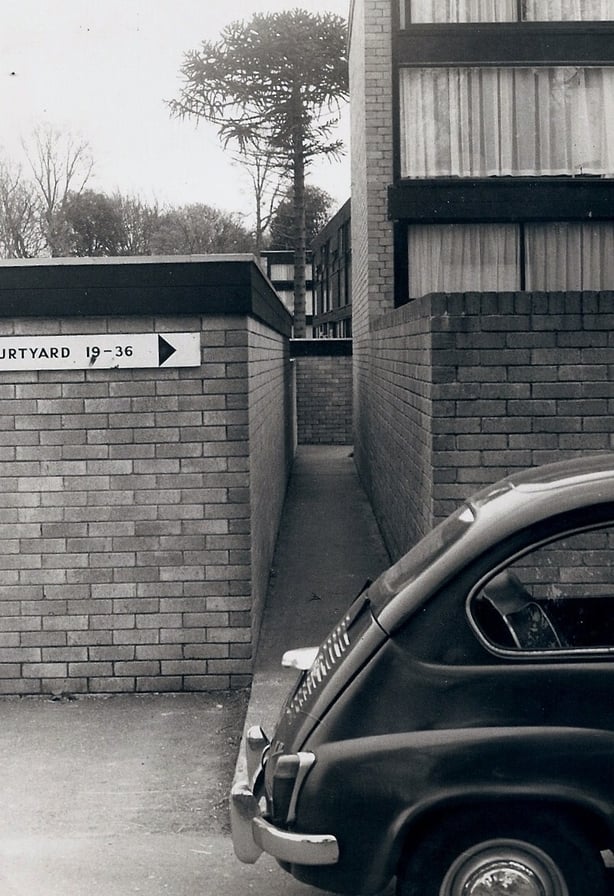 Around the Hearth
The terraces consist of full-height aluminium-framed glazing framed by yellow brickwork; each unit on an 8-ft (2.4m) square module. Inside, each house the exposed yellow brickwork continues, with timber-clad ceilings and flush plywood doors with aluminium door handles and Carrara marble slabs inset into kitchen worktops. Hegarty wanted materials equal in quality to those he saw on his North American tour. The open-plan, dual-aspect ground floor (living area, dining area and galley kitchen) flows around a central brick hearth with fair face concrete bands along with a beautifully simple black limestone mantelpiece. Adjacent to the hearth is an open-riser, teak staircase. Keeping the circulation space to a minimum created an extremely efficient internal layout. The expansive glazing at the front and rear elevations floods the ground floor with natural light during the day. A concrete floor slab allows for underfloor heating, avoiding the need for separate radiators that might impede the flow of the space. Upstairs, Hegarty cleverly laid out four timber-floored bedrooms, with an en-suite off the master bedroom and a family bathroom that was originally carpeted.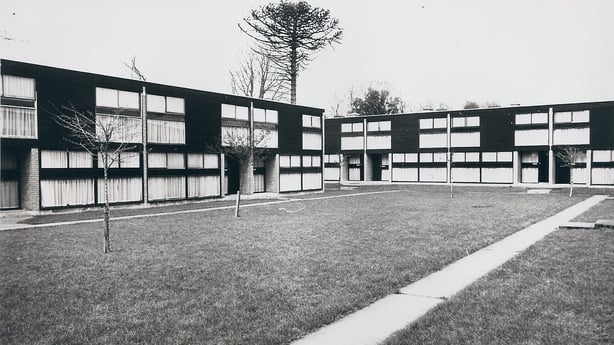 Social Engineering
Hegarty narrowed the footpath through the grounds so that two people could not pass each other without exchanging greetings. Additionally, he paired front doors under porches, providing another opportunity for neighbourly conversation. The courtyards always had a sense of security due to the passive surveillance provided by the glazed facades and net curtains. Neil Hegarty's son, Tom, who chose to bring up his own family in the estate, describes this feeling as 'entering everyone's living room'. The communal gardens meant children were never without playmates and every resident was invited to courtyard birthday parties. From the kitchen, parents can view their children at front and rear. Hegarty explained that the courtyards did not accommodate the mature trees, but rather the trees dictated the plan of the scheme. Their foliage still softens the crisp edges of the terraces. This is architecture that builds community around shared green courtyards. Accordingly, homeowners must leave their vehicles at the periphery.
We need your consent to load this Vimeo contentWe use Vimeo to manage extra content that can set cookies on your device and collect data about your activity. Please review their details and accept them to load the content.Manage Preferences
Watch: Neil Hegarty brings us through his first work, the award-winning housing scheme at Dundanion Court in Cork, in Commonspace, a film by Paddy Cahill
Challenging the Rules
Dundanion was not just a new approach to communal housing design but also how to fund and maintain it. A solicitor with an interest in co-operative housing initiated the project and drew up the long lease (700 years at £400 per year) for this two-and-a-quarter acre private estate. Neil Hegarty's father set up Daniel Hegarty & Sons Ltd to build the site. The company would act as both developer and the ground landlords for maintenance of the estate. The lease would include stipulations such as the necessity to use net curtains (as were originally provided by the developer) to create the unity of the place.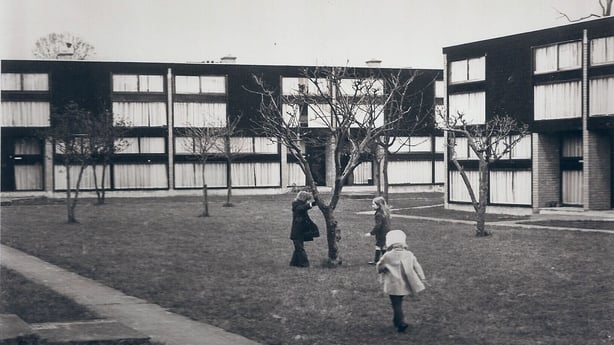 Where's Your Courtyard?
One test of a housing estate is how the residents inhabit the space and make it their own as individuals and as community members. Certainly, with each house in private ownership, the external appearance of Dundanion Court has changed over the past fifty years. The resident's association wants the estate to evolve and supports these well-intentioned modifications while conserving the intentions inherent in its design. The influence of this design upon its inhabitants is best demonstrated, perhaps, by one resident's young daughter who, when visiting friends, often exclaims to her hosts, 'where's your courtyard?'
In 1992, Cork City Council granted Dundanion Court Listed Building Status and the entire scheme is an Architectural Conservation Area in its 2015 City Development Plan.