On Sunday 19th December, at 7 pm on RTÉ Radio 1, in the final Poetry Programme of the current series, Olivia O'Leary visits the Seamus Heaney: Listen Now Again exhibition in the company of Marie Heaney.
'The first poem more or less wrote itself one afternoon in the National Library of Ireland… I was sitting in this most beautiful reading room with the rain coming down on the glass dome.'
When Seamus Heaney and his family donated his writer's archive to the National Library of Ireland, their generosity was marked with an event on 21 December 2011 in the exquisite Victorian Reading Room on Kildare Street. Friends and supporters crowded together to hear Seamus Heaney speak about how, in giving his papers, he was joining 'a written chain… a human chain' of other writers at the National Library.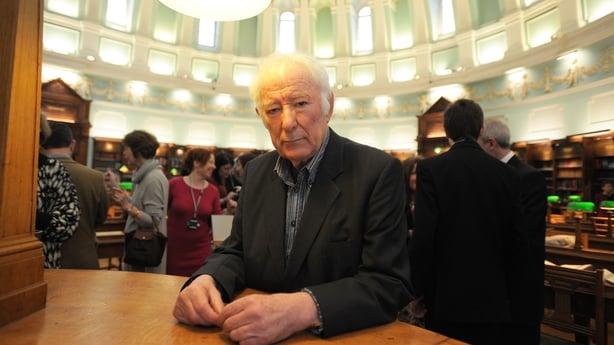 Some of the papers could have been written in that very room. Heaney often sat and worked at one of the desks in the National Library, surrounded by the shades and memories of everyone who has dreamed and toiled and written under the soaring ceiling. The 12-line form of the poems in his collection Seeing Things came to him there: 'I didn't quite know where it came from, but I knew immediately it was there to stay. It seemed as solid as an iron bar…'
As the National Library was an inspiration for Heaney, it seems particularly appropriate that his writer's archive is now an inspiration for everyone who comes to the NLI's free exhibition Seamus Heaney: Listen Now Again at the Bank of Ireland Cultural and Heritage Centre on Westmoreland Street. The exhibition brings visitors on an intimate and emotional journey through the landscape of Seamus Heaney's writing, offering glimpses of the writer at work behind the scenes, as he drafts and crosses out and rewrites, over and over. Curated for the NLI by Professor Geraldine Higgins of Emory University, Listen Now Again invites every visitor to become a link on that human chain of everyone who has produced or loved Irish literature.
So often, we don't know what we have until it's gone. On that Wednesday ten years ago, everyone in the room knew exactly what the nation had in Seamus Heaney. It was obvious how fortunate we all were that he had chosen to give his diaries and notebooks and drafts to the NLI, delivering them in his own car with a characteristic absence of self-importance. And today, with Listen Now Again, it is the National Library's privilege to remember and celebrate Seamus Heaney, the most remarkable of poets and the most extraordinary of men.
Seamus Heaney: Listen Now Again is open at the Bank of Ireland Cultural and Heritage Centre on Westmoreland Street from 10am – 4pm, Tuesday to Saturday, closing on 23 December and reopening on 4 January. Last admission 3.30pm. Find out more here.
The Poetry Programme, RTÉ Radio 1, Sundays at 7 pm - listen to last week's episode below:
We need your consent to load this rte-player contentWe use rte-player to manage extra content that can set cookies on your device and collect data about your activity. Please review their details and accept them to load the content.Manage Preferences