On the winter solstice, 21 December 2021, we present the world premiere of Oblivion / Seachmalltacht / ᖃᐅᔨᒪᔭᐅᔪᓐᓃᖅᑐᑦ, a new multimedia performance, moving image and sound installation created by artist Aideen Barry in collaboration with internationally renowned Inuit Canadian throat singer and song-writer RIIT ᕇᑦ, Irish harper Aisling Lyons and award-winning designer and milliner Margaret O'Connor - watch live above from 6.15 pm.
Visual artist Aideen Barry, who is an Associate Member of the Royal Hibernian Academy and a member of Aosdána, was commissioned by Music Network and the Irish Traditional Music Archive to create an original artwork inspired by the Bunting Harp Collection. This collection is one of Ireland's national treasures and was compiled by Edward Bunting in the late 18th century to preserve indigenous culture in Ireland at a time of great threat.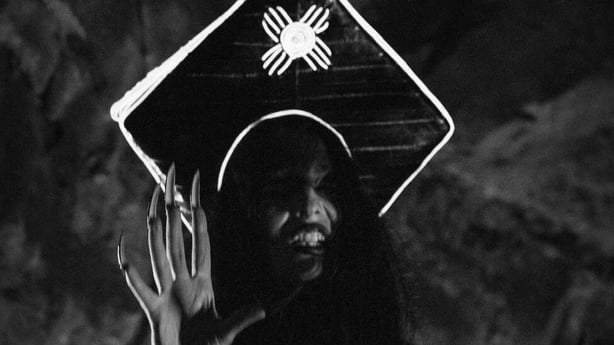 Oblivion / Seachmalltacht / ᖃᐅᔨᒪᔭᐅᔪᓐᓃᖅᑐᑦ draws parallels between Bunting's preservation of ancient Irish music and the existential threat to all human culture and existence. Through it, Barry examines the role of art and artists at a time of great uncertainty, environmental collapse and the prospect of a world of ruin if we do nothing at all.
Presented by Ruth Smith, the event will feature a panel discussion with the artists involved in the making of this Barry's collaborative work of music and visual art.
Oblivion / Seachmalltacht / ᖃᐅᔨᒪᔭᐅᔪᓐᓃᖅᑐᑦ is presented as the centrepiece of Aideen Barry's By Slight Ligaments exhibition at the Limerick City Gallery of Art from 16 December 2021 – 13 February 2022, and at The Source Arts Centre, Thurles from 18 March – 29 April 2022.