We're delighted to present an extract from Shared Notes, the new autobiography from Martin Hayes, published by Transworld.
Martin Hayes spent his childhood on a farm in County Clare, in a household steeped in musical tradition. After a free-spirited youth, he headed to the United States where he built a career that led to a life of musical performance on stages all over the world. Shared Notes traces this remarkable journey. Picking up his first fiddle at the age of seven, Hayes learned that music must express feeling. No amount of technical prowess can compensate for an absence of soulfulness. His interpretations of traditional Irish music are recognized the world over for their exquisite musicality and irresistible rhythm.
We need your consent to load this YouTube contentWe use YouTube to manage extra content that can set cookies on your device and collect data about your activity. Please review their details and accept them to load the content.Manage Preferences
Hayes has toured and recorded with guitarist Dennis Cahill for over twenty years, founded The Gloaming, The Martin Hayes Quartet and The Common Ground Ensemble, and in Shared Notes, for the first time, tells his story of getting to the heart of the music.
---
The Session
As traditional musicians, we take it for granted that everyone understands what a session actually is. A session is not a stage performance, it's a social gathering of musicians coming together to enjoy playing some tunes collectively. People who like to listen come along just to be around the music and enjoy the ambience and atmosphere that the session generates. Even if you have witnessed a session, you may not fully understand its purpose and how it all comes together. A session is a loose, informal gathering of musicians, usually in a pub, playing selections of melodies both in unison and in sequence, where the musicians play extended sets of up to four or five tunes, switching from one melody to the next without stopping. Often there is no discernible leader and some- times the next melody in a set can be led by whichever musician gets to the punch first, usually by giving a nodding gesture. There is often a moment of musical chaos, a loss of momentum in this transition while the other musicians try to identify and jump on board this new tune as fast as they can. Sometimes there are widely known sequences of melodies from popular recordings, some of which may go all the way back to old 78rpm recordings. Many musicians will know those selections and so these changes tend to be quite smooth. Other times, there may be sequences of tunes that are part of a local tradition. In these selections, a nod of the head is all that's needed for a graceful and coordinated switch of melodies. Some- times there might be two or three musicians calling all the shots, with everyone else just following along. There's plenty of ambiguity and variety around these procedures. In theory it shouldn't function at all, but somehow it does, even if the result is often an uncoordinated and ragged version of the music that is less than the sum of its parts. To those on the outside looking in for the first time, the idea of gathering together a group of musicians to play single lines of melody in unison might seem like a very basic, redundant and unnecessary duplication of musical effort, and a recipe for melodic and harmonic clashes, but powerful moments of music also occur. Sometimes the session just lumbers along, but every now and then, as if out of nowhere, a critical mass of consensus around the rhythm and phrasing of the tune starts to form among a small grouping within the session, which then slowly begins to spread. The rhythm gradually starts to become locked, and an instinctive agreement on the shape and expression of the melodic phrases of the tune gradually takes over. Then the energy of all the musicians becomes united in a powerful flow that sweeps everyone along, musician and listener alike. In these moments, players find themselves transported to a higher order of playing; the combined energy and unified will of all the musicians lifting every player beyond their normal abilities. In those moments, we players are often afforded a personal glimpse of our own unrealized musical potential, and it's a very powerful feeling. It would be nice to think that these elevated moments happen all the time, but they don't; yet they happen just enough for any musician who has experienced this moment, even just once, to be willing to take his or her instrument and head to the session over and over again in the hope that tonight they will once again experience this powerful flow.
We need your consent to load this YouTube contentWe use YouTube to manage extra content that can set cookies on your device and collect data about your activity. Please review their details and accept them to load the content.Manage Preferences
Watch: NPR Music Tiny Desk Concert - Martin Hayes & Dennis Cahill
The modern pub session is a relatively new phenomenon, only gradually becoming popular over the past fifty years, and has a lot of inherent dysfunction. Sometimes the musicians are at very different standards of playing; sometimes they don't even get to know each other. Very often you'll find an alpha personality attempting to dominate the whole thing. These were the factors I needed to address when organizing sessions at the Abbey. It was important that everyone got a chance to choose a tune, that everyone felt welcome and that they could all get to know each other socially. One of the musicians who regularly took part was a Mayo man named Francie Campbell. Francie worked on a construction site and when he arrived at the session you could tell he'd been waiting for this moment all week. He would turn up at the pub with his red Paolo Soprani accordion and his sleeves rolled up, ready to get things started. I couldn't even guess his age but he probably wasn't as old as his beard and demeanour suggested. Francie had a few selections of well-known favourites he liked to lead off the session with when it was his turn, but only after he had ordered his pint of Guinness. Francie had no pretensions towards being a great musician. He was, however, a solidly good player whose satisfaction and pleasure was clear to see when his pint was in place and his accordion was on his lap. This was his coming-home moment. It seemed as though the music had found just the right place in his life – he truly loved to play. Watching him absorb and relish the whole experience of the night always did me some good in a way I can't really put into words.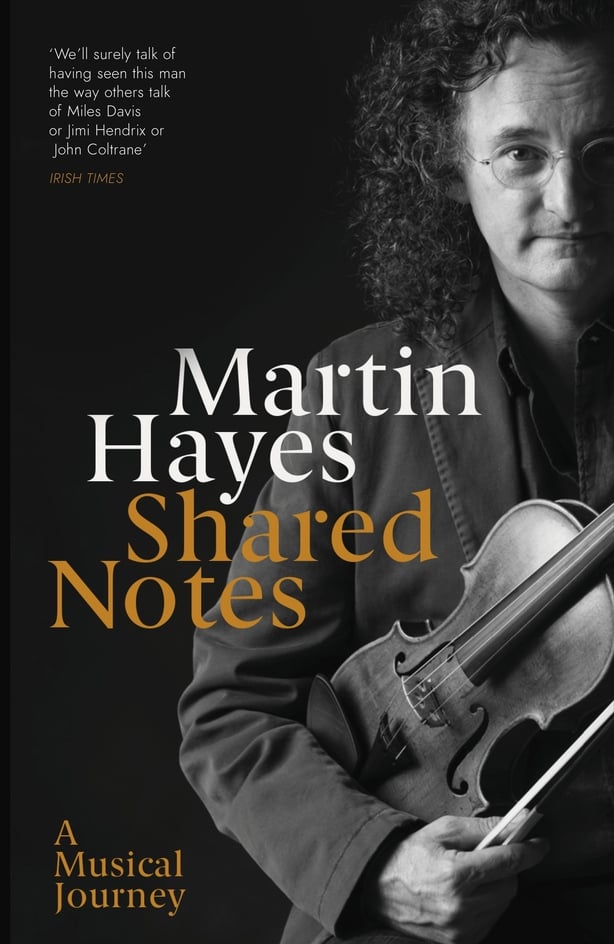 Shared Notes by Martin Hayes (published by Transworld) is available in shops and online.