We're delighted to present a series of poems from the new anthology Local Wonders, edited by Pat Boran and published by the Dedalus Press.
What do we love? When troubles and doubts threaten to overwhelm, what sustains or inspires us? What are the things we cannot do without? Recent events have made many of us question a great deal about our lives. Yet somehow they have also taught us to see the world afresh, leading to new discoveries, both tiny and monumental – and often right on our very doorsteps.
Featuring new and emerging as well as more established voices, Local Wonders is a unique record in poetry of an extraordinary time.
We need your consent to load this rte-player contentWe use rte-player to manage extra content that can set cookies on your device and collect data about your activity. Please review their details and accept them to load the content.Manage Preferences
Listen: The Poetry Programme on Little Wonders
---
IVY BANNISTER - In the Car with Margaret
At last, our faces masked, we're
in her car again, two persons
from different households
on a jaunt to buy organic veg,
and the breeze that blasts
through open windows
stirs everything to life,
all movement and light.
Lord, to think of the past
when we sped off to garden
or gallery, and gossiped
keenly, souls not awake
to the joy of this world,
flecks of colour everywhere.
Now a painting unfurls
around us – my white shirt,
herself at the wheel, radiant
as an angel, hair bobbed,
the orange ring in flower
on her finger, the scarf
that she's dyed
brighter than the Aegean.
---
TRISH BENNETT - Corona Calypso
The daughter – in charge of the playlist,
cranked Harry Belafonte up to MAX.
Harry lifted us off the couch and onto our feet.
As we started to do interpretative dance
the dog joined our conniptions,
barking and biting our arses.
Parrot – a Harry fan,
went buck-mad for calypso,
got onto his outside swing to be swung,
whistled upside down to Matilda,
lay on his back in my hand
to be coochie-cooed.
I coochie-cooed,
he coochie-cooed back –
it was all too much for the cat.
The daughter hoked in her box of stuff
to find her rattling-egg.
I threw beer-bottle caps into a ziplock bag
and we sang as loud as we could
while she rattled her egg,
I shook my cap-tambourine to the beat,
Angelina, Matilda and Banana Boat
on REPEAT for Parrot,
who whistled along
until he started to nip
and had to be put in
to calm down.
When she's grown-up and gone
to a home of her own,
I hope the daughter remembers
what to do when times are tough,
crank it up to MAX, sing and dance
– no matter what.
---
MARTINA DALTON To a Saltmarsh at Midnight
after Rilke
To see it naked – barely discernible from water.
Sky sleeping close to death; dimming down
with each exhale.
Horizon's knife-edge silvered.
How the godwits
stood watch all night like sentries.
Even the moon making its late appearance.
Egret as angel – picking its feathered way
through silt.
To witness it – takes an act of prayer:
to abandon all belief. Empty yourself,
it says – to fill with light.
---
MARGUERITE DOYLE - The Rough Guide to Climbing Carrauntoohil
They say when the journey is long, arrival is sweet.
On Carrauntoohil's slopes we scale twilight's brink
while sundogs claw false dawns, snapping at fear,
slaying inertia to the beat of voices, the rhythm
of words that recall what we lost on the way,
the field of debris illuminating how we go on.
The sun shines on half the world but the stars
see us all: our brief, exiled rituals of grief,
the determined placing of each foot forward,
embossed on the precious scripts of our legacy.
Our courage-songs grow as the shadows fade,
then ring out at the summit. We stand tall, laugh,
cry, gather round; reach for each other, embrace
and leave slowly, tying prayer-rags on outcrops;
each one a single, sustaining note in our collective
poem-song, flying in the wind, fluttering after us.
---
BEN KEATINGE - Surfers at Doonloughan
This must be the longest lockdown yet,
deepening troughs and sharper gales
are swelling the Atlantic while I wait
in the lee of a dune, and stay down.
The shower passes but the clouds remain,
we are stormbound wintering this out.
But meanwhile, surf is up, breaking broad
and clean; surfers in their water gear
have come, now they are poised, they're set.
Gulls tack and veer as the blue surge
breathes, then one surfer goes, gets clear
on a wave that's high but casually furls.
He threads its crest, staying on board
a one-man show flung perfectly to shore.
---
KATIE MARTIN - Our Statues Go Unwatched
Outside Trinity, Edmund Burke
removes his pocket handkerchief
to rub the pigeon droppings from his brow.
Oliver Goldsmith puts down the book
he has been reading since 1864.
Molly Malone immune to fever, drops her barrow
and enjoys a stroll, no eyes on her breasts.
Daniel O'Connell descends from his granite plinth
to inspect the bullet holes in Courage's chest.
Connolly meets Larkin at Liberty Hall to discuss
the next stage in the collective struggle.
Joyce retraces Leopold's steps
but Barney Kiernan's and Davy Byrne's are closed.
The two Luke Kellys unleash a guttural punch
The Auld Triangle in unison across the dirty river.
The hair stands on the Talking Ladies necks;
they soon return to putting this crumbling world in order.
Countess Markievicz strides with purpose towards
the waking famine sculptures on the North Dock.
Oscar Wilde has seen death in Man's eyes
and decides it is preferable to remain reclined.
(Our Statues Go Unwatched appeared in The Irish Times, July 2020)
---
CHANDRIKA NARAYANAN-MOHAN - Oscar Square Birthday Party
In the aftermath of a wintry spring
Cherry blossom confetti lines the streets
Tucked into the cracks of the gutters
Skittering across the road, under passing cars.
The children have gone home.
The streets have a cutlery-clink dinnertime hush
With air that smells like spuds on a roasting tray.
I breathe in the burn and the cook of it.
As a bloom of dark clouds begins to gather
Bleeding into a Victoria sponge sunset
And as a cake-scented breeze teases past,
Whispering, 'make a wish'.
---
CLIFTON REDMOND - Threads
xlii
Have a gander at my mother alone there at the table
threading the needle, steady-handed, yielding
to a flat-line motion. Watch how her eye levels,
how beads of sweat build with the heft
of what's before her – an elsewhere of light
flickering back through the hole in the steel.
She'll shed the clothes, step out of her own body,
and look back at the kitchen's isolation: damp spots
on the ceiling, cracks in linoleum, slips of pheasant-tail
wallpaper flapping. And now the kitchen succumbs
to the music of what's happening; the string of thread
licked and stiffened, a world beyond the eye.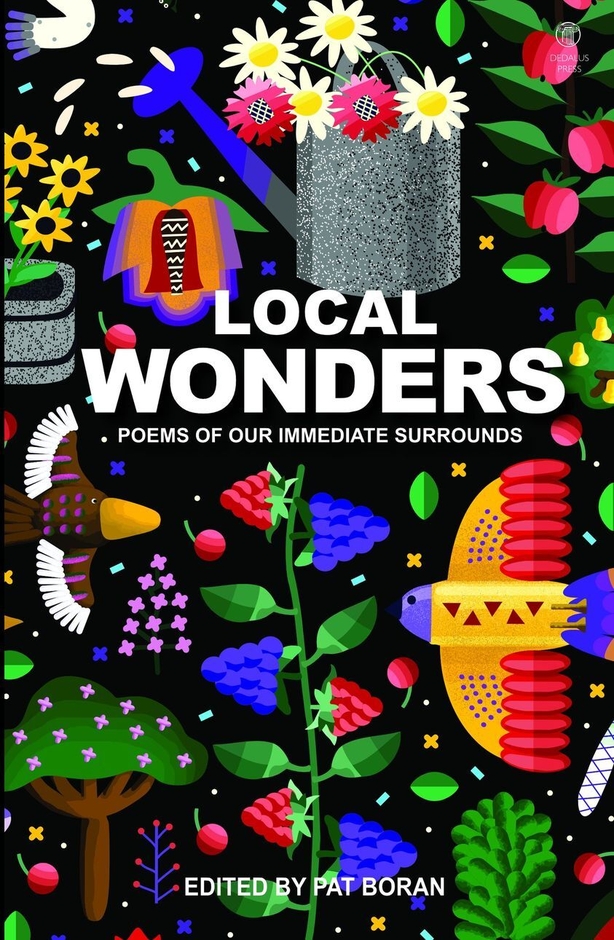 Local Wonders, edited by Pat Boran and published by Dedalus Press is out now.