Goulding Summer House is a balancing act between engineering and light.
Built as an addition to Dargle Lodge, the country estate of Sir Basil and Lady Valerie Goulding near Enniskerry, County Wicklow, this floating pavilion gives its owners the pleasure of watching the changing seasons and the comings and goings of wildlife from high in the tree canopy.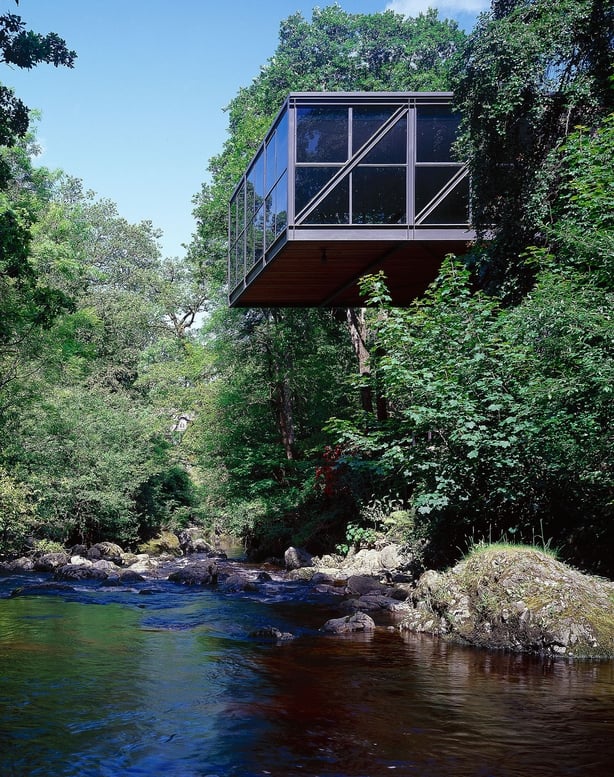 This exposed steel-framed, linear glass box appears to cantilever precariously out over the River Dargle. However, it is anchored to the bedrock with two steep legs. This design not only creates a visual marvel, but fitted the keen gardener Goulding's brief of minimal disturbance to the landscape of the Dargle Valley. Thus, ingeniously, the pavilion barely treads upon the valley floor.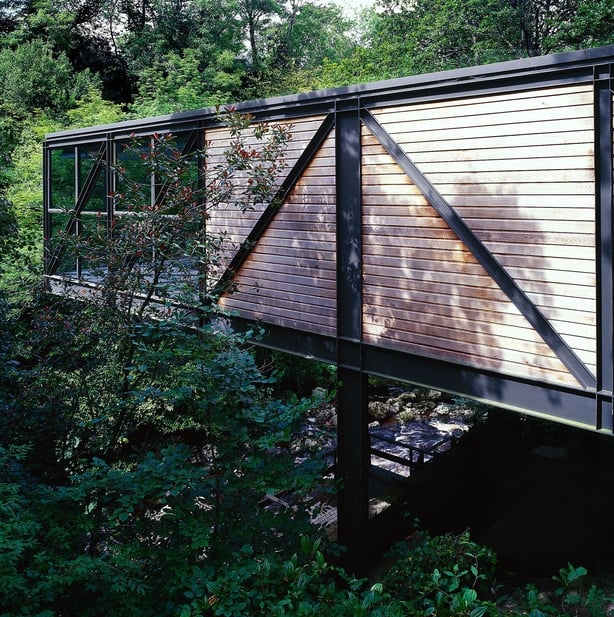 Completed in 1973, the Goulding Summer House was conjured up by Ronnie Tallon (1927 – 2014) with assistance from structural engineers Ove Arup and Partners. The house has the hallmarks of Tallon's mentor Ludwig Mies van der Rohe, particularly his Farnsworth House in Illinois (completed in 1951). Ronnie would later become a partner of Scott Tallon Walker Architects and would have caught the attention of the art collecting Gouldings with two Royal Institute of the Architects of Ireland (RIAI) gold medals – one for the RTÉ television studios at Montrose and the other for the GEC factory in Dundalk, both completed in the early 1960s. Tallon also took over as lead architect on the controversial civic offices project at Wood Quay for the second phase of its development (1992–5), subsequent to Sam Stephenson's two tower blocks (1986).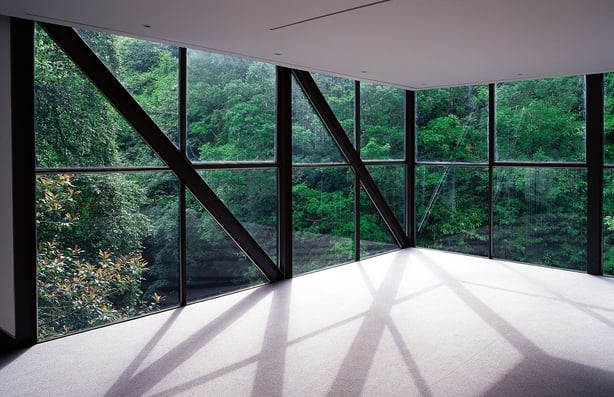 The single-storey structure, with a 142m2 floor area, incorporates five bays, with the first two placed landward to allow access from the garden. The other three bays of floor-to-ceiling glass face the valley. The building is strengthened with diagonal-bracing, partially covered in cedar panels to the sides, which softens the structure while corresponding with the materials of the surrounding garden. Inside, a service core near the entrance holds a kitchenette and bathroom, beyond which is an open-plan living area filled with furniture chosen by Tallon.
We need your consent to load this YouTube contentWe use YouTube to manage extra content that can set cookies on your device and collect data about your activity. Please review their details and accept them to load the content.Manage Preferences
The interior featured in the 2012 music video for The John Wayne by Little Green Cars, Gerard Byrne's 2003 installation New Sexual Lifestyles in the IMMA collection, and, more recently, on the RTÉ drama Kin.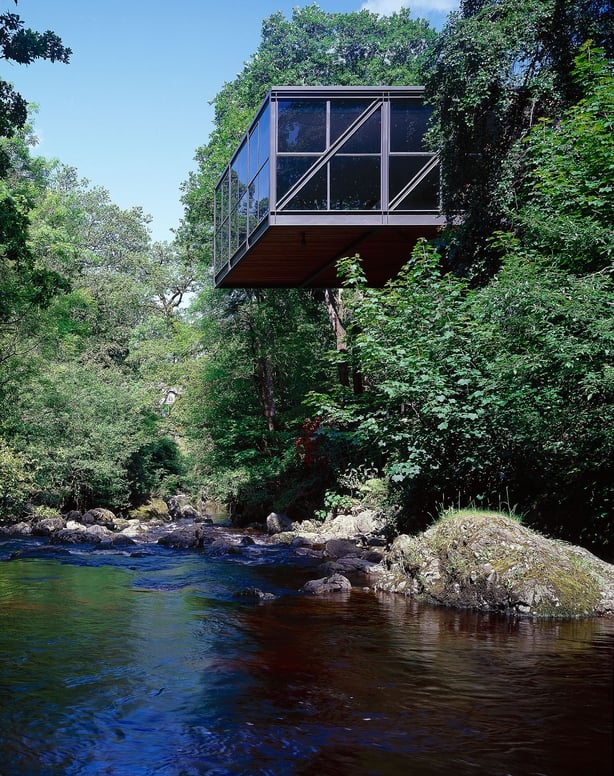 The house was restored by its current owner in 2000 and is a protected structure.
Pics: Paul Tierney