Director and creator of Bedroom Sets, Robert Farrelly, introduces the new online music series - watch the latest episode, featuring Sorcha Richardson, above.
Bedroom Sets is a brand new online music series that showcases musicians and bands performing short, intimate, live concerts from their own bedrooms.
Why the bedroom? It's because we are seeing so many musicians from this generation's wave of up-and-coming artists using a combination of technology and talent to create brilliant studio-quality sound directly from their bedrooms.
It means that the bedroom is becoming an incredibly important space for artists to practice, play, and produce their own music across all levels and genres.
We need your consent to load this YouTube contentWe use YouTube to manage extra content that can set cookies on your device and collect data about your activity. Please review their details and accept them to load the content.Manage Preferences
Of course, the bedroom has always carried a special importance to artists, offering itself as a place of privacy for musicians to initially find their feet, experiment, gain confidence, and gradually discover their own sound before showing it to the world.
We really wanted to feed into this with the series, and so Bedroom Sets is ultimately a celebration of the top-quality level of art that can be achieved when you have the freedom to create, experiment, and perform in your own space.
For our pilot episode featuring multi-instrumentalist and singer Isaac Jones, Isaac's set takes place in his room in his family home in Dublin where he wrote his brilliantly crafted EP Year of the Rat in its entirety.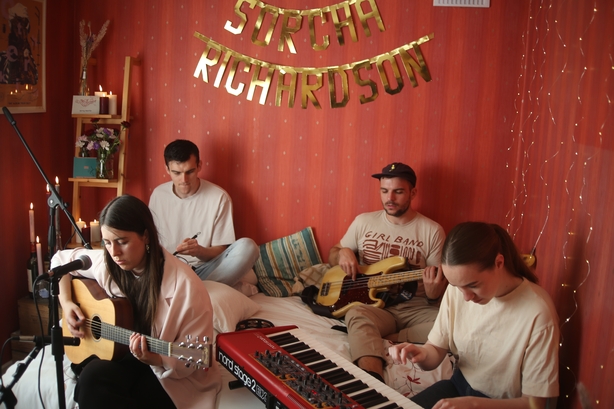 For our latest episode, we shot Sorcha Richardson's set in her warm and cosy room in her grandparents' house, where she stayed for much of the pandemic and where she wrote half of her upcoming new album. She performs a few tracks from her highly acclaimed debut album First Prize Bravery along with her band, as well as a rare live performance of her newest song The Starlight Lounge.
With all of our episodes, we want to provide artists with the opportunity to show off a range of their work in a fun and conceptually engaging way through our more long-form, fifteen-minute videos. The sets are also filmed in one long, continuous take that allows the artist to relax and really reveal the emotion of their work and performance over the longer timespan of the set.
For our audience, we want to give them the chance to see a selection of exciting Irish acts performing in a more laid-back, intimate setting, where familiar songs may be creatively tailored to suit the space.
Above all else, we want to have fun with the series. We're hoping that as it progresses we will be able to provide our viewers with a diverse range of artists and genres so that there is a little bit of something for everyone.
Bedroom Sets is available to watch via YouTube - find out more here.