Dublin's newest art gallery will be brought to life this afternoon, outdoors at two locations in the capital.
Living Canvas is an outdoor digital art project aimed at showcasing the work of Irish and international artists.
The project involves giant digital screens using LED technology and projection mapping.
The curved LED screen at Wilton Park in Dublin 2 is 21 metres wide and 4 metres high. It is said to be the largest outdoor digital installation for cultural use in Europe and will be live from early morning till 11pm each night.
The first exhibition is entitled Something in the Water, and is a tribute to the Grand Canal and the writers it inspired.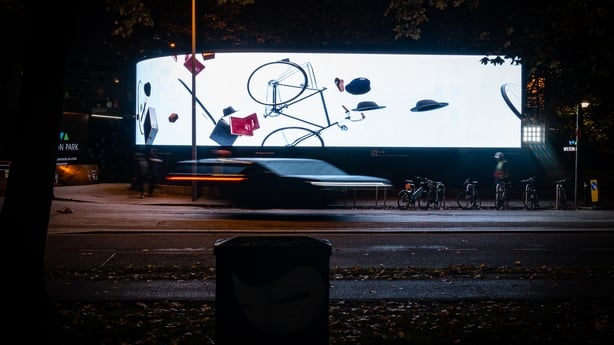 Meanwhile a screen at Sir John Rogerson's Quay, overlooking the Samuel Beckett Bridge will be live at sundown and visible all along the quays each evening. Its inaugural artwork is Where Glass Meets Water, created by Algorithm.
The project is being run by IPUT Real Estate in partnership with Dublin City Council and in collaboration with the Royal Hibernian Academy and the Museum of Literature Ireland.
New and specially commissioned art works will follow from a range of artists including John Beattie, Claire Langan, Barbara Knezevic, Aideen Barry, Alan Butler, Bassam Al-Sabah, Ailbhe Ni Bhriain and Alan Gilsenan - find out more here.