Soprano Claudia Boyle introduces Alice's Adventures Under Ground, the acclaimed opera by Gerald Barry, available to watch online in a new Irish National Opera (INO) and Royal Opera House (ROH) production from Friday 5 November.
---
Come fall down the rabbit hole this November for an operatic treat for the whole family. Gerald Barry's Alice's Adventures Under Ground is a high-speed rollercoaster that will delight. Whether you are young, old, an experienced 'buff' or an opera virgin, this 'blink and you'll miss it' gem is for everyone, and that's what I love about it. Opera for the masses is always the aim. Bringing it to younger and newer audiences is the dream.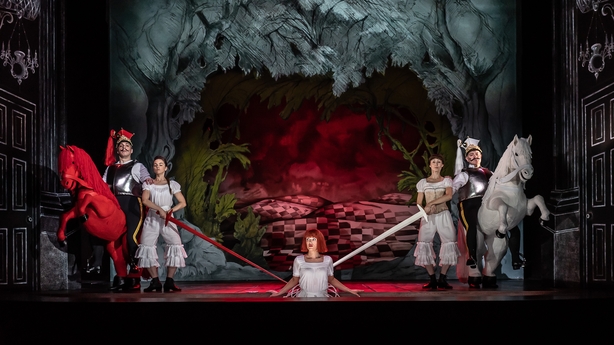 At only approximately 50 minutes in length, Barry's score leaves you wanting more. Even after a few hundred high Cs I include myself in this respect! I revel in the challenge of singing Alice. As a lyric coloratura soprano, this music is a pure joy. I'm excited by it. How to navigate it and then letting my voice and body become one with it. Firstly, there are the obvious technical demands. The opening scene gives you no time to 'ease in'. As soon as the curtain rises you are thrown in the deep end with rising and falling arpeggios and scales, depicting Alice's downward spiral. The range and stamina needed for Barry's score are huge, but I relish the journey and musical danger of this! Then come the colours and tones in the interpretive process. This is the cherry on top and where you can have real fun responding to the dynamic music on the page and bringing it to life.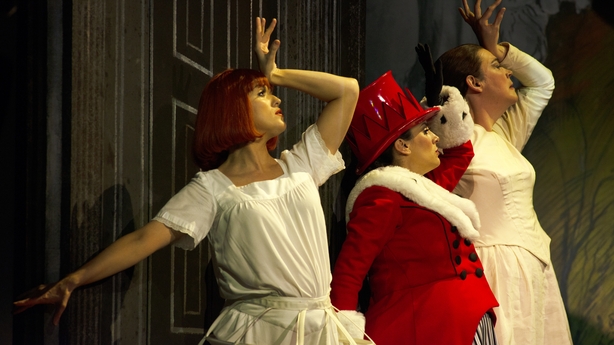 Barry pushes every instrument to their limits (including my vocal cords!). He explores new textures and timbres in the orchestra. He uses range and rhythm as tools to portray the larger the life and almost psychotic characters Alice encounters along the way. But don't be deceived. What ensues is a tornado of chaos. But it is brilliant and deliberate chaos. There isn't one note in the score that Barry hasn't agonised over. His attention to detail is second to none. There is also so much humour and comic timing in his writing too which I love.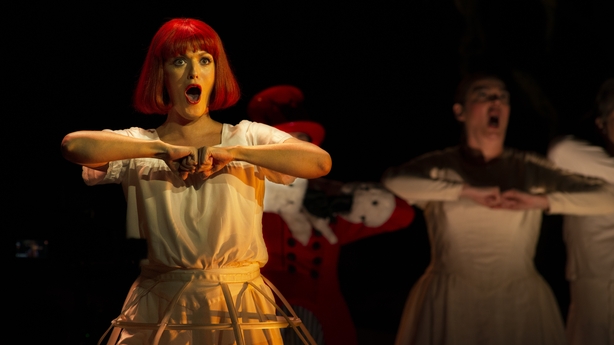 Then there is the fabulous direction and design by Antony McDonald that bring this music from the page to the stage for this very special film coming out in November. Working with a director like Antony always makes my job a pleasure. He gets the best out of you. He knows exactly what he wants creatively while also encouraging you to put your own stamp on it and allowing that freedom and growth. This kind of balance is where true magic happens and is so satisfying for an artist. I don't think there are many directors that could have pulled this off to be honest. The score itself is so fast paced with lightening quick scenes and dizzying costume changes that segue from one to the next, but he carries all of this off seamlessly, with staggering success. His costumes are vibrant, creative and beautiful. The set and Victorian design are exquisite. He is an artistic wizard!
We need your consent to load this YouTube contentWe use YouTube to manage extra content that can set cookies on your device and collect data about your activity. Please review their details and accept them to load the content.Manage Preferences
Watch: Alice's Adventures Under Ground - behind the scenes
When this opened at the Royal Opera House just before the pandemic, it was wonderful to see (and hear!) children in the auditorium enjoying it and engaging with it. As a performer and mother, this was probably my highlight. Exposing young eyes and ears to the world of opera and culture. It's so much more than an opera in my opinion. It is a theatrical and artist experience that is both visually and sonically thrilling. A wonderfully mad tea party where everyone is invited!
Alice's Adventures Under Ground will be available to watch on-demand from 19:30 on Friday 5 November until 4 December 2021 - find out more here. Alice's Adventures Under Ground In Focus, a free online introduction to the opera with Andrew Gavin takes place on 15 November - find out more here.
Pics: Padraig Grant/Clive Barda