Join RTÉ lyric fm's Paul Herriott as he presents the RTE National Symphony Orchestra live in concert - watch above and read your copy of tonight's programme notes here.
The young rising star German conductor Ruth Reinhardt makes her much anticipated RTÉ National Symphony Orchestra debut with music by two pioneering composers and a Russian giant wearing his heart on his sleeve.
Born in London to a father from Sierra Leone and an English mother, Samuel Coleridge-Taylor was much admired by Elgar and Irishman Charles Villers Stanford. Subtly incorporating musical elements from his father's African heritage, his A minor Ballade for orchestra is a high-spirited work lit up by a warm, unabashed romanticism.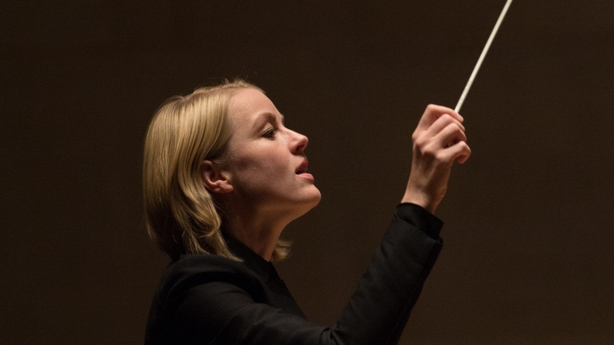 The prolific Grażyna Bacewicz led the charge for women composers in her native Poland, achieving international recognition that eluded many of her peers. Her Concerto for String Orchestra was one of 14 concertos she wrote (seven of them for violin). Prize-winning at home, attention-grabbing abroad and considered her most accomplished work. Glancing back to the Baroque and Classical eras, it is symphonic in scope, engagingly melodic and written with winning gusto and energy.
Rachmaninov's swooning Second Symphony shows why he inherited Tchaikovsky's mantle as the most romantic of Russian composers. He may have spent much of his life in self-imposed exile, but his heart remained always in his native homeland. Music of immense emotional heft, the Symphony boasts one of his most sublime melodies in its songful Adagio. Like the best of Russia, it unabashedly wears its heart on its sleeve as it moves from mournful introspection to blazing romance.
Programme:
Coleridge-Taylor - Ballade op.33
Bacewicz - Concerto for String Orchestra
Rachmaninov - Symphony no. 2 in E minor
RTÉ National Symphony Orchestra with Ruth Reinhardt (conductor)