We're delighted to present an extract from Station To Station, the new novel by Johnny Gogan.
Diplomat Jack Lennon is posted to Spain in 2008 as the wheels are coming off the Spanish – and Irish – property boom. On the trail of a missing Irish government minister Jack encounters a coterie of property magnates, former celebrities, desperate bankers the remnants of Ireland's 'wine-geese' and Franco's Spain.
---
As he boarded the Ave for Seville on a clear April morning on route to Cádiz his head was full of the speech he was writing for Minister of the Marine John Paul Grealish. He knew it was a challenge. Grealish was a cattle dealer from the land-locked county of Cavan and was likely to have nothing spontaneous or enlightening to add to a conference on "Sustainability in the Atlantic", one of these well-sounding but dubiously founded E.U. conferences that were more about flying the flag in the outer reaches of the Union than, in this case, altering the status quo in the Atlantic. The chances that the key parties – the fish-hungry Spanish and the land-loving Irish who had given their fisheries away on joining the E.U. – could bring anything to bear upon the theme of the wellbeing of the marine environment was close to zero.
Grealish's recent appointment had been met with some contemptuous commentary with suggestions that he was "out of his depth in Marine". He was a party hack and a backwoodsman with a very big chip on his shoulder. The ambassador had all but said this to Jack before she briefed him further on the policy positions. An official of the Autonomous Government – the Junta – of Andalusia would meet the train in Seville, the Ambassador advised, and they would travel on by government car to Cádiz.
Seville was in the throes of April Fair, the week-long festival of costume, conversation and conspicuous consumption. Tired faces thronged the platforms of Santa Justa after a white night of revelling, among them the yawning figure of his Ministry of Tourism contact. He saw her before she saw him. Unsurprising, as she appeared to be struggling to hold up the cardboard name-plate she had roughly prepared bearing Jack's name.
"Hola, soy él," he was pointing at the sign. She seemed to be expecting someone else.
"Señor Lennon?" I am Teresa Paz, Press Attaché, Ministério de Turismo. Encantada.
"Jack Lennon. Igualmente."
"Entonces, vamanos! We must to be quick."
They started to negotiate the crowds. Why so urgent? Yes, the train had been late, but the car to take them on to Cádiz could wait. They turned onto another platform on which people were now running. Just in case something had fallen through the cracks he was moved to mention the promised car.
"Mi oficina me ha avisado de coche para seguir a Cádiz." She seemed irked with this inquiry. "You have problem with train?"
"I have problem being late." He was under strict orders. John Paul Grealish was not someone to be kept waiting.
"Sir, I have been on train in Inglaterra. You will not have disappointment with Spanish train." Inglaterra? It wasn't just the car that had slipped through the cracks. Ireland had followed in its slipstream. Before he could correct her she bolted ahead of him in anticipation of the doors about to close and held them open expertly. In the face of this gallantry it seemed petty of him to take diplomatic umbrage. John Paul Grealish could wait.
"Inglaterra? You should try the trains in Ireland."
"Eres Irlandes?"
She concealed her faux pas well.
"Que suerte!"
Lucky? Why? This seemed like a strange comment.
"Suerte, porqué?"
"Hombre, porqué no eres Ingles! Los Irlandeses odian los Ingleses, no?"
It was too early in the morning for a nuanced explanation of thawing Anglo-Irish enmities so he let the comment go. No sooner had they taken their seats on the Cádiz train than she promptly fell asleep. In this, she was not alone.
A sleeping house was a good place to get some work done. He had some additions for the minister's speech. As the provincial train tumbled towards Jerez de la Frontera, he took the opportunity to insert some references to the Wild Geese, the followers of Red Hugh O'Donnell and the O'Neill and later Patrick Sarsfield who had fled to Spain and found sanctuary with the Spanish court. One among them, Ricardo Wall, had risen to the position of prime minister and had been granted lands near Granada by Charles III. Others had become wine and sherry producers in this region – the "Wine Geese" – and in time had developed a trade with the West of Ireland, not least because it offered a convenient route for Spanish wine to the English court through Galway in times of official embargo.
From time to time he allowed himself a glance at his travelling companion as she slept off the night's revelries. Her hair had fallen over her fine-featured face – blue eyes (he had noted earlier), pronounced, almost Roman, nose and generous lips from which a small trickle of drool now slipped. As if sensing this in her sleep, she smacked her lips together and readjusted her body. In this movement her shirt loosened to reveal further her slim neck, an alluring collar bone and a glimpse of cleavage. He marvelled at her sense of abandon and wondered what she dreamed about, before he copped himself on and resorted to the distraction of Le Monde Diplomatique.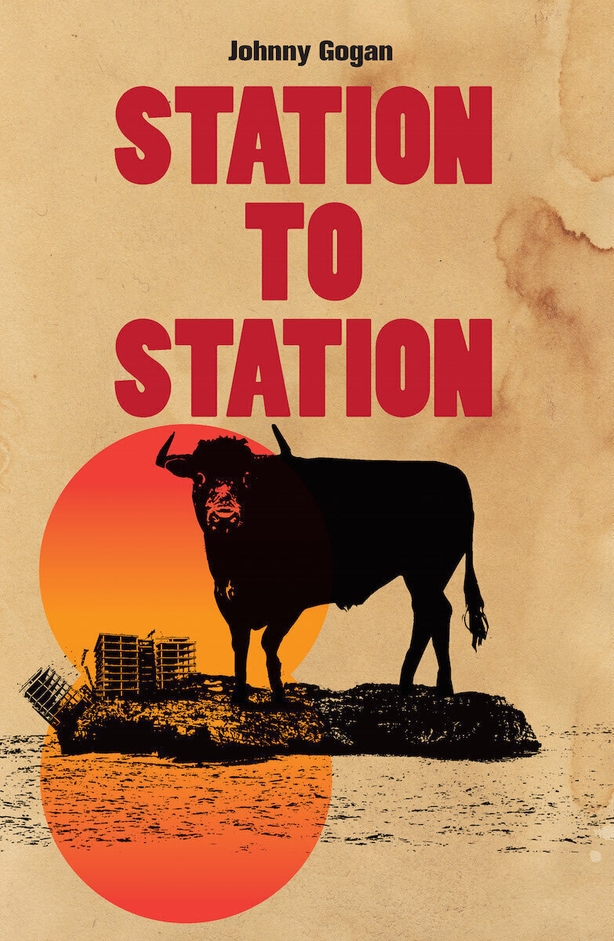 Station To Station by Johnny Gogan (published by Lepus) is out now.