In this comic, satirical story, one of 10 selected for the shortlist of this year's RTÉ Short Story Competition, a suburban couple wage covert war on their neighbour.
Author Paul Lenehan says, "Unspoken in the background of The Pines is a line from the poet Robert Frost: 'Good fences make good neighbours.' The story investigates whether the opposite is also true..."
---
The Pines by Paul Lenehan
Our garden ends in a wall at the back of which you have these maisonettes. They'd been built the previous year, we'd all appealed, the entire avenue, but it's affordable housing, and they can make you look like a bigot when they come round with their smartphone cameras and microphones. As Tom says, there's never affordable housing next door to the Minister. Different people take the ground floors and top floors of these maisonettes, there's quite the turnover, and every once in a while you'd get a noisy neighbour. For the past few months, for example, we'd hear country music blaring at ridiculous hours, it was like slow death by Garth Brooks. Then, thankfully, the music stopped and a new resident arrived. Tom saw him first.
He'd taken the top floor, and his balcony overlooks our back garden. Except, as Tom points out, it's not ACTUALLY a balcony – it's barely accessible via a small sash-window. No previous resident ever used it before because it's not, actually, a balcony. This guy's squeezed himself onto it, narrowly. He's smoking. We're out on the patio enjoying espressos from the Breville. And he's staring in at us. He must be, because what else is there for him to look at? The back gardens to our left and right have high hedges, which we don't have, we have this low-ish wall – minimum upkeep we go for, a pebble-dashed drive out front, flagstones in the back, with just a suggestion of foliage. Not a green finger do we have between us, Tom and I. So, there's only our garden for this new guy to overlook.
It happens every time. Or almost every time. Put it this way: it happens too often to be just a coincidence. We might get up early before work now that the weather is improving, and go outside with breakfast. Or in the evenings, with the stretch, we'll have a glass of wine, we'll listen to Sandy Denny on vinyl, or Françoise Hardy, or Adele: we're big into our torch singers. Almost every time we're there, give it a minute and sure enough, he'll appear and light up. Another cigarette on that balcony that's not actually a balcony, that's not even meant for bodyweight. It gets to the point we're hoping it'll collapse and tip him into his little yard – not kill him, just a jarred spine to prevent him from climbing out there again. Or we're hoping he'll move on quickly, move elsewhere. He doesn't. So, Tom heads over one day to the back wall. "Don't lose your temper," I tell him. Tom can be headstrong.
We need your consent to load this YouTube contentWe use YouTube to manage extra content that can set cookies on your device and collect data about your activity. Please review their details and accept them to load the content.Manage Preferences
Tom heads over, and looks up, and I hear him say hello. No response. "Just making a first neighbourly contact," Tom continues. "Also, I'd like to make a request." He's puffing away on the balcony, this man. "It's just, privacy is so important to us. To us as humans, I mean. The species. Privacy for our thoughts and so forth. Big Brother, et cetera." Tom can get too conceptual. And he can say 'and so forth' too often. "So, when we're out on our patio, maybe you'd not mind coming out to your balcony so much. And if you're on your balcony, we don't mind staying inside until you leave. Live and let live." Still nothing. Is he deaf? Is he a mute? "Your false balcony, actually," Tom continues. "Not designed for standing on. Probably structurally unsound. Just to mark your card. Potted plants, I'm told, are very much suited to a false balcony. Or you can grow herbs for your ... dishes." He's still puffing away, the silent type. "Or grow your cannabis there, and so forth," Tom jokes, though he always sounds too serious when he tries to tell a joke. He's looking down at Tom all the while, and smoking merrily. And then ...
"Nearly took my eye out," Tom says. The man on the balcony did. Flicked his cigarette, powerfully, like a weapon, over the balcony that isn't actually a balcony, over his estate wall, over the gap, over our wall, and at Tom. You can't prove that of course. You can't prove there was intent. "What did he say to you, Tom. After he flicked his cigarette at your eye? He said something, didn't he?" Tom blows out, breathes in. "Put that out for me, pal. That's what he said." Tom's a little shook. He thought he'd handled it decently. He thought, just talk to people, that's all you need to do.
We stay indoors for a week. And then, May beckons. Sunday mornings on the patio, skinny lattés and the supplements in sunshine, and we succumb. Only five minutes in, Tom nudges me. I know at once it's him. Him on his balcony that's not. I refuse to look. Tom reads the reviews. And then I do look. I can't not. And I can see that this man is … it's broad daylight and he's peeing over the edge of his balcony! He's aiming at our garden but falling, mercifully, short. "Tom," I warn. Tom looks again. "That's it now," he says. "I'm calling the Guards." And he does. A few days later they visit us and say they'd called around. A caution they gave him. Urination in public is not on. Apparently, he claimed he was caught short and had no alternative. Claimed he has issues with his pelvic floor. Pathetic. But they can't stop him appearing. That's not against the law. He knows his law, they tell us, as if Tom or I had asked. And still he turns up on that balcony that isn't, always just after we take the air. Or, almost always. And then one day I say to Tom: "Here's an idea. Children."
We're on the patio. "If he shows," Tom says, "we bring them in immediately." "We'll put a Pixar on," I agree. But he doesn't appear. We watch, we wait, still he doesn't show. There's a reason for this. The garden is awash, for want of a better word, with children. We borrowed them like books from a library, return in good time or face the fine. We'd borrowed kids from my two sisters and from Tom's brother and sister. Tom unrolled the strips of artificial turf he'd bought to cushion their falls, because children will fall. We've hidden treats for them all around the garden. And we leave them to hunt their treasure and run wild. And it works. He doesn't appear. On a balcony, staring at kids, that is something even he won't do. We've found his limits. Tom is exultant. Me, not so much. Because we can't borrow children every day. I say this to Tom. "We can't borrow children every day." He nods. "Don't be sad," he says. He strokes my hair.
He doesn't show up on the balcony for the next few days, whenever we do. It's like maybe he's learned his lesson. And then, one Tuesday, we're out on the patio and he emerges again out of that little sash-window, and lights up. Tom's despondent. Me, I'm not so surprised to see him again.
Maybe a week later – Tom's at work – I ramble out with a coffee. Just to take the air. Just to check the bird-feeder. Guess who just happens to show up. Guess who just happens to light up and stare down. That's when I snap. I stare back. I stare very directly. Is he grinning at me? I head down to our back-garden wall to confront him. I'm not worried. Next-door's gardener's on a ladder, pruning or lopping or whatever is they do, he's a witness. And it's broad daylight. I'm not afraid. And I get a good look at him at last. He's a taut man. Middle-aged and taut. Like he's worked out, or suffered. Faded red hair. Am I angry? I am. I've every right to be. "What is with you and that balcony?" My rush of breath as I call up. "That balcony that's not actually a balcony." He considers the question. "I've had a hard time getting to where I am,' he says. "And now I have a balcony. Like the Queen. Or the Pope. Except, I never wave." All delivered deadpan, like he's disproved Einstein. "You have a balcony," I say, "so you can check in on our lives because you've no life of your own. You have a balcony so you can pee down on us from a height." He's watching me. He's a listener this one, more than a talker. Is he even breathing? And then, "Let me ask you a question," he says. "Go on," I say, like we're riffing, like it's jazz. "They weren't your children. Why don't you have children of your own?" This man. His rudeness. If I tell him that it's none of his business, he's won. Because he'll think I'm afraid to answer. I'm not afraid. "We've been trying," I begin. I stop. Necessary to pause. Gather thoughts. "We've been trying, but can't because …" I stop again. He nods, like he's heard enough, like my answer agrees with his best guess. He turns and leaves. I hurry indoors and sit down and I'm all still and weepy. I don't tell Tom what happened. Tom would call the Guards again, and for what?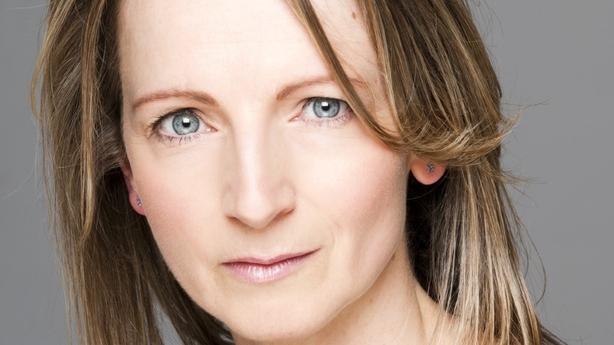 The next weekend, the Saturday, he's out there again on that balcony, stretching his arms. Now he's beckoning. "Is he?" Tom asks. He IS beckoning. Tom heads over. It's a brief conversation. I don't hear because of someone's mower. Tom heads back. "He's been thinking about it. Our last chat." "Yes," I say. "He says I've talked sense into him. He says we won't see him out on that balcony again." "He said that?" Tom nods. Tom is beaming.
One night, a couple of weeks later, Tom rushes in, shushes me. "I'm not speaking," I say. He gestures me over to the window. He points towards the balcony, though we can't see the balcony. And there, yes, a glow in the dark. An ember. A cigarette. You can't see him. It's too dark. You see the glow. Then darkness. Then the glow. "He said he wouldn't go out there again," Tom says, all worked up. "No," I say. "He said we wouldn't see him again. And we don't." "If we blast that balcony with a searchlight, we'll see him," Tom argues. "We won't do that," I tell him. Night after night he's out there, just like before. Except for the dark. Tom gets over it quick enough. Tom is fine with it, in his way. It's me who gets more and more aggrieved. It's me who feels betrayed. "I know what we'll do," I tell Tom.
You should've seen us, the newbies in the garden centre! A nice woman helped us choose. We paid next-door's gardener to plant them at our back wall, all in a row. Every day we watch them grow.
About the author: Paul Lenehan, originally from Dublin, now lives in Arklow. He's had short stories published in many journals and magazines over the past 20 years. His story December Swimmers was shortlisted for Short Story of the Year at The Irish Book Awards in 2015. He is currently writing a collection of 100 short stories, each 100 words long, called There Is A Light That Never Comes On.
The Pines was read on air by Norma Sheahan on Tuesday 5 October as part of the RTÉ Short Story Competition series 2021 in honour of Francis MacManus, which runs weeknights on Late Date from Monday 27 September to Friday 8 October at 11.20pm on RTÉ Radio 1.
Listen back to Arena with Seán Rocks on 27 September to hear the judges, Lucy Caldwell, Declan Hughes and Lisa McInerney discuss all the stories on this year's shortlist.