To mark the 150th anniversary of the birthday of Jack B. Yeats, poet, playwright and novelist Dermot Bolger pays tribute to Jack with a recording for Evelyn Grant's Weekend Drive on RTÉ lyric fm of his poem Fairground Ponies - listen above, and read Fairground Ponies below.
After a decade's absence, Dermot has begun writing new poems and among the unpublished ones is a small poem in memory of Jack B. Yeats. Yeats died in Portobello Nursing Home, but before that he made one last sketch of two fairground ponies for Teresa O'Sullivan, manager of Portobello Hospital, whom he had befriended.
This is Dermot's personal tribute to the great artist.
My name is Dermot Bolger.
This poem, Fairground Ponies, has been written to mark the 150th anniversary of Ireland's greatest 20th century painter, Jack B Yeats, who was born on the 29th of August 1871 and spent much of his childhood in Sligo. In later life he ceased being a factual illustrator, but chronicled the human heart.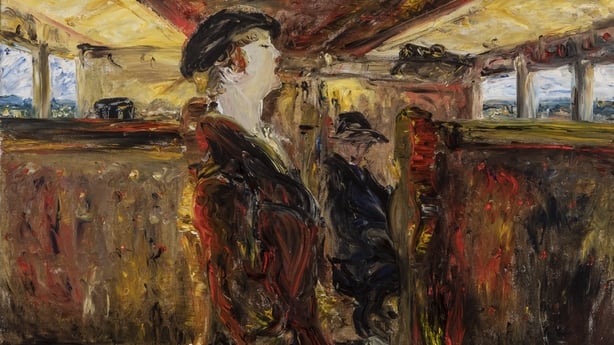 Initially baffling his small audience with monumental works painted in a state he described as half-memory, the original landscapes distorted with vibrant emotional color. In conservative Dublin he was mocked but a new generation were mesmerized by the audacious free-floating freedom of his paintings.
Beckett was in awe of him. Joyce treasured the Yates painting, recognizing him as being an artistic force as great as his famous older brother.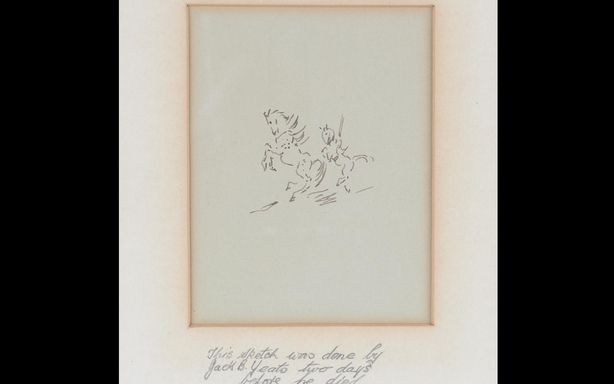 After his wife's death, Jack Yates entered an old folks home at Portobello Bridge in Dublin, where he loved to walk the canal part. Two days before he died in 1957, aged 86, he made his final drawing, which this poem is about.
Happy 150th birthday, Mr Yeats.
---
Fairground Ponies
(In memory of Jack B Yeats. Born August 29th 1871)
It might seem more apt to praise
Your monumental late canvases,
Where, freed from pictorial reality,
You plastered, in rich vibrant layers
The raw emotive colours of memory.
Your landscapes no longer external,
But infused, not with scenes you once saw,
But with the tumult of passion and grief
That such memories now conjured up,
Echoing the cathartic chaos of dreams
As they burst into such startling hues
Of jade and jasmine and kingfisher blue
That mere brushstrokes were not enough
To keep up as you moulded glistening daubs
Of paint into shape, using your fingertips.
So why do I consider your last ever sketch
To be equally wondrous? Two wooden
Fairground ponies swirl in joyous pursuit
On a carousel, designed to extract pennies
And delight from children in small towns.
Their innocent joy still engaging your mind
That remained enthralled by the breadth of life.
A frail old man propped up by heaped pillows
At the window of a Portobello nursing home:
Your fingers barely possessing the strength
To hold a pencil steady over a blank sheet,
A mere forty-eight hours before your death,
But continuing to do what came as naturally
As speech or sleep, creating faint sketches
That evoked joy, almost to your last breath.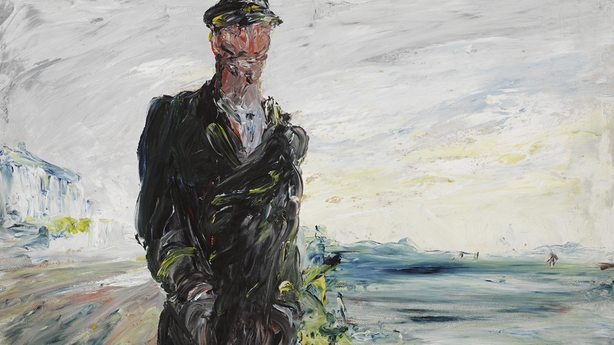 Jack B. Yeats: Painting & Memory opens at the National Gallery Dublin from September 4th 2021 – February 6th 2022. The exhibition explores the role of memory in Jack B. Yeats' life and work, a selection of oil paintings spanning more than 40 years that takes in places and people Yeats remembered, his observations of humanity, and reflections on life and loss in his later years - find out more here.