If there's one theme that permeates Emily Cooper's debut poetry collection Glass, writes James Patterson, it's the question of ownership. Who owns what and to what extent are we are allowed to take ownership of the different narratives and identities that shape our lives?
By beginning on this premise, Cooper is able to weave between big ideas about nationhood, gender disparity, the value of art, love, and family with a deftness of touch that calls to mind the lyric intensity of Eavan Boland.
This is a book of friends, warm and inviting as a discussion round the dinner table. But Cooper is careful not to be proscriptive in her approach. Rather, she allows her guests at the table space to be discursive, with her narratives ultimately circling back to the domestic space and the world observed empirically through the lyric 'I'. Here's what she had to say.
You've had quite the itinerant life growing up and I think it would be fair to say that this has influenced your writing. Were you conscious of this when you were writing Glass and, if so, how do you think it has shaped your approach?
I have no idea how many different places I've lived in. From my early twenties I developed a habit of running away. I think the first running away was to Greece when I was twenty-one, though I suppose I had already moved to Glasgow for university before then, but that felt more sanctioned than Greece did. I went to Corfu to work on a horse farm run by a woman who rescued (or hoarded) animals, the same woman who appears in the poem The Greek Owls. While I was there I had a kind of epiphany walking down the road to the shop. It was a moment of clarity, of pure understanding and acceptance of who I am or was at that exact point. As I got older and carried on this habit of running away to work in France and Portugal and back again many times to Greece, I found I was able to reset myself.
We need your consent to load this YouTube contentWe use YouTube to manage extra content that can set cookies on your device and collect data about your activity. Please review their details and accept them to load the content.Manage Preferences
Watch: Emily Cooper in conversation with James Conor Patterson and Jess McKinney
This reconfiguring worked to varying degrees and definitely wasn't permanent, but it allowed me to be comfortable in a variety of settings. Though not necessarily conscious, I think those different lives are present in the poems of Glass. I feel like I require a huge amount of life consumption in order to produce relatively small pieces of work. Months spent in a place can end up condensed into a single short poem. I am often amazed by poets who spend their whole lives in the same place but I think they must be much more efficient than I am. I need the change and stimulation to churn up content.
In poems like the eponymous Glass and The Greek Owls there's a palpable desire to engage with the visual arts and to acknowledge the legacy of women artists in particular. How important do you think it is for literature to engage with other artforms, and do you see yourself in the context of a wider artistic lineage?
In the last few years I have become very preoccupied with visual artists and in particular women artists, so I'm very pleased that you have picked up on that in Glass. Similarly to the way that Irish women writers and poets have been historically swept aside in favour of their male counterparts, I have found that there is a wealth of women visual artists from Ireland who just don't get the same attention as say Jack Yeats, Francis Bacon or Lavery. On a trip to Limerick to get a laptop fixed a couple of years ago, I stumbled upon the IMMA retrospective of Mary Swanzy that was touring in the Limerick City Gallery. I was bowled over by her work; it is so indescribably vibrant and varied. I couldn't believe that I had never heard of her. I've since gone down many rabbit holes finding out about Mainie Jellet, Evie Hone, Nano Reid, Eileen Gray, Norah McGuinness and so many other Irish women artists who have been obscured despite their successes in their lifetimes.
In another act of serendipity, I discovered the work of Dora Maar in an exhibition of female surrealists in the Picasso Museum in Malaga. I was intrigued by how similar the painting displayed by Maar was to a Picasso painting and was surprised upon reading her biography that she was a successful photographer, but during a long-term relationship with Picasso, she stopped taking photographs at his request and began painting, going from a master of her art form to an apprentice of his. Again, this has led to years of curiosity and an as yet unpublished collaborative collection with Jo Burns that centres around a painting by Maar of her and Picasso's other lover, Marie-Thérèse Walter, engaged in conversation. I think engaging with the other art forms is something that can only enrich literature. In the same way that learning a different language enables you to understand your own and its roots better, viewing artworks that communicate through different mediums can only lead to a greater understanding of your own.
Sometimes poetry can read like a ping pong match that is happening behind closed doors, you can hear the thwack and the whoops but you have no idea what's going on.
During a recent visit to the Centre Culturel Irlandais in Paris, I was lucky to be able to spend time with a dancer who generously allowed me to view a dance he was working on during his time there. As someone who has little knowledge of dance or its history, this was an eye opening experience for me that required I leave behind my habits of literal interpretation and allow myself to be spoken to in a language that I wasn't proficient in. It was moving in a way that I rarely experience with literature anymore, being so bogged down with years of learning and opinion. I experience these art forms as a novice and so am more readily brought to a state of awe. It feels like a privilege.
As for a lineage, I'm not entirely sure where I would fit into it. I don't think I like the idea of slotting into a group or movement; I'm too moody and inconsistent for that kind of thing. I do however feel a sense of responsibility to those women artists who haven't been remembered as well as I think they should have. Remembering is a continuous process, our memories are said not to be markings of the events themselves, rather a marking of the last time we remembered the events. In order for these artists to be remembered, work is required, we must bring them up into the light, not once but frequently, to establish their place in our cultural history. I would like to be part of that lineage, a revised one that establishes a more accurate representation of art and appreciates women and other neglected people for their contribution and their value as artists.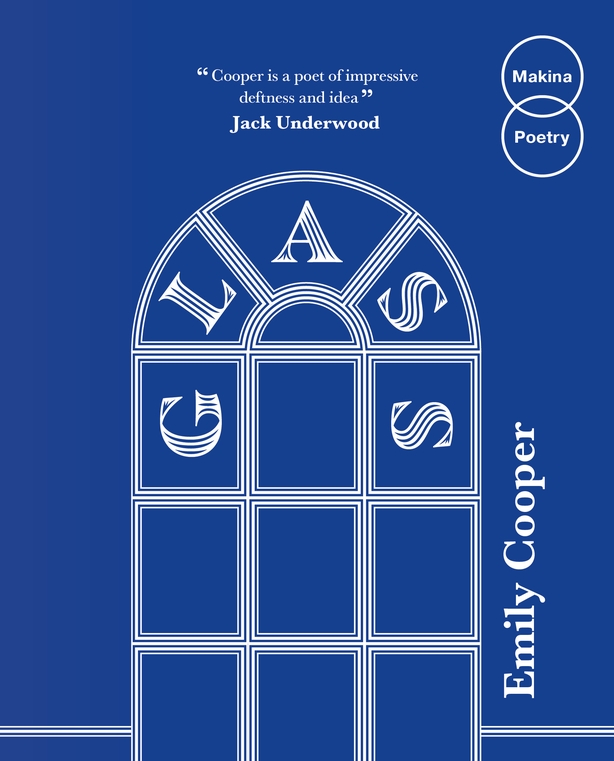 The title of the book Glass suggests transparency, reflectiveness, and fragility, as well as a certain hardness and sharpness if one gets too close! What was your thinking behind the name and how do you think it connects all the different speakers, scenarios and vistas explored in these poems?
Surprisingly the title came before the connection, or appeared to at least. I was having lunch with my boyfriend and a couple of clever friends in Letterkenny when Glass was in its early stages and we discussed what the title should be. It was agreed that it should be something short and memorable and Glass was one of the suggestions. After that lunch my boyfriend and I went to a charity shop and found a slide projector and that is where the title poem came from. It came to me fully formed, I tried a couple of times to split it up into lines, but it wanted to be prose-shaped and so it was and is. It is strange how that happens sometimes, that poems force themselves out of you as if they already existed in the world. Though perhaps I am remembering wrong and the pain of writing that poem has been erased as it is in childbirth.
Luckily, glass is the perfect medium to contain so many of my preoccupations within the book. As in the lens of a camera, it is there for my desire to capture moments and memories, to hold on to them tight before they get lost forever. It is in the windows of this house, beautifully represented on the cover by Makina designer Patrick Fisher who read the poems and seemingly crept into my visual subconscious as well. It holds all the many glasses of brandy and wine in the poems. It even represents the frailty of knowledge; of the myth that I learned as a child that glass is not in fact a solid, but a super cooled liquid, when in reality it is neither liquid nor solid, but something in between. It is the homophone of glas for green, for my eyes, and also the glasses that I almost always forget to wear. It's something quite fragile but also able to survive centuries if protected. I spend a lot of time noticing the wavy glass in old windows; imagine existing intact in the world for so long without any kind of trauma? I also quite like your description of glass, it feels like a representation of me, but perhaps I am just looking for that.
In poems like A fountain pen slices my leg through a bin bag as I move into my new house, domesticity is presented as a doubled-edged sword. On the one hand, we inhabit these spaces and eventually come to call them home. On the other, they can sometimes come to seem like our cages. How much does this complex conceptualisation of 'home' inform your work?
The home of Glass is very complicated. It is something that I think about constantly, the architecture of a place as well as the idea of it. In some ways I am searching for a sense of consistency; my obsession with old houses is borne from a need to preserve and protect that which I consider of value. Not necessarily material or financial value, but as a link to something permanent. It seems to me that as a nation we have a very anxious connection to the idea of home, having so often been ousted not just from the land but from the island itself. I spent my childhood in London and we were always looking back, reaffirming our Irishness even as we were elsewhere.
I feel like I require a huge amount of life consumption in order to produce relatively small pieces of work. Months spent in a place can end up condensed into a single short poem.
This is compounded for me by being a part of a generation for whom house ownership and renting are so prohibitively expensive that it is a source of constant worry. Glass is a book of spaces, but not one of them is truly my own. I am haunted not only by the people who lived in these houses before, but also by the knowledge of always being in someone else's home. I've lived in attics all around Europe, occupying extraneous rooms at the whims of others. So yes they do feel like cages, even as they are filled with the objects and possessions that signal ownership, this is in reality a myth.
We need your consent to load this YouTube contentWe use YouTube to manage extra content that can set cookies on your device and collect data about your activity. Please review their details and accept them to load the content.Manage Preferences
Watch: Emily Cooper reads Incredible Things Do Happen
Part of what makes this collection unique, I think, is the sincerity and warmth at its heart. That is, there seems to be a belief in the redemptive power of love that sits in opposition to a lot of post-ironic modern poetry out there. How important is that sense of honesty in your writing?
I am very pleased by this reading! It reminds me a bit of when we would be taken on religious retreats at school and given exercises like writing a positive thing about each person in the class. Most people received compliments like 'nice hair' or 'kind' or 'funny' but the most common one for me was 'honest' which I took more as a comment on my lack of tact than an endearment but I was happy nonetheless. I find sincerity and honesty to be integral to the writing and art that I enjoy. Sometimes this can be misinterpreted into earnestness: a mode of writing that I dislike, even more than insincerity at times.
My poetry education coincided with the height of the Alt Lit movement, which was especially close as I was living in London at the time. It seems so long ago now, and that movement definitely had its value, but I was quite relieved when we were allowed to be sincere again. I am not cool enough to be that ironic. I want to write poetry that feels hospitable and I don't have much interest in writing work that will only land if you have extensive knowledge of poetry. Sometimes poetry can read like a ping pong match that is happening behind closed doors, you can hear the thwack and the whoops but you have no idea what's going on.
I hope that the readers of Glass feel welcome in its pages. One of my favourite things to do is cook a huge dinner for my friends, dump it in the middle of the table and watch them help themselves. In a way that is what a book is, an act of feeding. Consume as much as you want, digest at will, and I just hope at least some of it is to your taste.
Glass by Emily Cooper (published by Makina Books) is out now - find out more here.