In years to come, when we talk about mental health – particularly in the UK and Ireland – Haig's name will almost certainly dominate those discussions, and with good reason. Whether you've devoured all of his books thus far or not, there's no denying that Matt Haig has single-handedly evolved how many of us talk and think about mental health.
His memoir Reasons to Stay Alive – in which he details with harrowing and inspiring clarity his struggle with depression and what led him at 24 to walk to a cliff's edge in Ibiza with the plan to jump off, before he stopped himself – became a bestseller, and presented a new and accessible way to talk about mental health.
22 years ago tonight I was in a Spanish medical centre in a state of suicidal despair and panic. I can remember every brutal minute of it. I had fallen so deep I felt I could never climb back. I genuinely never thought I'd get this far. If nothing else, I defeated those odds.

— Matt Haig (@matthaig1) August 5, 2021
He's bankable too, with his book The Midnight Library fetching a £600,000 advance. He's a social media savant, possibly without meaning to be, as his Twitter feed is awash with earnest and heartfelt mantras that not only rack up thousands of likes but often wade into discussions on everything from government mental health supports to the death of Love Island presenter Caroline Flack.
And therein lies the single best summation of his influence: in the wake of Flack's death, independent bookshop owners donated hundreds of copes of Reasons to Stay Alive to anyone who felt they needed one.
The Comfort Book is different, though. Rather than a narrative depiction of depression – which Haig compares to being lost in the woods – this is a map of sorts through that dense forest, gleaned from "stuff [he] learned from the bad times".
It's a practice many people who struggle with mental illness will recognise: your cheat sheet of thoughts, mantras, stories and tidbits that light your way through darkness. For Haig, this includes everything from playlists of upbeat songs to more than a few recipes, including a nice one for hummus.
It feels like the logical next step in Haig's scintillating career so far, given his status in society as chief collective comforter. Understanding his personal journey goes a long way towards finding the profundity in it, however, as otherwise it feels like cycling through aphorisms to find something that sticks. This isn't a bad thing, but if you're looking for a "good read", this won't be it.
Instead, it's a soothing collection of what Haig calls "islands of hope" – nuggets of wisdom and comfort you might find in friends, loved ones or even philosophers like Marcus Aurelius and Alan Watts. There's a chapter on change, unlocking the power of words to "release" feelings, a chapter on "knowing your enemy" and the universal experience of isolation.
We need your consent to load this rte-player contentWe use rte-player to manage extra content that can set cookies on your device and collect data about your activity. Please review their details and accept them to load the content.Manage Preferences
Listen, via RTÉ Radio 1: Matt Haig talks to Miriam O'Callaghan in 2018
There are frank discussions on the pleasure in depression, that intense feeling of joy that can be found in the moments of relief or beauty. There's the exploration of "good sad", "like a nostalgia for a lost past", and the sweet and sincere "Things to remember on a bad day" mantra.
To some readers, a lot of it might read as common knowledge – "our perspective is our world"; "external events are neutral" – and if that's the case, it's likely because you already know these things. Good for you, not everyone is so lucky. Certainly at times it reads as too trite, such as the line "our minds might make prisons, but it also gives us keys". But one person's tired cliche is another's bright light on a dark day.
Structurally, however, it reads as a collection of thoughts loosely connected through the theme of the four elements, each signifying a type of resilience. At its least impactful, the notes feel unrooted and directionless. When Haig adds context, such as the moving story of the icon song Somewhere Over the Rainbow and the stories of the composers behind it, they truly ground the reader.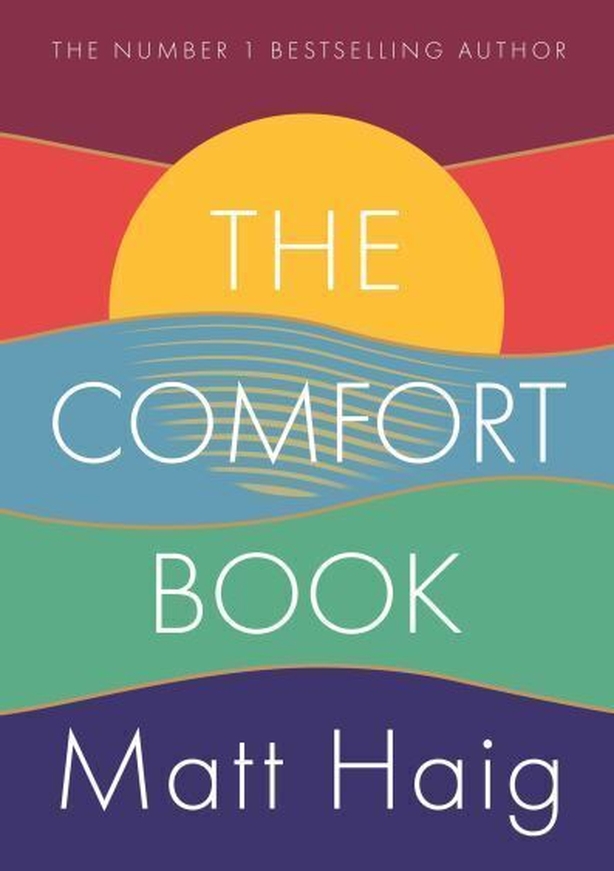 His own clarity on his perspectives as a younger man and now is, as always, the most striking element of Haig's writing, and it spreads its own kind of inspiration: if he can look back with such understanding and compassion, surely we can too?
Haig has elevated the skill that is self-soothing to spiritual high art, but as he makes painfully clear he didn't get there by chance. As the opening quote from Rainer Maria Rilke notes, "Do no think that the person who is trying to console you lives effortlessly among the simple, quiet words that sometimes make you feel better … But if it were any different he could never have found the words that he did".
The Comfort Book by Matt Haig (published by Canongate) is out now.