Artist Marie Brett introduces her immersive new work The Day-Crossing Farm, exploring the timely issues of human trafficking, modern day slavery & cannabis 'grow houses' in Ireland, which premiered as part of this year's Cork Midsummer Festival and is available to stream online until June 27th.
As a visual artist and social arts practicioner, I have consistently found myself compelled to explore some of life's most complex human issues.
In recent years, I have led the development of a series of ambitious art projects (Yes, But Do You Care? E.gress, Amulet) that question our place in humanity and my current work with Cork Midsummer Festival is the culmination of a two year period of research into one of today's most critical human rights issues.
We need your consent to load this rte-player contentWe use rte-player to manage extra content that can set cookies on your device and collect data about your activity. Please review their details and accept them to load the content.Manage Preferences
Listen: Marie Brett talks The Day-Crossing Farm on RTÉ Arena
Human trafficking is a criminal underworld activity that is happening right here in Ireland, with hundreds of trafficking victims living here, often within local communities, hidden in plain sight. News media reports and the publication of recent research show that despite the Covid 19 pandemic, human trafficking and the incarceration of people trapped in modern-day slavery is indeed more prevalent in Ireland than we might realise. The recent 'Report on Human Trafficking and Exploitation on the Island of Ireland', by researchers at Mary Immaculate College Limerick revealed that the number of adults and children trafficked to the island of Ireland between 2014 - 2019 is at least 30% higher across the island, than the figure officially recorded, with an estimated 800 victims having been trafficked to the island of Ireland within the six years. And although authorities and expert research groups know it takes place, human trafficking for the purpose of forced labour in cannabis production remains largely under-investigated and underreported here.
I was delighted that Cork Midsummer Festival had the interest to commission me to create a work about this complex subject, and for the last two years, I have worked in consultation with human justice, advocacy and support organisations, scholars, gardeners and persons with lived experience of trafficking and forced labour to inform its development. I've learnt so much, researching real-life stories of human trafficking, of drug farming and of how modern-day slavery is often linked to debt bondage, and I've had the privilege of working with some of Ireland's leading thinkers and creatives, as well as, importantly, people who've lived these profound experiences themselves.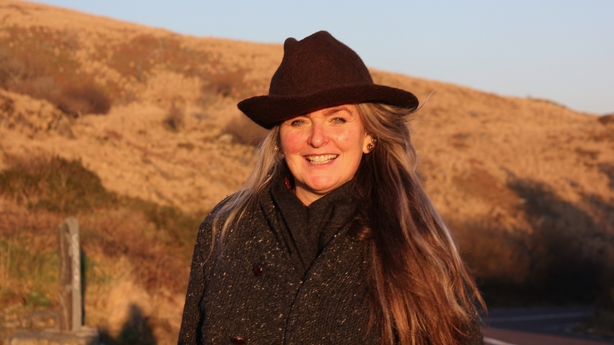 The art piece now made, The Day-Crossing Farm, has been produced in collaboration with a team of guest creatives including filmmaker Linda Curtin; the festival's artist in residence, composer and sound designer Peter Power; and lighting designer Sarah Jane Shiels. It is an immersive art installation, with live performance, and inhabits a secret location in Cork City.
There is both a live installation event experience, plus an online film streaming viewing experience, both providing multi-sensorial encounters, incorporating live music and performance, interactive sculpture, moving image, plant-life, sound and lighting design.
Through the work, I was keen to explore how ideas of a visionary utopia and the lure of escapism could collide with the reality of a person being deceived then trapped; and for the art piece to enable a hauntingly sensorial experience for an audience, where you're left hungry with questions, keen to find out more when leaving the site.
The Day-Crossing Farm will stream on demand online, from 7pm on June 14th - 27th - find out more here.