Ratchet and Clank: Rift Apart showcases just what the PlayStation 5 is capable of, and delivers an action-packed spectacle that is out of this world.
With Rift Apart, the capabilities of the PS5 are evident from the start. The game loads near-instantly, and after a short introduction, I'm treated to nothing short of a cinematic spectacle.
We need your consent to load this YouTube contentWe use YouTube to manage extra content that can set cookies on your device and collect data about your activity. Please review their details and accept them to load the content.Manage Preferences
Ratchet lies idle for a minute or two on-screen - until I realise the cut-scenes are over, and what I'm witnessing is actual gameplay. The game is beautiful, and then some.
If only for its high-speed gameplay, you could play Rift Apart at a glacial pace and still not fully appreciate the intricate detail of the game.
Seemingly every pixel, every texture, and every minute detail has been taken care of. The starting level demonstrates as much – one minute you're grinding on a rail under gunfire, to then lassoing yourself through dimensional portals.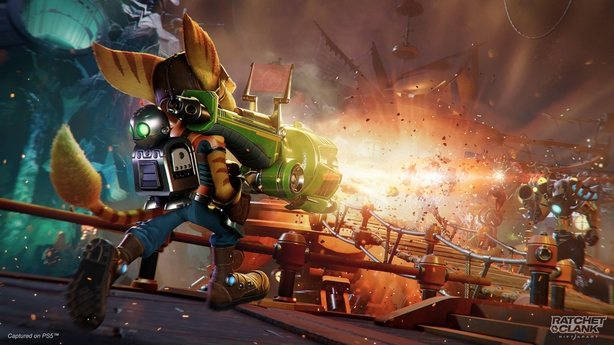 Classic gameplay gets a next-gen makeover
Rift Apart follows all the signposts of a classic Ratchet game, mixing platform with shooter, puzzle, and adventure.
The story sees Ratchet and Clank battle yet again with nemesis Dr. Nefarious, who is now exploiting dimensional rifts in the hopes of finally conquering the universe.
They travel into a new dimension which is ruled by a competent version of Nefarious. Great. And although the pair become separated, both Ratchet and Clank find new allies to fight back, patch the rifts and restore order.
Signature to Ratchet and Clank, combat makes up a huge part of the fun, with battles happening in the blink of an eye and each one more of a spectacle than the last.
It's dealer's choice in what you use, and every level will bring with it new guns to learn and play around with. From blasters to bombs, saw blades, and missile launchers, to transforming enemies into plants with the help of a sprinkler – there's a great level of creativity with combat and you'll be able to switch weapons and set up impressive, high-octane combos in quick succession.
The game features a new 'rift lasso' mechanic, which allows you to teleport around parts of the level instantaneously. Fight enemies from behind, escape a big attack in the nick of time, or simply test the mettle of the PS5's SSD performance by whizzing around the map in light speed.
This sparks what's ultimately so impressive about the PlayStation 5. It's speed. Some levels will see you grind railings through collapsing worlds, or fall through portals where the entire level remaps itself into something completely new in seconds. Sprinkle some action-packed fights in-between, with no-load times, no downtime, and with no problem.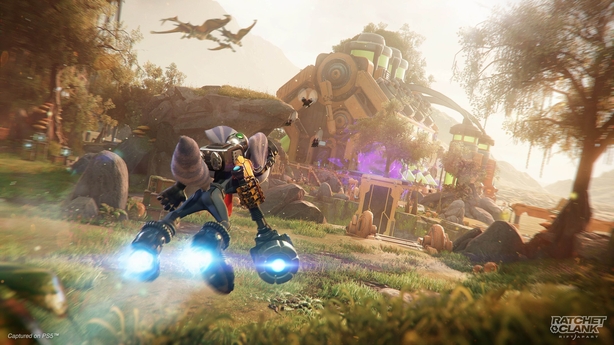 A 'Riveting' experience
Surprisingly, what's equally exciting about Ratchet's new adventure is the storyline, which sees two new playable characters, Rivet and Kit, taking centre stage.
Rivet is a Lombax, who as a member of the Resistance who fights against the Emperor. Whilst I won't spoil the details of her story, suffice to say Jennifer Hale performs outstandingly in this new role.
Rivet comes across as incredibly likable, layered, and charming, and you won't protest at all when the game asks you to play as her. Most of the game's best levels, minigames, action sequences, and boss fights are within Rivet's story.
New sidekick robot Kit is also one of the more welcomed surprises of the game. She's an underdog you'll root for throughout your journey, and whose deadpan humour will have you chuckling all the while. Her journey is one of the more memorable takes of the game and I can't wait to see what's in store next.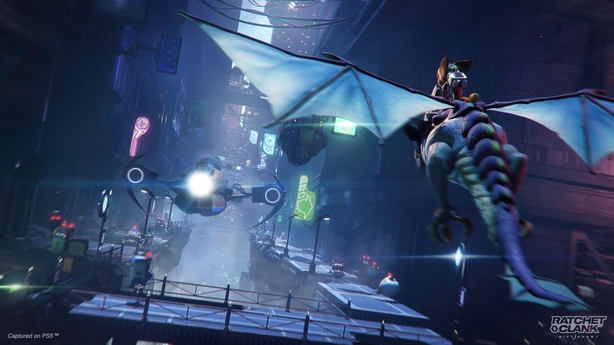 Puzzles, side-quests, and photo fun
It's easy to breeze through most of Rift Apart in quick succession – which is the tell-tale sign of how fun the game is. But I'd advise any gamer to take their time, go off the beaten track, explore the various maps and try to take it all in.
Aside from the main quest, Rift Apart has several additions to flesh out your experience. Throughout each level, you can collect golden nuts for cosmetics, weapon skins, photo packs, and an enhanced gallery.
Collecting all the spybots is highly recommend, as you'll receive the ultimate game-changing weapon to use. You can also spend time replaying maps to collect bolts and buy all the weapons Mrs. Zurkon has to sell.
When you do finish the game, you can challenge the story again and carry over all your gear for an overpowered steam-rolling experience.
Several puzzles will test your critical thinking and patience throughout the game. The most common will be navigating Clank and Kit through dimensional anomalies, using weight, speed, and electricity to safely cross.
You'll also help Ratchet's new spider-robot Glitch travel through corrupted computer systems to purge viruses, shooting at them like a 3D space invaders game. These small snapshots of fun will help you dip in and out of the main storyline with ease.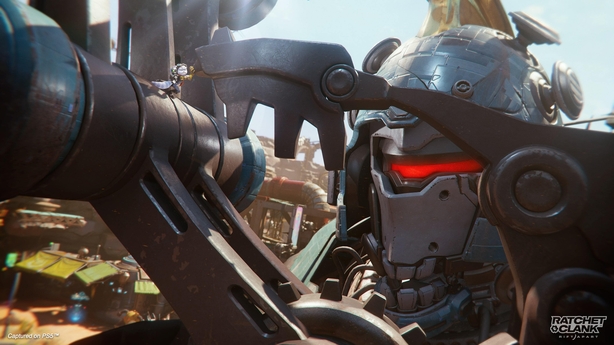 This is what the PlayStation 5 was built for
Since its teaser trailer last year, there was unbelievable hype surrounding Ratchet and Clank: Rift Apart and how it would run on the new PS5.
And ultimately the game has been well worth the wait – and then some.
With jaw-dropping graphics and non-existent load times, together with a sprinkling of new mechanics throughout, the scene is set for an electrifying new generation in gaming.
What you have in Rift Apart is a fully realized game that is incredibly fun to play. It strikes the perfect balance between new and old, fresh and familiar, and treasures the elements of what makes a Ratchet and Clank one of gaming's most beloved characters.
And with a now expanded cast of zany characters, Ratchet and Clank: Rift Apart has set the entire franchise on a brand new, cosmic trajectory.
Ratchet and Clank: Rift Apart is available to play on PlayStation 5.