Theatremaker James O'Riordan introduces Ar Ais Arís, Brú Theatre's unique contribution to the Brightening Air/Coiscéim Coiligh festival which runs from 11-20 June 2021 - find out more here.
It was not supposed to be this way.
In August 2019, we at Brú Theatre received one of two commissions from Galway 2020/ NUIG as part of the Aistriú project to create new, Irish language work. We had big plans. Audiences would board a bus in Galway, drive through Connemara and disembark at Cnoic Suain, a refurbished 17th century hill village, before beginning a multilingual audio walk with dancers scattered throughout the landscape. How things change. The best laid plans of mice and men. And yet, necessity is the mother of all invention.
This week, we invited audiences in the Gaeltachts of Gweedore, Belmullet, Inis Oirr, Corcha Dhuibhne and Cape Clear Island to an outdoor presentation area at their local arts centres. They'll sit on a chair and ponder the ever-changing Atlantic Ocean. With a solitary suitcase by their side, we'll encourage our audience to consider what crossing this water has meant for the Irish people. Generations of displaced, immigrant families and the stories that make them, inflecting their dialects and colouring their sense of self. After a moment, a member of our team will then invite those seated to put on a Virtual Reality headset, take a breath, and begin.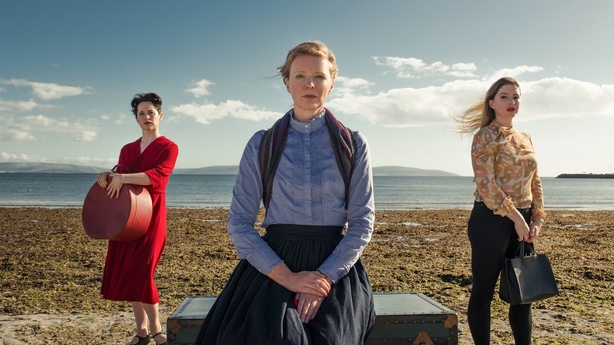 Ar Ais Arís consists of three vignettes that explore self, ancestry and female representation in Irish literature. First, we are on a pier in Casla, Conemarra as a mother silently says goodbye to her first born, off to America, a piece based on Máirtín Ó Cadhain's devastating short story, An Bhlian 1912. Next, we become totally immersed on a mountain top as a woman emigrates back home from England, a troubled past following close behind her, inspired by Nóra Mharcuis Bhig by Pádraic Ó Conaire. We finish in a therapy room, as a modern woman faces into the trauma she's inherited from generations of displaced women, out of sorts and far from home in their own living rooms, inspired by Nuala Ní Dhomhnaill's collection of poetry The Assimilated Merfolk.
These trio of immersive pieces last 16 minutes in total and are in the Irish. At Brú Theatre we believe that the Irish language should be presented as one of inclusivity. No matter what level of Irish our audience has, from fluent to just the 'cúpla focail', we encourage them to meet the language of the presentation at their own level, to take from these pieces what they will.
The storytelling is simple and visual, incorporating dance, original song, stunning landscapes, gorgeous costumes and arresting performances from our female cast, Anna Mullarkey, Victoria Mc Cormack and Stephanie Dufresne. The invitation is to briefly immerse yourself in language, landscape and the imagined lives of others, so that you may pause to consider your own journey, and the journeys of those who came before.
Still silently sobbing from experiencing Ar Ais Aris @BruTheatre @ArasInisGluaire @Brightening_Air @artscouncil_ie VR theatre at its finest - using the medium mixed with live to say something special. pic.twitter.com/WSElNe7Hbw

— Dr Dea Birkett (@DeaBirkett) June 18, 2021
The wind, the smell of the sea air and the (fingers crossed) sunshine on skin will immerse audiences deeper in this merging of visual poetry, exciting technology and some of the finest writing in the Irish language. We've been lucky to have such a strong creative team who stayed with us throughout and have worked hard to create this beautiful, haunting meditation of leaving, returning and a yearning for home.
Ar Ais Arís is presented with Brú Theatre as part of Brightening Air | Coiscéim Coiligh, which runs from 11-20 June 2021 - find out more here.