Ahead of The RTÉ Concert Orchestra Celebrates Emily Dickinson at the National Concert Hall on May 25th, Saibh Downes explores why the poet's work has such resonance for our times.
---
A recluse – conducting a solitary existence, isolated from society. This was the life Emily Dickinson chose to live.
"I had a terror since September, I could tell to none; and so I sing, as the boy does by the burying ground, because I am afraid."
This sentence from a letter written to her mentor, Thomas Wentworth Higginson in April 1862, is the only explanation we have for Dickinson's withdrawal from society – and it is a vague one. Was this "terror" she speaks of a bereavement, a crippling heartbreak or the onset of mental illness? Or it could have been the fallout from an epileptic episode, as it is speculated that Emily may have suffered from this condition? We don't know.
But what we do know is that despite being locked away from us, Dickinson's work speaks so profoundly about who we are and what we are here for. Her detachment from society allowed her to think, observe, and question life as we know it.
There is a close relationship between music and Emily Dickinson's spoken word. Her poetry has an innate musicality. Its experimentation with hymn-like metre makes for a seamless transition from poetry to song, while its vivid imagery and powerful themes inspire musical composition. The music in this June bank holiday broadcast reflects the wide appeal of Emily Dickinson's poetry.
Conducted by David Brophy, the programme includes Appalachian Spring, a ballet score by American composer Aaron Copland. Premiered in October 1944, it was commissioned in 1942 by the American Patron of the Arts Elizabeth Sprague Coolidge as a work for the choreographer and dancer Martha Graham. Appalachian Spring is about a frontier couple on their wedding day. The ballet uses the Shaker hymn Simple Gifts as its primary melodic material, combining American folk tradition with classical music. The Shaker community worshipped on Holy Mount, Massachusetts in the mid-nineteenth century, close to where Emily lived. It's safe to assume that Emily was familiar with the hymn.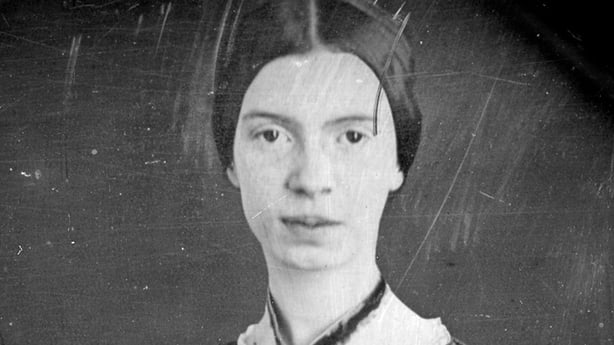 Born in Boston, 1941, Ronald Perera is famous for his setting of poetic texts. His work Five Summer Songs on the Poems of Emily Dickinson was composed between 1969 and 1972 as a sixtieth birthday present for his mother. The five poems of the song cycle are the following: New Feet within My Garden Go, Sound Winds Jostle Them, I Know a Place, To Make a Prairie, and The One that Could Repeat the Summer Day.
In the preface to the 2019 vocal score, Perera says, "The poet's imagination is often engaged by the landscape around her home in Amherst and the creatures that inhabit it. She records the passing seasons by the arrival and departure of particular birds, of bumblebees and butterflies, and of frosts dispelled by warming south winds."
Dickinson created a palpable sense of the natural world through her use of language, which Perera translated into musical form. As we enter the summer months, we experience the wonders of the outdoors more frequently, encountering the natural beauty Emily refers to in her poetry.
The legendary American folk-rock duo Simon and Garfunkel released The Dangling Conversation as the second single from their 1966 studio album Parsley, Sage, Rosemary and Thyme. The song is about a failing relationship – two people who are falling out of love. The couple refuse to address the elephant in the room, and so The Dangling Conversation reflects how unconnected they have become. The couple sit together in their living room, but really, they are miles apart.
"You're a stranger unto me
Lost in the dangling conversation
And the superficial sighs
In the borders of our lives"
Its striking use of imagery paints a picture of the couple's predicament in our heads. We can feel the awkwardness, the frustration, and the indifference between them.
"And you read your Emily Dickinson
And I my Robert Frost"
These lyrics suggest that the couple feel so isolated from one another that they find solace in the poetry of Dickinson and Frost – poets who wrote so profoundly about feelings of loneliness.
We need your consent to load this YouTube contentWe use YouTube to manage extra content that can set cookies on your device and collect data about your activity. Please review their details and accept them to load the content.Manage Preferences
Death is inevitable. Our existence is impermanent. Mortality is our predestined fate. Emily Dickinson yearned to know what lies beyond our final moments. She thought about the existence or absence of an after-life. Compelled to understand life's eternal question, Dickinson's infatuation with immortality fuelled her transcendental poetic impulses. The global phenomenon that is Billie Eilish sounds a lot like a modern-day Emily Dickinson. The final line of the refrain in Billie's 2019 single bury a friend from her debut studio album asks the same question Emily once did:
"When we all fall asleep, where do we go?"
The vocal quality of the track is a haunting whisper. This ghostly voice is juxtaposed with the unrelenting syncopation of an aggressive drummed backbeat, interpolated by tortured screeches and high-pitched drilling sounds.
"bury a friend is literally from the perspective of a monster under my bed. If you put yourself in that mindset, what is the creature doing or feeling? I also confess that I'm this monster, because I'm my own worst enemy," Billie says.
We need your consent to load this YouTube contentWe use YouTube to manage extra content that can set cookies on your device and collect data about your activity. Please review their details and accept them to load the content.Manage Preferences
Using graphic language, the song explores themes of death and self-loathing. The things we hate about ourselves are our monsters – our forms of self-sabotage. When Eilish utters the words, "I wanna end me", she does not mean this literally. Rather, the singer wants to get rid of the things she dislikes so much about herself.
Defying nineteenth-century norms, Emily Dickinson was not interested in being a domestic goddess, a doting mother, or a Massachusetts socialite. Knowing these roles would fail to fulfil her, Dickinson dedicated her life to her poetic work. Billie Eilish also challenges societal expectations of what a young woman in the music industry should be. The singer-songwriter has said that she wears loose-fitting clothes to prevent the sexualisation and ridicule of her body. Like Dickinson, Eilish refuses to conform to what society expects of her.
The last 14 months have taught us a lot. Involuntary seclusion has forced us to reflect, to appreciate things we never did before. We have had time to think. Now, more than ever, we can relate to Emily Dickinson. We have the similar lived experience. Isolation has fostered creativity, appreciation of the natural world and contemplation of life and its eternal questions within us – as it did Emily. We now understand Dickinson better than we did before. Her poetry has acquired new meaning for us all.
The RTÉ Concert Orchestra Celebrates Emily Dickinson is at the National Concert Hall on May 25th - find out more here.