RTÉ Radio 1 Extra will broadcast Digging For Fire by composer Daragh Dukes and radio producers Eoin O Kelly and Kevin Brew at 8pm on 21 May.
A mix of memoir, documentary and drama, the programme explores the nature of youthful creativity as the programme-makers remember their participation in the Limerick band scene of the early 1990s. Through indie-tinted glasses, Kevin, Eoin and Daragh riff on the intermittent accuracy of a memory mix-tape.
The programme began with a bittersweet memory; of being in a band, and then; not being in one. It's a micro-hurt still carried by the many legions of us, who had to forsake the Fender Stratocaster to embrace more adult pursuits like paid employment and data entry. We felt there was some special freedom bottled up in those memories, and also a glimpse of fiery, teenage creativity - something we could capture, or archive.
Daragh and Kevin used to be in the band called They Do It With Mirrors. Eoin was formerly lead singer in The Hitchers. All three of us took up the indie-rock DIY aesthetic of the time, amid billowing smoke machines and sticky dance floors, asking for 'more reverb' during sound-checks in former ballrooms around Limerick - the Jetland, the Glentworth and Cruises Hotel.
The programme began with a bittersweet memory; of being in a band, and then; not being in one.
And even if our guitars were out of tune, or in the wrong hands, there was also a sense of the freedom and enthusiasm that drives creativity at a young age; a trust in the words that were scribbled on impulse into notebooks; or inverted chord shapes learned because the normal ones were too difficult; or flyers hastily guillotined at the offices of Prontaprint. All three of us wanted to capture that atmosphere of bands in Limerick at a time that produced The Cranberries, The Charming, Private World and Up The Downstairs, among many others.
We did a demo performance of Digging For Fire at the Hearsay International Audio Arts Festival in Kilfinane in 2019, not realising how tantalising the words 'festival' and 'performance' would become as the pandemic took hold. Then, in our respective lockdowns, we decided to make a radio version.
It was important to us that the story wouldn't sound like it was told from the outside. That it wouldn't amount to a catalogue of milestone achievements that could be marked off against the achievements of other similar bands. It would be told through memory rather than research, allowing discrete events which have remained with us to jostle for a place in the story. At times, working in isolation meant that the process resembled the surrealist game "exquisite corpse", but much as a band workshops a song in a garage, we took to Zoom to shape our vignettes into a coherent whole.
Digging For Fire is not really a music documentary. Maybe it's more like a memoir. And in that memoir, we're trying to convey the sound of the urge to make something, and how that urge changes as we acquire experience, pretensions, inhibitions, responsibilities, and nowadays, bafflingly versatile music software. Daragh's score for the programme channels the indie bar-chords of yore, while re-rendering from scratch the sounds of lost demos, with blurry electronic outlines, as if through the filter of our faulty memories.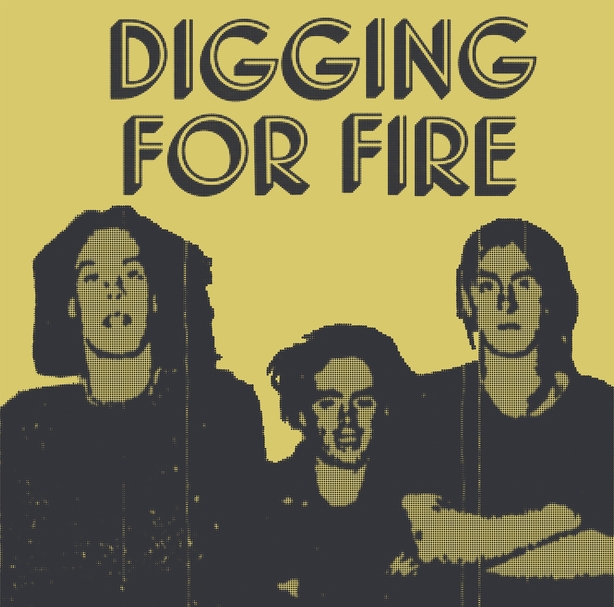 One element of the programme is about They Do It With Mirrors' move to London in 1992, as part of an indie deal with Setanta Records. Setanta produced bands like The Divine Comedy, Into Paradise and A House. Soon we would be starring in a well-worn narrative; 'Irish band beloved in their home town crash against the sophisticated tastes of a true musical capital.' We did our fair share of playing to no one at 6pm in venues like the Camden Falcon. Those setbacks felt momentous at the time. And somehow we've wanted to splice that experience with the lives we have now.
We were in awe of bands like My Bloody Valentine and Fatima Mansions, and because we were in London, we managed to grab some advice in precious minutes with Kevin Shields and Cathal Coughlan. Towards the end of the London stint, we started to understand more about how a guitar makes a sound, how chords can be made to play in 'crazy circles', how words can accidentally fuse into authentic sentences. Even as the rock and roll fantasy was melting away, some notes about sounds and words were being recorded away in our disappointed selves, for future use.
As you may have guessed, we didn't "conquer the world" in the end. This blog isn't being written in a designer loft overlooking a private zoo. But nor did the world conquer us. Writing it all down, and making the indie spirit live a little longer, has hopefully made a fiery something, out of that micro-hurt.
RTÉ Radio 1 Extra will broadcast Digging For Fire at 8pm on 21 May - the programme will also be podcastable here.
Images: pixelated.ie