Tradfest: The Dublin Castle Sessions is a brand new TV series in which Fiachna Ó Braonáin takes audiences on a contemporary journey through traditional Irish music - below, producer Donal Scannell introduces the series, which starts on RTÉ 2 at 11.10pm on Thursday May 13th - watch it here.
This series was filmed under Covid Level 5 regulations in St. Patrick's Hall, Dublin Castle - a room that's been at the centre of Irish history for centuries – and in which Fiachna breaks musical bread with a wide array of Irish musicians.
The series features a range of exclusives from the likes of David Keenan and unique collaborations between Luka Bloom and Moxie, Sive with Steve & Joe Wall and the Hothouse Flowers with Clare Sands.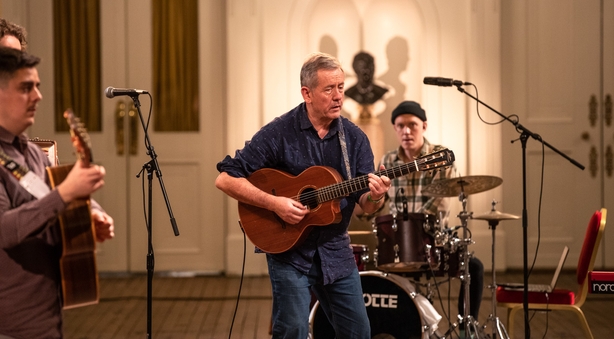 One of the highlights is a performance by Laoise Kelly of music written by Turlough O'Carolan in the late 1600s. Laoise plays O'Carolan's music on a harp very similar to that used by the 17th century composer himself. Also present and soaking this up are Tolü Makay, Enda Gallery and Fiachna.
Tolu, Enda, Laoise and Fiachna – playing in a room built in the late 1700s and sharing an acoustic, unamplified musical experience – make the music feel as vibrant today as it must have been when it was first written.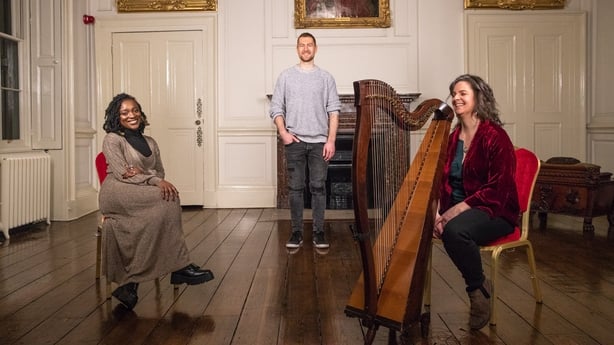 Tolü and Enda are at the apex of contemporary Irish music and yet, when Laoise accompanies them on The Greatest Gift, it makes perfect sense. Captured on camera in St. Patrick's Hall are centuries of significance. Fiachna joins in on guitar, constantly nudging this union gently along in his dual role as musician and host.
Earning a living from music today is as precarious as it must have been when O'Carolan was in his pomp. But yet the uncertainty of the lockdown seems to have made us more grateful and appreciative for those who create art; those who distract, uplift and entertain. Modern musicians are freer than they've ever been to create and share. Notwithstanding their questionable business arrangements and revenue splits, services like Spotify can enable the distribution of music like never before. Music transcends the globe now in a way that would have been unthinkable during O'Carolan's era.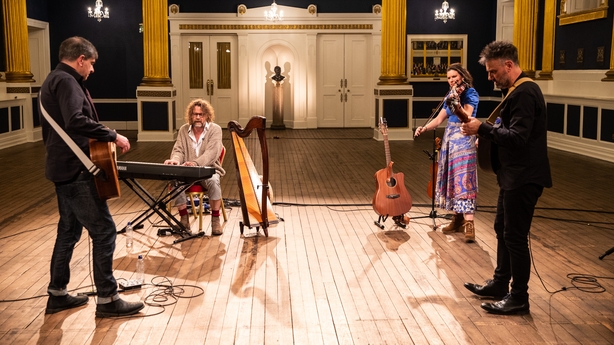 The glorious artworks of Vincenzo Waldré stare down from the ceiling of St. Patrick's Hall and remind us of a different time, when support for an artist came not from Patreon.com but a more direct form of patronage. Back when a handful of benefactors controlled the fate of the artist. To perform at St. Patrick's Hall just over one hundred years ago would have meant passing a far different type of gatekeeper.
This former centre of power in Ireland has been frozen in time. The electrics have been updated and a painting, celebrating Mary McAleese's inauguration here, is tucked away in a corner. But beyond that, the hall itself looks the same as when lords, ladies and dignitaries waltzed and fox-trotted the nights away centuries ago.
It is traditional Irish music, of all things, that has taken us here. The Tradfest Festival has been presenting music in rooms as gorgeous as this since 2005 and, under the guidance of Artistic Director, Kieran Hanrahan, has long explored what the festival calls Trad Without Frontiers.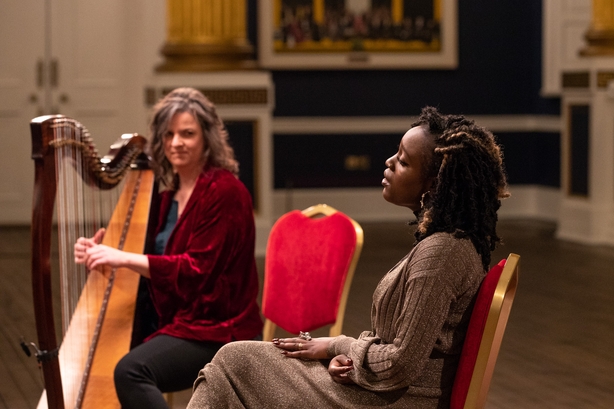 This series is an extension of that festival's work and follows on from its production of the Ireland In Music programme, broadcast to much acclaim on RTÉ One last Christmas. Ireland In Music has since been aired on eighteen stations around the world, from Norway to Serbia to the United States.
Tradfest is currently building a series of global platforms for Irish music, and trad is the starting point for that project. In a spirit of inclusiveness, sharing and adventure, the Trad Without Frontiers motto has enabled many memorable moments already. As seen on Ireland In Music, who can forget Denise Chalia, Sharon Shannon, Brídín, Murli, Godknows and the amazing dancer, Ruth Charles, performing together at the Cliffs Of Moher?
Tradfest; The Dublin Castle Sessions feels like an indoor version of Ireland In Music. Everything takes place in the one gorgeous room and the series zooms in rather than out. There's less to distract from the music. Drone shots of Ireland's gorgeous landscape have been swapped with languishing close-ups of master musicians deep in the zone. Musicians meet in the round, Fiachna and the room itself the only constants.
Trad isn't a style. The term refers, rather, to the body of work itself. The actual tunes.
Fiachna Ó Braonáin is a musical explorer whose first love was traditional music; it's a love that has taken him all over the world. As a founding member of Hothouse Flowers, he's had international hit records and has toured those records for decades. His own solo work has taken him – musically and geographically - from Africa to New Orleans and many points in between.
The word 'trad' packs an awful lot into its four letters. An abbreviation of another word - traditional - it refers, in music terms, to the canon of the people's music. A body of music that has been shared for sharing's sake through the ages. Music that predates the debate about streaming services payout rates and the ability to record music.
Trad isn't a style. The term refers, rather, to the body of work itself. The actual tunes. Its rare that Irish music that is hundreds of years old is still attributed to a particular composer, as with O'Carolan. Many of the trad tunes shared over the years are attributed to the person who shared them, but there are some notable exceptions. The recently deceased Paddy Fahy, for one, who wrote scores of tunes in his long lifetime. He called every tune he wrote by the same name - Paddy Fahy's - just to be sure people would never forget who wrote them!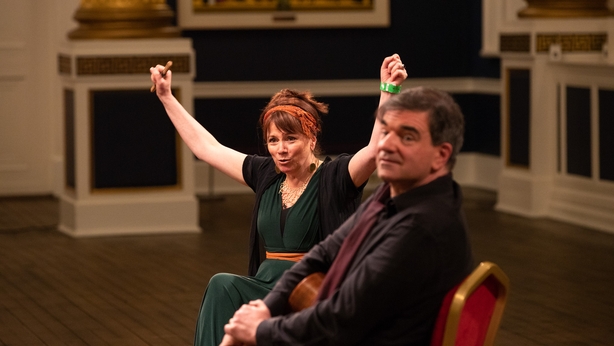 Tradfest - The Dublin Castle Sessions runs a full stylistic gamut. From the purest of drops from The Mulcahy Family - who spread joy itself with two accordions and uilleann pipes - to Moxie, who fuse the accordion with a soundtrack of beats. Seána Davey draws another direct line from O'Carolan as she marries her epic harp style to Mundy's songs. Cathy Jordan from Dervish distills her many years in music into brand new songs that are instantly timeless. Aoife Scott brings us right up to date with a song about longing for the end of lockdown.
These are all epic musicians and they, and many more, are proud to sit under the broad banner that is Tradfest as they seamlessly connect the past, present and future. As Ireland reflects back and continues to celebrate a decade of important centenaries, our musicians are looking forward to a bright future. Proud of our past but refusing to just dwell there.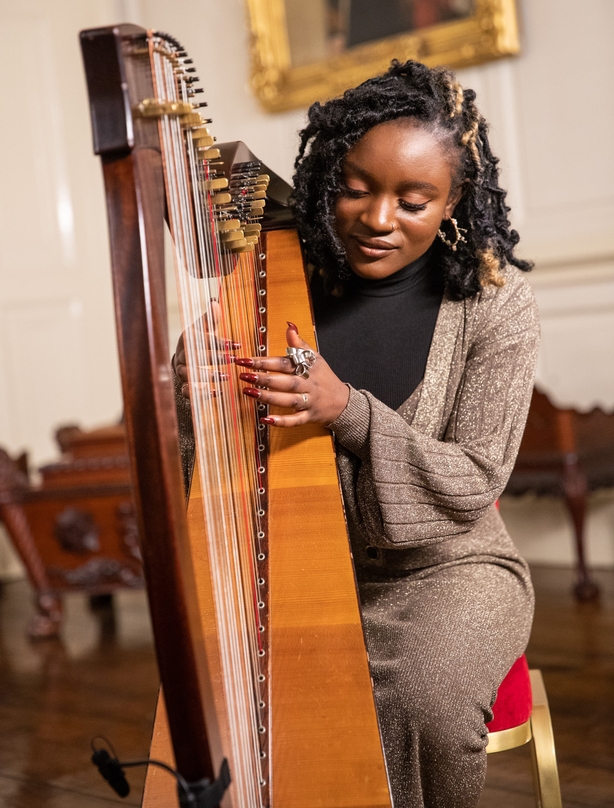 We're blessed that we live in a country that celebrates the importance of the work that the Temple Bar Company do by arranging Tradfest: amalgamating musicians with the support and assistance of the Dept of Tourism, Culture, Arts, Gaeltacht, Sport and Media; Culture Ireland, Dublin City Council, The Office Of Public Works and Novaerus.
We have every right to be proud of what we achieve together. This is a music that transcends time whilst constantly informing the future and, in many ways, serves as a perfect metaphor for all that's great about Ireland.
Tradfest: The Dublin Castle Sessions, RTÉ 2 at 11.10pm from Thursday May 13th.