We're delighted to present an extract from Nora: A Love Story of Nora and James Joyce by Nuala O'Connor (published by New Island), which has been selected as the chosen title for One Dublin One Book 2022.
When Nora Barnacle, a twenty-year-old from Galway working as a maid at Finn's Hotel, meets young James Joyce on a summer's day in Dublin, she is instantly attracted to him, natural and daring in his company. But she cannot yet imagine the extraordinary life they will share together. All Nora knows is she likes her Jim enough to leave behind family and home, in search of a bigger, more exciting life...
---
INDULGENCE
Paris, 1921
We're walking in the Bois du Boulogne, for Lucia likes to row on the lake and none of her friends are available to play today. The air is cold, but we're well wrapped up and it's nice to walk with my arm in Jim's, his rings flashing and his cane tap-tapping; I'm beginning to feel that we're part of something in Paris now, that we matter.
"Larbaud is using words like 'great' and 'immortal.' Obviously, I know I'm writing a good thing, but it lifts me when others concur."
I breathe deep on the green, fresh park air and watch Lucia row in lazy circles, her face a contortion of concentration. I peer closer. She's muttering to herself, a habit plucked straight from her father. Her head dips, the oars plunge, and Lucia's lips move in frantic conversation with no one.
"People will think she's mad," I say, nodding toward her.
"But mind, Nora, that 'a little madness now and then, is relished by the wisest men.' As the lunatic said to his oppressor. Or didn't say, more accurately."
"And what meaning am I to take from that, Jim?"
"Lucia is not mad, she's flexible-minded. There's a vast difference."
I look out over the lake, the black reflections of the surrounding oaks reach across the water to our daughter. She continues her circling and chatting.
"Is she happy, do you suppose?" I ask.
Jim sits me on a bench and huddles close. "People were not made to be happy, Gooseen, they were made to attempt things."
"I'd prefer to be happy above all else."
"But we can't be that all day, every day. We'd die of boredom." He takes my hand and slips one cold finger inside my glove to feel my skin. "Larbaud plans to have a small conférence about Ulysses. Adrienne Monnier will host it at La Maison des Amis des Livres. Miss Beach is beside herself with joy."
We need your consent to load this rte-player contentWe use rte-player to manage extra content that can set cookies on your device and collect data about your activity. Please review their details and accept them to load the content.Manage Preferences
Listen: Nuala O'Connor talks Nora to RTÉ Arena
"They're good eggs, the pair of them."
"Miss Beach says it will raise interest in my work to the stars."
"Maybe then Miss Weaver's English publishers will change their minds and publish it?"
Jim sighs and rubs at his nose. "Unlikely, dear one. But people here will listen if Larbaud praises it, which can only help." He sits back and pokes at the ground with his cane. "All this censorship nonsense in America is making my teeth ache. What is wrong with those people that they can't take a little bloody realism? At this rate no one outside of Africa will print the damn thing as a book." He wriggles on the seat. "Obscenity, my hairy arse. And as for corrupting the minds of young girls. Give me strength!"
I gaze at Lucia and try to imagine her as young Gerty in Jim's novel. If Lucy was alone here on the bank of the lake and she raised her skirts, to titillate a man old enough to be her father, would I be alarmed? Indeed and I would. Why Jim has to put such sleazy little scenes in his novel I don't know. He says they're necessary and important, that he's showing up Ireland for what she really is—a contradictory place with contrary people—but will the public understand that? Ah, what's the difference? For Jim, Ulysses is the most significant thing in the world and, because of that, it's the same to me. And things are moving along, as slow as grass grows, it's true, but we're in a better flat at rue de l'Université now—the twentieth address at which Jim has been writing Ulysses, he tells me. And the Misses Beach and Monnier cluck around Jim like mother hens, making sure his nest is comfortable and he has all he needs to write. They call him Melancholy Jesus since he styled himself that one day and he enjoys their gentle teasing. And, anyway, amn't I here with Jim always, besides? How could he not thrive?
"The conférence in Miss Monnier's shop will be a good thing," I murmur, my eyes still on Lucy.
"I have to finish the book now, I suppose, scratch it down as quickly as I can. I'm itching to get to the last bit, the Penelope episode. The Ithaca part is chemical and geometric and mathematical, but Penelope will be soft and curvaceous and wide. It will be eight rambling sentences in total. I can see it, feel it, hear it scripted out before me. All I need is to get to it."
I grab his hand. "And you will, Jim. Stay in more, my love. Stick yourself to the chair and it'll be done."
Lucia appears before us. "May we go for chocolate, Papà?" She grins. "Say yes, Babbo!"
"Before lunch?" I ask but, seeing her rapid scowl, I correct myself. "Why not? Chocolate will warm our bellies."
When we stand Lucia slots her arm into Jim's and they walk ahead of me, their heads bent together. I trail behind them, a bind of jealousy twining with a knot of pleasure.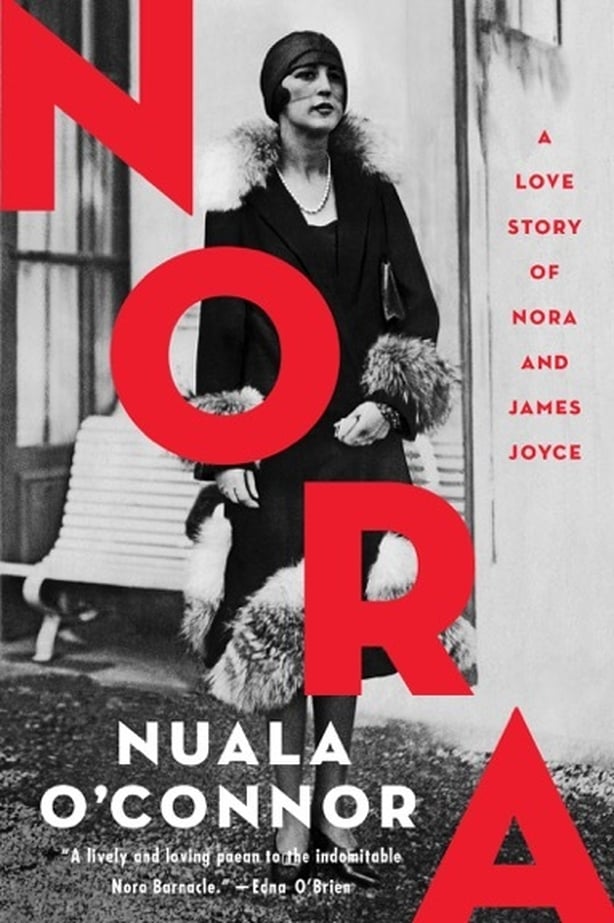 Find out more about the One Dublin One Book 2022 programme here.