Never trust the tale, trust the teller. Kevin Power called on this D.H Lawrence quote in his recent analysis of Adam Curtis' new documentary series Can't Get You Out of My Head for The Stinging Fly. Incidentally, neither one can be fully trusted in Power's latest offering White City, delivered by the writer this month after a lengthy hiatus. The period since the publication of his stirring debut, Bad Day in Blackrock, and its film adaptation, Lenny Abrahamson's What Richard Did, was spent on various iterations of this book, and the dedication of time to getting it just right has evidently been worthwhile.
The teller of this particular story is a once comfortably well-off now down-on-his-luck South Dubliner called Ben, self-described as 'the bitter only son of a disgraced rich man'. We first encounter him in rehab having hit rock bottom and passive-aggressively conversing with his doctor/counsellor, Dr. Felix. Between frowning at his phone and pruning his Bonsai Tree in typical therapist-like fashion, Dr. Felix is encouraging Ben to write his story in the hope that it might spark some insight. What follows, as he puts pen to paper, is a pacey, free-wheeling, account of his swift decline, part-boastful part-confessional, flitting between past and present, Dublin and Belgrade.
We need your consent to load this rte-player contentWe use rte-player to manage extra content that can set cookies on your device and collect data about your activity. Please review their details and accept them to load the content.Manage Preferences
Listen: Kevin Power talks to Ryan Tubridy on RTÉ Radio 1
A privileged PHD student with aspirations to become a great novelist, Ben had been happily coasting along, making little to no progress on his thesis or the book that he's been kicking around since his teens, entitled 'Decay: A Report'. He describes his outlook as 'social hatred of the world' and openly despises his parents. When his father, a prominent banker, is arrested and put on trial for misappropriation of funds, Ben is cut off financially. Around this time, he meets and moves in with Clio, an aspiring actor who introduces him to Dublin's party scene and the miscellany of drugs that go along with it. He takes to them a little too well; 'It was simple, pop a pill and gaze upon the fallen world redeemed'. He progresses quickly from dabbling to habitual use. After a while, even his dealer starts to express concern; 'You're putting my kids through college', he quips, semi-seriously.
A chance encounter with an old acquaintance from his prestigious secondary school offers the perfect means of escape in the form of a 'quasi-illegal' real estate transaction in Serbia. This is the quick-fix Ben's been looking for; 'the point was to escape the narrow range of possible lives that had been offered to me by my family, my education, my country of birth'. He resolves to ditch the scheme once he's paid and relocate abroad, leaving his obnoxious business partners high and dry; 'I was going to scam my way out of it all', he writes smugly, 'I wasn't going to go around the money, I was going to go through it'.
'Welcome to the world of getting away with it', his recruiter James says when Ben accepts the job - Ireland's Celtic Tiger years perfectly encapsulated in a single sentence - but who is really conning who here? Ben heads to Serbia with 'The Lads' to finalise the deal, and it's there that the 'crooked little skeletons' of the past are unearthed, both literal and figurative, and he continues his descent into drug-addled mania and paranoia. Who are the shady property developers that they've gotten into bed with, really? He quells his suspicions with more booze and pills. 'Let's do this', he tells his reflection, 'which leered greenly back at me, like a waterlogged corpse'.
Ben is an intriguing creation, because he somehow inspires sympathy despite his many, many flaws. He's lazy, selfish, entitled and simply not willing to put in the effort to achieve anything he wants. He's also doggedly determined not to see things as they really are. 'Sit still', his Mother tells him at his father's trial, 'I AM sitting still', he responds.
'Lower your voice, you're shouting', the lads tell him, 'I'm not shouting, I'm whispering!', he insists.
Ben's escapades in the Serbian capital take on a fever dream-like quality that is Trainspotting-esque. He stumbles and snorts his way through business meetings and social outings, 'nauseated, angry and stupid all the time', 'queasy and confused'. It was no picnic, pretending to be an international property developer, he concludes. Power writes lots of grimly funny scenarios and there are countless stand-out lines. A dealer, for example, looks 'like the lower half of his face had simply given up on the rest of him, in disappointment or disgust'. One of the Serbs has the gait 'of a runway model with an untreated testicular infection'.
'The trees were dumping their melancholy garbage of used leaves' is a dark inversion of the traditional romantic and golden descriptions of autumn, and gives further insight into Ben's precarious state of mind. A favourite for this reader is Power's rendering of baggage claim in Dublin Airport; 'our Samsonites circled in the torpid dawn, like obedient beasts of burden'.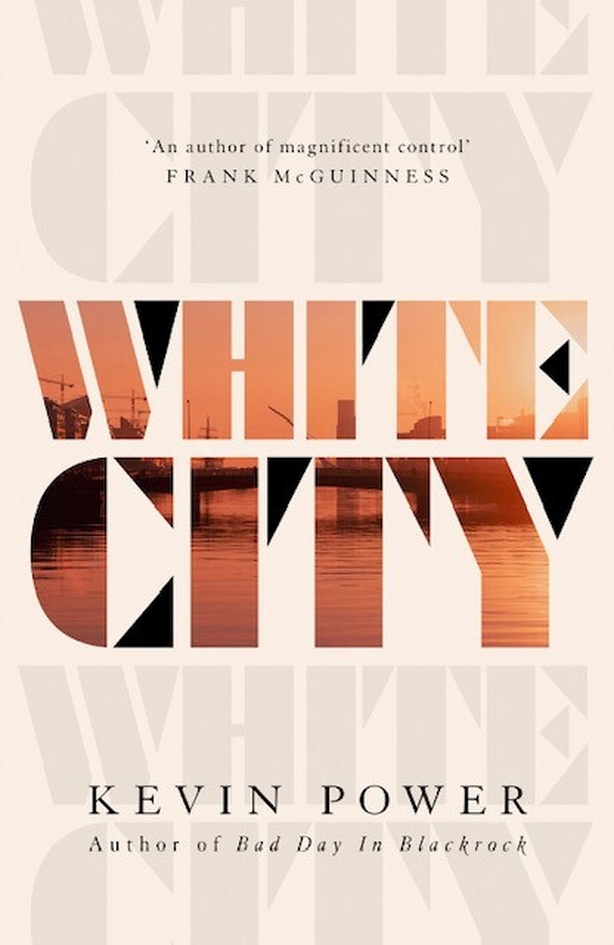 The opening page of White City references another memoir of addiction, Thomas de Quincey's infamous Confessions of an English Opium Eater. It was felt at the time that De Quincey was too celebratory in his depiction of drug-taking. By contrast, Ben's experiences are far too horrible for anyone to want a part of.
Another contrast is made between the glossy, affluent Dublin of time, with its luxury accommodation and members-only yacht and golf clubs, and the dilapidated post-war Serbia. Ben discovers Belgrade translates to 'White City'. His Serbian hosts point out that Dublin means 'Black Pool', and the symbolism isn't lost on either of them, nor is it on the writer.
White City is satire at its most entertaining and anti-capitalism at its most damning.