It is 60 years since The Clancy Brothers got their big break on prime time American television. Many remember the enthralling performance which introduced Aran knitwear to an international audience. But what many people don't know is that, at this time, the band also inspired a young Bob Dylan to start writing his own rebel songs.
Greenwich Village: A hotbed of creativity
In the 1960s, the New York neighbourhood of Greenwich Village dominated America's music scene. At the bottom of Manhattan Island, bead-clad, sandal-wearing bohemians made themselves at home among the Village's tree-lined streets and quaint, low-rise buildings.
The Village's many colourful coffee houses and clubs were a hotbed for poets, songwriters and folk singers. On Sundays, when the clubs were closed, the musicians took to the streets with fiddles, banjos and guitars in-hand. Washington Square would be jam-packed with revellers.
Greenwich Village was the heart of America's folk music revival and attracted aspiring young musicians from all over, including Paul Simon and Tom Paxton, as well as the future Nobel Laureate who had just begun to call himself Bob Dylan.
Shortly after arriving from Minnesota, an eager and fidgeting Dylan met, followed and studied The Clancy Brothers. It was also his connection with the brothers that would help him break into the music industry. In his New York Times obituary, Liam Clancy, who was particularly close to Dylan, is quoted as saying, "People who were trying to escape oppressed backgrounds, like mine and Bob Dylan's, were congregating in Greenwich Village. It was a place you could be yourself."
Pilots, actors and singers
By the time Dylan arrived in New York in the 1960s, The Clancy Brothers were well-established.
Originally from the picturesque Carrick-on-Suir in Co. Tipperary, the Clancy children grew up just beside the local church. Born in 1935, Liam was the eleventh of eleven children.
After serving in the RAF during WWII, two of his older brothers Paddy and Tom moved from England to Toronto and, then, to the US. Arriving in Greenwich Village in 1951, they established themselves as actors.
When they decided to set up their own production company, they raised startup funds by organising folk concerts. At these events, they performed the Irish ballads they'd known since childhood in their own exuberant style.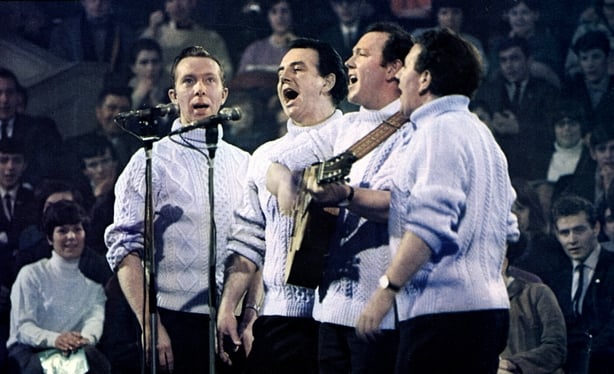 In New York, the two brothers met Diane Guggenheim who was collecting and recording Irish traditional music. So, later, when she was travelling Ireland, she stopped by the Clancy household to record Liam and his mother.
She invited Liam to accompany her on the trip, which eventually ended with him joining his brothers in 1956. During his travels, Liam met Tommy Makem, who also emigrated to the Village from his home and birthplace in Keady, Co. Armagh.
This was the beginning of the successful ballad-singing quartet, which would record nearly 20 albums together throughout the 1960s.
A fateful encounter
In 1961, Bob Dylan crossed paths with the band when they performed in the White Horse Tavern. He loved the emotional rebel songs that they sang and began to follow the brothers around the Village so he could watch and learn from their act.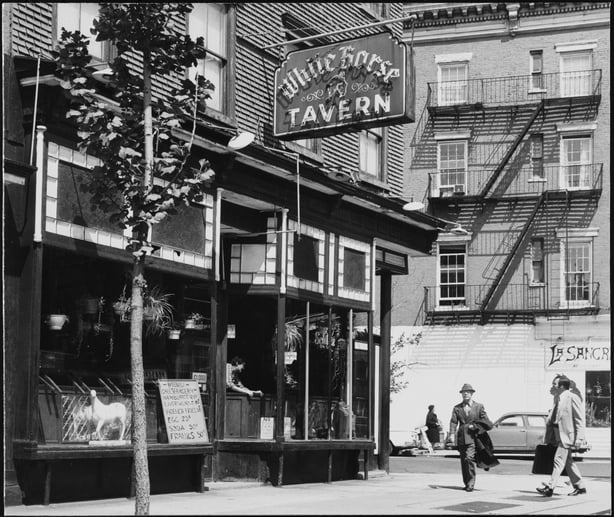 "I'd never heard a singer as good as Liam, ever. He was just the best ballad singer I'd ever heard in my life - still is probably," Dylan says in the 1984 documentary The Story of The Clancy Brothers and Tommy Makem.
In his autobiography Chronicles, Dylan also explains how he wanted to write like The Clancy Brothers too.
"I got to be friends with Liam and began going after-hours to the White Horse Tavern on Hudson Street, which was mainly an Irish bar frequented mostly by guys from the old country. All through the night, they would sing drinking songs, country ballads and rousing rebel songs that would lift the roof." Around this time, he says, he began working out ways to write rebellious songs in an American context.
He even took an old ballad sung by The Clancy Brothers and reimagined it with his own lyrics. Brennan on the Moor became Rambling Gambling Willie. He even sought Liam's feedback on his version of the tune.
We need your consent to load this Spotify contentWe use Spotify to manage extra content that can set cookies on your device and collect data about your activity. Please review their details and accept them to load the content.Manage Preferences
In March 1961, The Clancy Brothers and Tommy Makem became overnight celebrities after appearing on The Ed Sullivan Show. The previous winter was the worst New York had seen in decades, so the band was decked out in cream Aran jumpers that their mother had sent them. This is how their trademark look was born.
We need your consent to load this YouTube contentWe use YouTube to manage extra content that can set cookies on your device and collect data about your activity. Please review their details and accept them to load the content.Manage Preferences
Word of the band's success also filtered back to Ireland, driving a popular, new phenomenon on both sides of the Atlantic. This later paved the way for acts like The Wolfe Tones, The Dubliners and Christy Moore.
As for Dylan, Tommy Clancy recommended him when Columbia Records was in need of a harmonica player. Later on, Dylan signed a record deal with the same label.
Lifelong friends
By 1964, Dylan was outdoing The Clancy Brothers in the charts, but he wasn't shy about giving the band credit for their influence.
In the 1984 documentary on The Clancy Brothers, Dylan said: "The first album I made, there was one song on it that was an old song I'd heard on an old banjo record some place. I did that song the way I thought The Clancy Brothers would have done it - you know, in their style."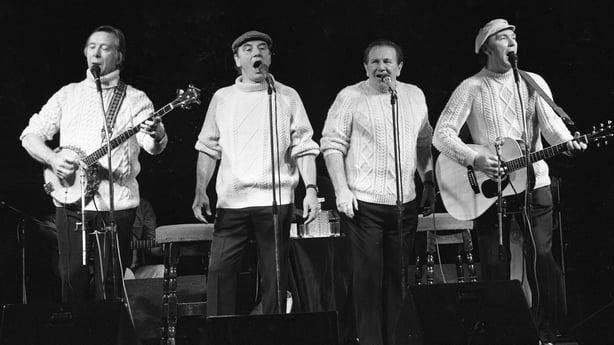 In 1992, Dylan also invited The Clancy Brothers to perform at his 30th anniversary concert in New York's Madison Square Garden. This time, the band took inspiration from Dylan's work and sang When the ship comes in. They went on to record this, along with Rambling Gambling Willie, for their 1995 album Older But No Wiser.
Want to find out more about the impact Irish emigrants have had on music around the world? Check out the Music and Dance gallery in the EPIC museum's virtual tour.