Covid Care Concerts is a new arts and health initiative, established by Irish cellist Gerald Peregrine in response to the Covid-19 pandemic. Below, Gerald outlines the project and how it all came about...
Like most professional musicians, my work came to a sudden halt in March last year at the onset of lockdown. I had recently returned from touring in America and had lost all remaining work for the foreseeable future.
I spent the next two months away from my cello as I tried to process the evolving pandemic and its wide-reaching ramifications, both personal and professional.
Around May 2020 I was prompted by my neighbours to give a garden concert to help lift their spirits. The positive response led me to ponder the wider question of the role of a musician during such a difficult and disruptive social crises.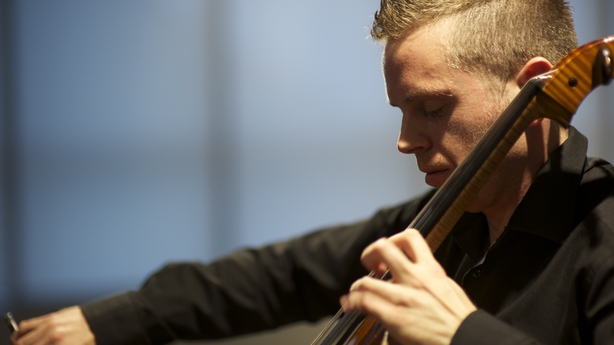 This concert reminded me of the work of British pianist Myra Hess during the Second World War. At the start of the Blackout in London, all concert halls were closed, and this led to Myra establishing daytime concerts, which ran throughout the war, offering a continuity of culture and a sense of normalcy during those unprecedented times.
In 2007 I co-founded an educational company called the Mobile Music Machine with my colleague Paul O Hanlon, through which we deliver music appreciation workshops to primary school children across Ireland. We always included visits to residential care homes as part of these projects.
This led to us giving concerts in the grounds of St. John of God's hospital last June. The response from the service users and staff was overwhelming, given the strict isolation they had endured during early lockdown.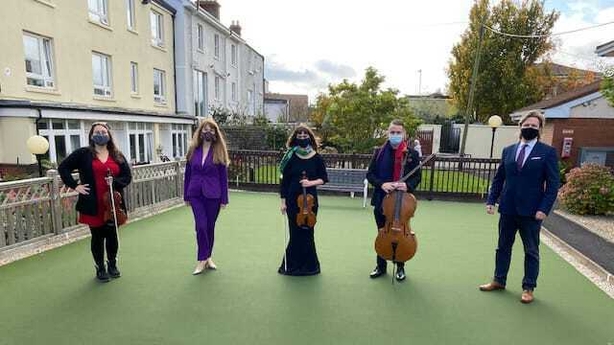 In partnership with our friends at Blackwater Valley Opera Festival and Creative Ireland, we began performing concerts in the grounds of residential care homes and hospital settings across the South East.
The performances have been emotional and transformative for many of the residents.
The programme quickly developed to include the support of Age Friendly Ireland and Healthy Ireland, as part of the national 'Keep Well' campaign with the support of Minister Catherin Martin.
To date we have performed over 350 concerts in 13 counties, featuring the finest of Irish talent. Our mission is to bring the concert hall experience to those who have least access and are in greatest need at this time.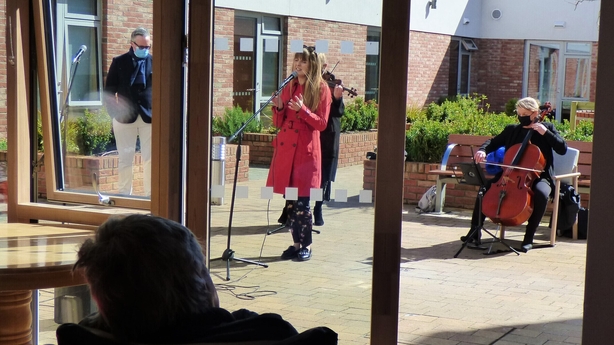 Our work this past year has been the most meaningful that I and many of the musicians involved have experienced. We are performing with artists such as Anthony Kearns, Celine Byrne, Sandra Oman, Gavan Ring, Sibéal, Seán Keane and Iarla Ó Lionáird amongst others.
The performances have been emotional and transformative for many of the residents. We have witnessed listeners with late stage dementia singing after long periods of non-verbalisation. One man, aged 80 was in tears, having never experienced live Opera before and thinking that they never would.
This past year has seen long term residential centres burden a huge portion of the trauma inflicted by the pandemic.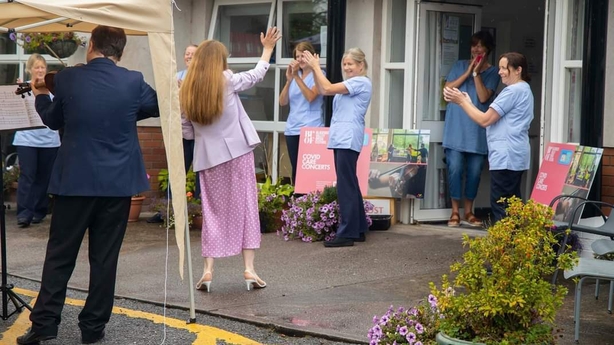 We look forward to continuing to deliver these concerts long after the pandemic has receded into memory and hope that this project remains as a positive experience for the many thousands of residents and dedicated staff who have silently shouldered such a terrible burden.
Mobile Music Machine's Covid Care Concerts is an initiative created by cellist Gerald Peregrine, in response to the Covid-19 pandemic in collaboration with Creative Ireland, Age Friendly Ireland and Blackwater Valley Opera Festival - find out more here.