Twenty years on from the end of the conflict in Northern Ireland, Shooting the Darkness is interested in answering two key questions: What did it cost you to take that image? And what was its value? Watch the acclaimed documentary now via RTÉ Player. 
Shooting the Darkness is about the men who unwittingly became war photographers on the streets of their own towns. They didn't go in search of war and adventure: the violence erupted around them. They expected a career of wedding photography and celebrity photocalls and instead the images they produced during the worst years of the Troubles would come to define that conflict.
The film focuses on several Northern Irish photographers who witnessed the Troubles from their inception in 1968 until the signing of the Good Friday Agreement in 1998. Among them are Alan Lewis, Paul Faith, Hugh Russell, Martin Nangle, Crispin Rodwell, Trevor Dickson, and Stanley Matchett.
In depth original interviews with these men speaking about specific images they shot form the backbone of the film. Contemporary archive footage evokes the chaotic and fractured atmosphere of the times. Extensive use of photo archive takes us back behind the lens of the photographer – back to the negatives and the contact sheets and the pictures that nearly made the cut.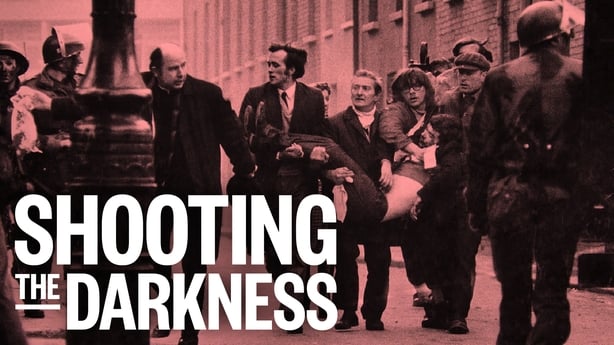 Photographs discussed in-depth include Stanley Matchett's photograph of Bishop Edward Daly waving the blood-stained handkerchief as the body of Jack Duddy is carried through the streets of Derry on Bloody Sunday, as well as Alan Lewis' photograph of Sean Downes, shot and killed by an RUC plastic bullet in Andersonstown in 1984, and Martin Nangle's visceral photographs of the attack (and subsequent murder) of corporals Derek Wood and David Howes after they mistakenly drove into the funeral of IRA man Kevin Brady in March 1988.
It examines what it meant to be a press photographer in this cauldron of violence and how witnessing horror on a daily basis affected them. It also deals with the wider context; what did these images mean, both at the time and now at a distance from the original event. Did they make a difference, ultimately contributing to the peace process or did they just sell papers?
Watch more from RTÉ Player here.