In 1951, Belfast artist James MacIntyre spent a summer on the tiny island of Inishlacken, just off the Galway coast, with fellow artists Gerard Dillon and George Campbell. Years later, he wrote a lively account of the mishaps, friendships and inspirations of that summer in his book Three Men on an Island.
James MacIntyre's book in turn inspired Belfast artist Rosie McGurran to set up The Inishlacken Project, which every year gives a group of artists the opportunity to spend a week working on the island.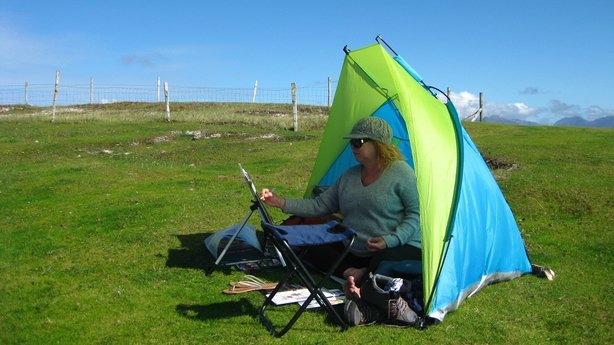 For the Lyric Feature, presenter and producer Claire Cunningham tells the story of the 2020 Inishlacken Project, meeting founder Rosie McGurran and her fellow artists Una Sealy, Michael Doherty, Dorothy Smith, Noah Rose, Selma Makela, Mick O'Dea and Barbara Allen - listen to The Inishlacken Project above.
The programme was a Rockfinch Production for RTÉ lyric fm funded by the Broadcasting Authority of Ireland from the Television Licence Fee, with sound supervision by Tinpot Productions.
Below, Belfast artist Rosie McGurran describes how the Inishlacken Project came about...
---
After reading the book Three Men on an Island by James MacIntyre in 2000, I was inspired by his illustrated story of a summer spent on a small, living island in 1951. He had travelled there with fellow artist George Campbell on the invitation of their friend and colleague Gerard Dillon. The three men spent their days drawing and painting, being chased by geese, rowing to Roundstone village for supplies, having a few pints in the pub, and making friends.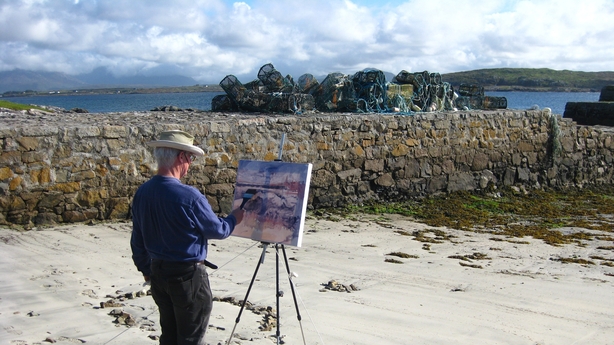 The final pages of the book stopped me in my tracks. Both George Campbell and Gerard Dillon died young, possibly with paintings in their heads. The sadness gave way to an overwhelming sense that I should put artists back on that island, but I knew no one locally and had a studio and career in Belfast.
In June of that year I was invited to participate in an artists' residency in Roundstone. I had been visiting the area since Art College days, unaware of its significance in Irish art history. The two weeks of the residency gave way to further weeks in a rented apartment and I was quietly becoming anchored in the village. I returned to my home in Belfast, bought a car and packed up my belongings in September. I had secured a let on the apartment for the winter and only expected to stay a few months. A small house overlooking the harbour then became my home. The water would reflect on the bedroom ceiling in the mornings. I often felt like I was on a boat.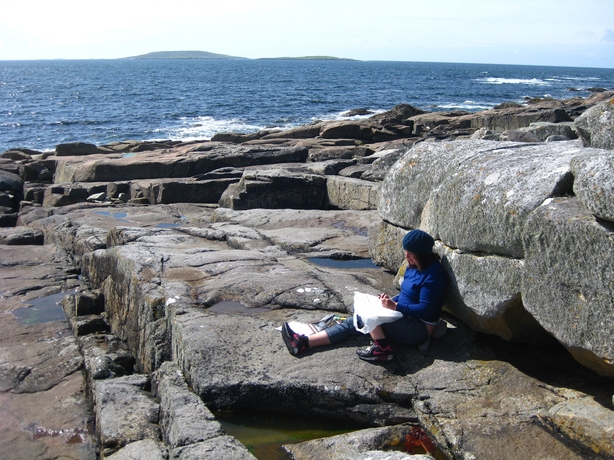 In 2001, I established The Inishlacken Project, initially a one day visit with a few painters and supporters, which turned into an annual week long residency taking place in June, with artists spending long days, and often nights, on the island. From a small start, over two hundred artists have visited during that mid summer week, the summer solstice giving optimum time for working in daylight. We have often camped out on St John's Eve to watch the bonfires light up on the mainland when the sun never really sets. Artists have worked there in all forms: painting, drawing, performance, photography, sculpture, poetry and musical composition.
The painter Mick O'Dea has long been a temporary islander with us. The beach is one of his main subjects and often he turns his back on the obvious view of the mountains to examine the sand and rocks. English artist Caroline Wright has set her performance work on the beaches and in the water, documenting and presenting her responses in video and drawing. Belfast architect and artist Michael Doherty has a fervent commitment to drawing and painting en plein air. He is prolific and never wastes a moment. Dublin artists Una Sealy and Dorothy Smith have approached the subject of left-behind houses and their contents, while also working directly from the landscape. After years of absorbing the island landscape for studio work, I have recently embraced the practice of plein air painting which has sharpened up my drawing and observation.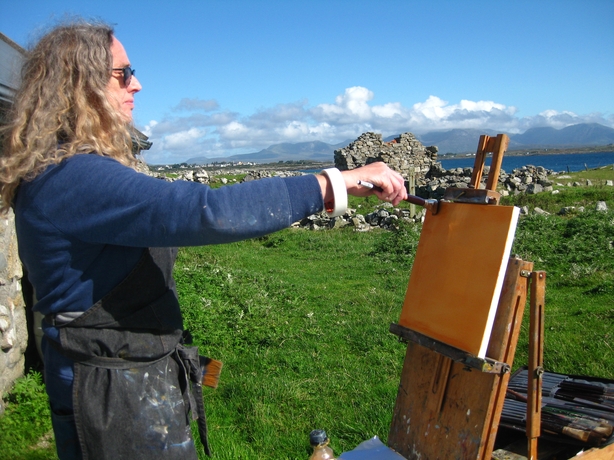 As a group we have exhibited at Galway Arts Centre, the Linenhall Library and the Gerard Dillon Gallery, Belfast, Áras Éanna Inis Oirr, the Red House Arts Center, Syracuse, New York, Clifden Arts Festival, and on Inishlacken itself for Culture Night.
No one could have foreseen the circumstances and events of annus pandemicus 2020, which almost put a halt to the annual gathering, until a small window opened when a group could go there. The island was perfect for social distancing and the weather held for a few days of much needed island isolation, breaking the months of imposed isolation we had all lived in.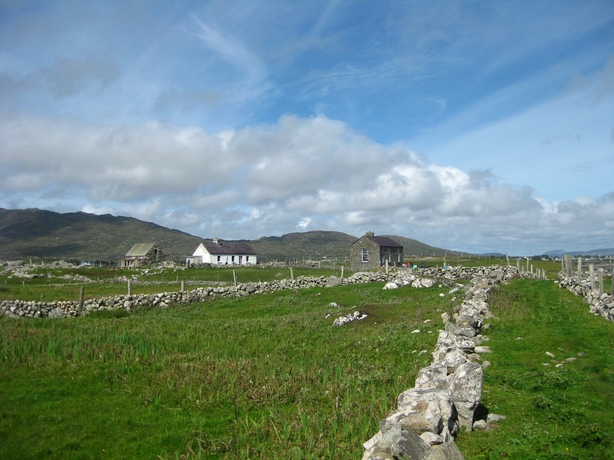 The further lockdowns make this year's Inishlacken Project seem like an aspirational dream. We should have been celebrating the twentieth anniversary of the project with another exhibition in Syracuse. Michael Doherty called me to suggest a twenty-first commemoration instead. 'A coming of age,' he said. I hope we will mark it next year.
Listen to more from The Lyric Feature here.