We're delighted to present an extract from Black Dragonfly, the new novel by Jean Pasley, published by Balestier Press.
Black Dragonfly is a novel based on the remarkable life of the nomadic Irish writer, Patrick Lafcadio Hearn. Japan's two centuries of isolation have recently ended, and Western influences are flooding in. Hearn arrives in 1890 to record this unique culture before it vanishes. After spending a few difficult months in Yokohama, he moves to Matsue, a remote city as yet untouched by the modern world.
---
Winter 1890
Since taking up his post at the school Hearn had been showered with gifts. The strangest one of all was presented to him by the daughter of the Governor of Izumo, who thought that the foreign teacher might be lonely. It was a caged grass lark, a tiny insect, which he needed a magnifying glass to see. He brought it home and that evening at sunset the room filled with delicate ghostly music of indescribable sweetness. As the darkness deepened, the sound became sweeter and sweeter. Loud or low, the grass lark kept up a penetrating sound that was strangely soothing.
Winter came and the shoji screens were no defence against the plummeting temperature. The grass lark died and he was irrationally heartbroken. His custom of feeding it every day–the tiniest sliver of cucumber– and thinking about its needs and wants had created an attachment, which he only became conscious of when the relationship ended. It was absurd; life seemed suddenly empty and all because of an insect half the size of a grain of barley.
We need your consent to load this YouTube contentWe use YouTube to manage extra content that can set cookies on your device and collect data about your activity. Please review their details and accept them to load the content.Manage Preferences
Watch: Jean Pasley introduces Black Dragonfly
The first snowstorm piled five feet of snow around his flimsy house. Severe winds chilled him to the bone and his one little hibachi stove provided only an illusion of heat. He caught pneumonia and was forced to spend weeks in bed, shaking, feverish and coughing up blood. Concerned well-wishers visited daily bearing warming broths, curious medicinal remedies and charcoal for the hibachi. It was his first serious setback since his arrival in Matsue and with it came a check to his enthusiasm about his great Japanese project.
"I believe I would be warmer living in a cattle barn. Another winter like this will put me underground."
He drank the warm sake his colleague, and now friend, Nishida-san had brought.
"So much snow. Most unusual," said Nishida-san.
"I never saw a heavier snowfall, not even in Canada."
"Soon it will melt and you will be well again."
He could see that Nishida-san was embarrassed, almost ashamed, as if he was to blame for the climate and for Hearn's illness. He put on a cheerful face to placate his friend.
"You've all been astonishingly kind to me. Thank you, Nishida-san. If not for you, I don't know what I'd do."
Some weeks later, when he was back at work, Nishida-san surprised him with a peculiar solution to the ongoing problem of Hearn's inability to keep warm.
"You should marry, Hearn-san."
"What? Marry because I am cold?"
"Yes."
He searched his friend's face to see if he was teasing. He was not.
"That wouldn't be a good reason to marry."
They were sitting in the chilly teachers' room drinking tea. Nishida-san looked at him with concern.
"You really do need a wife. Somebody to look after you, to keep you warm at nights, to cook and clean for you and keep your clothes in good repair."
"That sounds like a form of slavery."
"Oh, no, it would be an honour for any Japanese woman to serve you."
"Nonsense. Besides, I couldn't make such a commitment. I'll only be here for a few years and then I'm going to retire to the West Indies."
"But until then you should have a wife."
"Even if I agreed, who would have me? I'm forty. I'm an old man."
"You're not young but I know someone who might marry you."
The woman he had in mind was twenty-two year old Koizumi Setsuko, the only daughter of a proud samurai family with good breeding and steel in the blood. Despite her aristocratic roots, with the abolition of the samurai class her family had fallen from a position of privilege to abject poverty.
"I'm a romantic. I couldn't possibly—"
"This is not romance, Hearn-san. It's practical. You must think about it."
"My dear friend, to live forever in one woman's company would kill a man with boredom."
"It need not be forever. Marriage with a foreign man would not be considered permanent and could be easily ended if you decided to leave."
"No, I couldn't bear to be tied down."
"Oh, but this woman is quiet and dutiful. You will hardly notice her but you will notice the comforts she will bring you. And she will let you come and go as you please."
"Is it possible that such a woman exists?" said Hearn, who had often dreamed of having a quiet wife, who would leave him in peace to do his work.
At home that evening he slid open the shoji screens and sat on the floor looking out at the chilly night, thinking about Nishida-san's proposal. In the distance, paper lanterns hung along the far side of the lake like a long line of shimmering fireflies. Across the river, the broad shoji screens of hundreds of dwellings were suffused with the soft yellow radiance of invisible lamps. In these lighted spaces he could see slender moving shadows, the silhouettes of graceful women. He silently prayed that glass would never be adopted in Japan as it would put an end to these delicious shadows. He listened to the voices of the city until the great bell of Tokoji temple rolled its soft thunder across the dark and he thought how pleasant it would be to have a graceful Japanese woman moving silently about in the shadows of his own house.
The following day, he broached the subject with Nishida-san.
"That woman you were talking about—"
"Koizumi-san?"
"Yes. Perhaps I should meet her."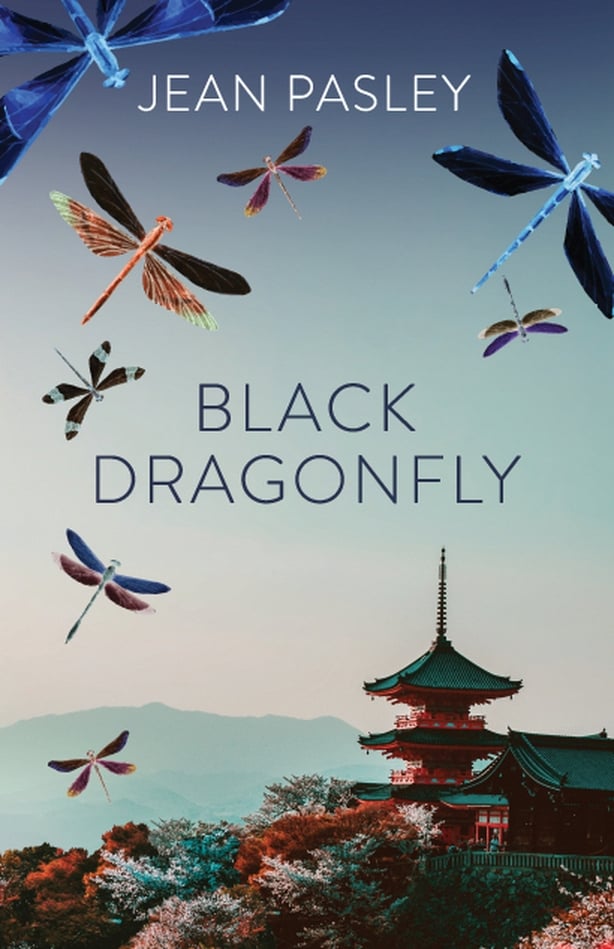 Black Dragonfly by Jean Pasley (published by Balestier Press) is out now.
Image: The Lafcadio Hearn Memorial Museum