This evening (31st March) from 7.00 pm, Project Arts Centre are teaming up with GCN Magazine to officially launch the Queer-in-Progress. Timeline: Online Archive. The event will be hosted by artist/researcher Hannah Tiernan, who will be joined by a host of guests to discuss highlights from the archive - watch the event above.
Speakers will include; Sara R Phillips, founder of the Irish Trans Archive; actor, writer and adoption rights campaigner Noelle Brown; film-makers Cara Holmes, Lívia Páldi, Sonya Mulligan and Ger Moane; ACT UP activists Noel Donnellon and Noah Halpin; Queer Culture Ireland co-founders and member Kate Drinane, Judith Finlay and Patrick McDonagh, and Queer-in-Progress. Timeline founder Lívia Páldi.
Below, Hannah Tiernan introduces the archive...
---
The archive aims to explore the untold stories in Irish queer histories. Initially focusing on lesbian, feminist, female-identified, transgender and bisexual histories from the 80s and 90s as well as lesser-known HIV and AIDS histories.
Conceived by Lívia Páldi, out-going Curator of Visual Arts at Project Arts Centre, Queer-in-Progress. Timeline forms the second chapter in the Project's Active Archive-Slow Institution initiative (2017 - 2020). The Active Archive initiative was developed to delve into Project's 50+ year history to explore what future proposals for transformation are inscribed within the manifold history of one of the oldest multipurpose art centres in Ireland. Through a series of workshops and talks, retrieved materials were studied and shared to provoke new connections. From these explorations, the first chapter of the Active Archive was presented.
The Long Goodbye, co-curated by writer, educator and curator Val Connor, focused on the 1990s, the turning point in Project's history marking the departure from its converted warehouse site to a purpose-built centre. The display incorporated newly commissioned works by artists Tanad Williams and Miriam O'Connor as well as original works by Brian Hand and Fergus Kelly, alongside research by Dorothy Hunter and research into Project's LGBT theatre by myself.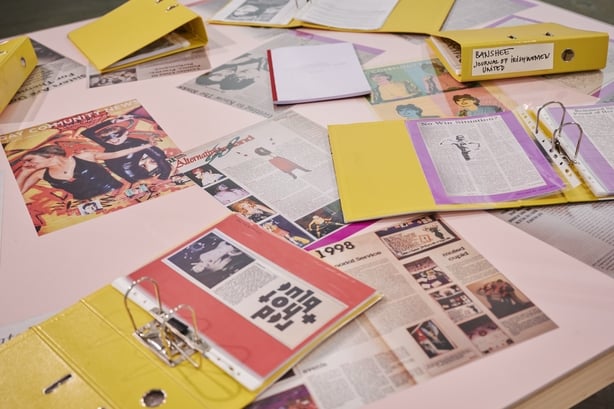 The second chapter of the Active Archive grew out of this theatre research. Through a desire to uncover underrepresented lesbian, trans and bi narratives, Hannah expanded her research beyond Project Arts Centre into the GCN and Irish Queer Archives. The Queer-in-Progress. Timeline display launched in Project Art Centre's gallery on 6th March 2020. Alongside the research, the display hosted one of the Irish Names Quilts and an accompanying video of the Names Project founder Mary Shannon discussing some of the patches. The display also featured several documentary and artistic films by Caroline Campbell, Linda Cullen, Cara Holmes and Sonya Mulligan, as well as audio recordings from the Dublin Lesbian Line 40th Anniversary event.
Staying true to the intention of the Active Archive initiative, the display was intended to prompt people to bring their own stories and histories to the timeline, creating a dialogue around the need and desire to document and archive our histories. Questioning who authors these narratives and exploring why some become dominant while others are relegated to folklore.
The entries on the Queer-in-Progress timeline are intended to act as prompts, highlighting events, signposting organisations and pinpointing interventions in Irish lesbian, feminist, female-identified, trans, bi, and HIV/AIDS histories. It aims to disrupt and challenge conventional notions of the archive whilst being situated within the realms of the institution. The archive is as its name suggests a work in progress. The current material is constantly under development and is intended to act as an expansive device to gather alternative tellings of Irish queer history through an open call.
Find out more about the Queer-in-Progress. Timeline: Online Archive here.